Bloom London Dry Gin is crafted by the only female gin Master Distiller, that we are aware of world-wide, Joanne Moore. Featuring the natural botanicals of chamomile, pomelo and honeysuckle, this beautifully crafted white spirit is excellent for those who like a little zing in their gin. Bloom has a crisp clean sharpness on the nose with the citrus, Chamomile and floral notes coming through. On the palate it has a slightly syrupy mouth-coating body, there's a sweetness to it and you get a good tangy hit from the pomelo, with some peppery heat developing on the tongue. This is certainly a gin with some character, it's crisp, but has great length on the palate.
We tasted Bloom first in a dry martini; simple to make, you just splash the gin over a shaker full of ice, add a half capful of dry vermouth, shake, then strain into your glass, garnish with either olives or a twist of lemon. The citrus in the gin worked well with a twist giving a vibrantly sharp martini that had excellent tingly hint of citrus in its length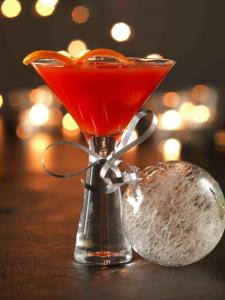 However, if you are looking for a stylish cocktail to impress your guests with this Christmas, you might like to try Bloom's Gin & Sin. It couldn't be easier to make, so you don't have to be a bartender to put it together.
Bloom's Gin & Sin
Ingredients:
2 shots of Bloom Gin
1 shot of lemon juice
½ shot sugar syrup
½ shot orange juice
1 dash of grenadine
Method:
Shake all ingredients with ice, fine strain into a chilled martini glass and garnish with an orange Twist. This is a very fruity, but not overly sweet cocktail with big citrus tang to it from the orange and lemon, as well as from the gin itself and some nice body. It would go down extremely well before Christmas lunch or dinner.
You might also like to try Bloom in a gin & tonic, using the usual measures. It's great, but if you replace half of the usual pour of tonic with soda water you get a much drier, sharper G&T. Try it, you know you want to.
For more information about Bloom gin go to www.bloomgin.com