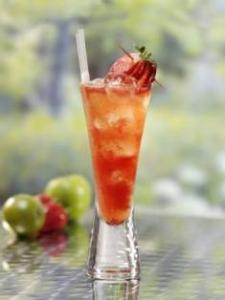 British summertime is now in full swing with warm spells of sunny weather continuing, juicy strawberries, long cocktails and of course Wimbledon proceeding ever closer to its finals. Why not invite your friends round to watch the finals with you and treat them to this bottlegreen inspired Wimbledon cocktail.
Wimbledon cocktail
Ingredients:
• 25ml Vodka
• 25ml Strawberry Puree
• 15ml bottlegreen Strawberry & Elderflower Cordial
• 10ml Lime Juice
• Ginger Ale
Method:
• Shake first 4 ingredients with ice, strain into ice-filled 12oz highball glass, top with Ginger Ale.
• Garnish with strawberry fan.
What could be more simple and refreshing?