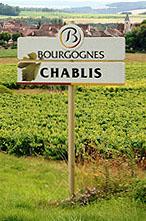 Chablis. Just the name leaves me with a smile on my face.
In a way, this varied and sublime expression of the Chardonnay vine, rooted contentedly in the ancient limestone soils of Northern Burgundy, is my favourite wine.
But, I have a confession to make. When I cook for Chablis I don't fuss around with haute cuisine, I go straight for what I love most; fish, and lots of it, employing what I like to call my 'Horloge Poissonnière'.
Thus I proffer three simple steps to heaven for the full enjoyment of Chablis with food.
Step 1: The Wine.
There's so much to be discovered among the four classes of Appellation Contrôlée.
From 'Petit Chablis' and 'Chablis' to the 'Chablis Premier Cru' vineyards on the more favoured slopes, through to the prestigious elite of the 'Chablis Grand Cru'
Having a word with an independent wine merchant can save a lot of confused and helpless staring at shelves. Buy the best you can afford to reveal the wonders of the region, its vines and its soils.
I've had a chance to try two absolute crackers courtesy of the Bureau Interprofessionnel des Vins de Bourgogne.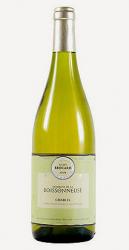 Chablis, Domaine de la Boissoneuse, 2009, Julien Brocard is an organic beauty that charms you into a state of lyrical wellbeing with its perfectly balanced complexity of soft fruits and honeycomb.
Rich, pungent and grassy on the nose, each sip takes you on a journey through gorse flower in full yellow summer, lifting you through almost caramelized orange and citrus zest to a long mineral finish.
By contrast, and demonstrating the sheer breadth of variation in styles within the Chablis region: Chablis Premier Cru, Mont de Milieu, 2008, J.P. & Benoît Droin offers a powerful, masculine, vanilla-driven aroma of concentrated fruit with a bold mineral acidity. Redolent of the oak barrel, this is the Chardonnay grape with its boots on, shouting down the River Yonne in a Burgundian accent.
Whatever the choice, it is important to serve Chablis at a temperature that is sympathetic to the wine. Your fridge can be your enemy if you let the bottle go below 10 or 12 degrees.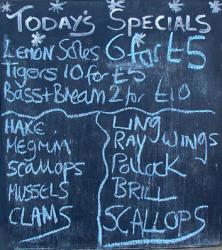 Step 2: Fish.
The pleasure starts with the choosing; and choice is what a visit to the fishmonger is all about.
You're going to need a modest amount of up to twelve different fish but six or so will do if you want to keep it simple.
So what's available in the way of white fish; bass, turbot, John Dory?
Bearing in mind how many people you're cooking for, you won't need much of each. Point at a smaller example of anything you fancy and ask your friendly fishmonger to fillet it for you. That's what he's there for.
Add to this some nice juicy stuff. A slice of organic Irish salmon, some huge Cornish scallops and a sliver of fresh tuna steak. Don't stop there, what about a baby squid and a big Breton prawn?
Depending on what has come off the boats, you may be surprised or overwhelmed but don't leave disappointed. There's usually something interesting in the freezer cabinet if you need to make up numbers.
Step 3. 'L'Horloge Poissonnière'
..(or 'Fishmonger's Clock' as it prosaically translates into English), is basically a crafty method of cooking and serving a wide variety of fish for the enhancement and enjoyment of Chablis and, while pretending to be a rather grand dish, it is in fact very quick and easy to prepare.
You've already made your selection of fish, now just cut it up into more or less equally sized pieces of about three inches long by one inch wide and line them up on a baking tray with some olive oil, pepper and a very light grind of sea salt.
Give them ten to fifteen minutes in the oven at roasting temperature and serve, arranging the individual pieces of fish at the edge of the plate pointing inwards; clock face style.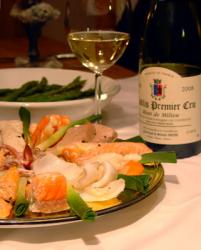 If you take a little care to arrange the fish neatly it will look great and guests find it very entertaining.
Fill the centre with a few steamed vegetables such as baby leeks, a few new potatoes or some fine asparagus perhaps.
Add a little fresh herb here and there if you like; but the real fun is in savouring the subtle differences between the fish flavours and washing each down with the wine.
Good Chablis will have more than enough character to deal with any selection you present it with. It will lift each morsel of fish in its aromatic arms and cut through it cleanly with a sabre of refreshing citric acidity.
Now, if that's not pairing food with wine, I don't know what is.
---
Chablis, Domaine de la Boissoneuse, 2009, Julien Brocard (Slurp .co.uk £18.65)
Chablis Premier Cru, Mont de Milieu, 2008, J.P. & Benoît Droin (Berry Bros £29.50)