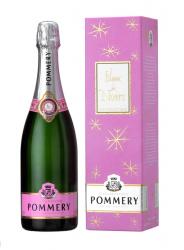 From the depths of winter and with Valentine's Day around the corner, I thought we could have another rummage around the Foodepedia Champagne cellar for something a bit special to share.
Right now, I can't think of anything more appropriate than 'Wintertime' a Champagne from the historic house of Pommery based in Reims.
Labelled in a striking, if not startling, livery of pink and silver, Wintertime is a seriously sophisticated wine that has, inside the bottle at least, something distinctive for lovers of class and understatement.
It is one of four different cuvees, each employing different blends of grape varieties that have been produced with a seasonal theme. In this case we have a 'Blanc de Noirs' which is a 75-25% blend of red Pinot Noir and Pinot Meunier grapes sourced from a variety of selected terroirs without even a hint of Chardonnay.
The colour is pale straw-gold; the nose, firm; the mousse, moderate yet full.
Wintertime is Champagne for grown-ups with a discreet and dry fruit profile of baked apple and quince: the well balanced green-apple acidity compliments a confident and full bodied structure.
30 months of ageing have given a refined depth dominated by a creamy bready-brioche richness which is long and mouth filling. It's the kind of class that is difficult to describe but will leave lesser sparklers feeling empty in the middle.
Pommery, like the other major Champagne houses are no strangers to lively marketing and along with their prestige cuvees and the four 'seasonals' they produce their zany 'Pop' brand which can be confusing to those looking for both seriousness and value .
At the end of the day however, marketing means very little and it is the quality that has to speak for itself. In this case, Wintertime would be welcome at any time of year.
Champagne Pommery Wintertime is currently available from welovechampagne.com at £38.95