The Artichoke, 9 Market Square, Old Amersham, Buckinghamshire, HP7 0DF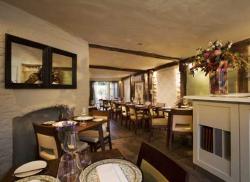 I've felt like a proper cow recently – not because of my sheer bulk, I would have channelled a far more substantial animal if that were the case (not to mention good looking) – instead it's my eating conditions that have left me feeling bovine. Restaurant tables are getting bigger and have more seats than the Lib Dems these days. Whatever happened to choosing where you sit? Bagsy not next to Kennedy!
Alas, you don't get this in the country, and you certainly don't get this in The Artichoke, a wonderful and welcoming restaurant in the historic market town of Amersham. I'd heard of the restaurant and fancied sampling the modern European recipes of head chef and owner, Laurie Gear, whose use of free-range, organic, forageable ingredients hurl the gauntlet at any fussy eater. I'm certainly not, I'll eat anything, but I've brought just the right companion along in Burpo, one of my closest friends and more of a crazy donkey than a cow. She's a right fusspot with a passion for nutrition, good ingredients and originality.
I've come a long way just for tonight, enduring a "kind word" about weight issues from the crazy Donkey, as well as a tour of Karen Millen en route. We meet Laurie and Jacqueline Gear who give us a brief explanation about the restaurant's history, expansion and future. It's interesting rather than pompous, which is so often the case of the fist-smashing London chefs.
We're brought a glass of good champagne that lights fireworks in Burpo's eyes, she may be fussy on the fodder but more often than not she'll be happy to try a new tipple. She wolfs down a substantial amount of her starter, seemingly growing in confidence after each bite, resulting in her even trying anchovies – and that's a sign that The Artichoke is definitely doing things right. My favourite wine was matched with my crispy English snail bonbons, red wine glazed pig's tail, grelot onions and bay leaf emulsion.
I'd learn throughout the evening that Laurie's kitchen doesn't do things by halves; plates often having two distinct dishes that could easily be served on their own. In this instance the snails alone would have been enough. Each snooker ball-sized bonbon was coated in breadcrumbs with a creamy centre of cheese and snail. Adding a little onion and red wine jus on to the fork supplied that little extra tang that sliced through the cream. I then moved on to the pig's tail, which was an absolute treat. Slowly braised and as tender as pulled pork, the juices were sealed inside leaving the meat beautifully rich in flavour.
My main was saddle of venison, haunch dumpling, cavolo nero, rose hip and hawthorn berry emulsion, celeriac and pickled baby red onions. For years now I've been trying to perfect a haunch and if I could produce one like Laurie then I'd be happier than a student in a riot. Tender and melting on impact, it was a superb cut of meat. The dumpling was made from a similar pastry to that of a pakora and nicely accompanied the cavolo nero. The taste of the pickled baby red onions was razor-sharp, sweet and acidic as sherbet – a little celeriac calmed them down. Whilst the donkey happily tucked into her pork fillet, braised belly and tagliatelle I managed to finish my entire plate and ask Laurie how to cook a perfect haunch. Laurie's more than happy to answer questions and was kind enough not to laugh at my revelation that I had always opted to barbecue my haunches like a complete philistine.
The Artichoke had only recently introduced a prune and armagnac soufflé with vanilla ice cream, which I opt for in seconds then sat back whilst Burpo listened to the next options. She chooses a pear and caramelised white chocolate galette with poire william sorbet. Despite not being a prune fan or a brandy man, the soufflé is hands down the best I've eaten. Soft not runny, flavourful not sickly, light but still decent mouthfuls. I enjoy it down to the last spoonful and could easily have tackled a second. The pear dessert across from me looks appealing but there was no way I was going to suggest an exchange on this course. I've already asked Laurie about haunches, to ask him about soufflés would be greedy. It rounds off a fantastic evening of great wine, skilled cooking and a relaxing surrounding. If Laurie were to release a book it'd be in my kitchen pronto – I'm definitely going back to The Artichoke.