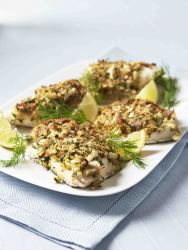 Simple and quick enough to join your repertoire for easy midweek after work suppers, the fennel adds an element of chic for the image-conscious, though it is just as suitably wholesome for families. Perfectly judged in every respect, each flavour is detectable – the anchovies add a salty note to the sweetness of the fennel and onion, a hint of dark earthiness comes from the parsley – but none overwhelms the other. A slightly crunchy brownish topping above the glistening white fish, all moist and flakingly just-cooked tender, gives it a variety of texture.
Serves 4 (429 calories a serving)
1 60g can anchovy fillets
30g butter plus extra for greasing
1 small onion, finely chopped
1 small fennel bulb, finely chopped
30g parsley, chopped
125g fresh white breadcrumbs
salt and black pepper
4 8oz cod steaks
dill sprigs, lemon wedges, watercress sprigs to garnish
Drain the anchovy fillets, reserving the oil. Cut the anchovies into small pieces and set aside.

Melt the butter in a pan, add the onion and fennel and cook over a medium heat, stirring, for five minutes or until soft but not browned. Remove from the heat, stir in the anchovies, parsley and breadcrumbs. Season with salt and pepper.

Put the cod steaks into a buttered ovenproof dish and top each one with the anchovy and fennel mixture, pressing it down firmly with your hand.

Drizzle a little of the reserved anchovy oil ever each steak. Bake the steak in a preheated oven at 200ºC (180ºC fan, Gas 6) for 10-15 minutes until the cod is opaque and the flesh flakes from the bone.

Transfer to a warmed serving plate. Garnish the cod steaks with dill sprigs, lemon wedges and watercress sprigs and serve at once.