COOKS&CO, the fine food range for the discerning home cook, has added a range of gourmet oils, ideal for creating anything from delicious stir fries and salads, to sauces and homemade mayonnaise, as well as for use in home baking.
Hazelnut Crusted Pork Chop – Serves 2: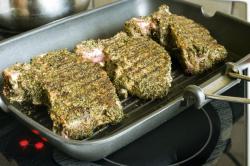 1 cup hazelnuts, finely chopped
2 tsp parsley, chopped
2 tsp thyme, chopped
1 orange, zested
½ tsp salt
½ tsp black pepper, freshly ground
¼ tsp cayenne pepper
3 tbsp COOKS&CO Hazelnut Oil
1 tbsp lemon juice
1 tsp honey
2 pork chops or pork loin chops
Preheat oven to 180º C.
Mix all the ingredients together (besides the pork chops) in a bowl and pour out onto a dinner plate. Press the pork chops into the crust making sure they are coated. Place on a baking sheet and bake for 30 minutes or until internal temperature reaches 60º C.