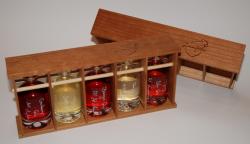 Demijohn may just have some products to lift your Christmas spirits this year. This Scottish company has outlets in Edinburgh, Glasgow and York, but customers can also buy on line through their website link below. Demijohn refer to themselves as 'The Liquid Deli' and we can quite see why, their range of products is vast, including wines, spirits, liqueurs, oils and vinegars.
From their gift range we sampled one of their Cherry Wood Racks containing five different 40ml mini Apotheker demijohns of liqueur gins; sloe, damson, Seville orange, cranberry and gooseberry. The rack, a kind of wooden Tantalus, though not strictly a Tantalus as it's not lockable, is nicely presented and good quality, it would look good sat among the array of bottles in anyone's drinks cabinet or display.
The rack came well protected in a box of expanded polystyrene nicely wrapped in crimson tissue. Once we had torn that away these cute little demijohns were incredibly inviting, so we broke into them very soon after their arrival. The gooseberry gin had good green gooseberry in its perfume and as we drank it, sweet gooseberry coated the tongue, filling the palate with the fruit, leaving a slight acidic sharpness in its finish. The Seville orange gin had a heady orange smell and delivered seriously strong tangy bitter orange on the palate, though with some sweetness, it has a great vibrant flavour and a light mouth coating quality with good length on the palate. The cranberry gin again had strong aromas of the fruit and in the mouth, the sweet cranberry flavour comes though well, there was some sharpness and that slight drying edge you get with the berries and the juice. The damson gin had distinct vibrant damson on the nose, the fruit then burst into life on the palate, sweet, yet with the sharp edge that you get from gently cooked damson, it had a good mouth coating quality and good length. And finally the sloe gin had that typical sloe perfume wafting from it, then a great sweet sloe flavour on the tongue with a smoky edge, a good depth, an intensity of flavour and great length on the palate. All of these liqueurs are lovely to drink as they are, they would also be great with ice or as an addition to a gin martini, just giving a hint of the fruit to it.
The cherry wood rack sells on the Demijohn site for £30, it would make a great gift. As an example of the quality of products that Demijohn sells more generally, both in terms of the content of the bottles and their presentation, you can be confident that any would be suitable as presents this Christmas. And, let's face it, they are a bit different from the usual bottle of spirit, which it has to be said is not the easiest thing to disguise when present wrapping!
As we have said, the range doesn't stop at spirits, Demijohn have a wide range of products, for example, for the serious foodie there is the Olive Oil and Fruit Vinegar Selection with the handmade Scottish Bramble Vinegar and Raspberry Vinegar sandwiching Kabbadates Extra Virgin Olive Oil from Corfu, which is priced at £29.95.
The Demijohn range of products is extensive, their website has many gift ideas or, if they are accessible, you could browse in their shops in York, Edinburgh and Glasgow. However, for many of you it will be much easier to simply visit their web site the link for which is below. You might find, or be able to create, just the thing you are looking for.