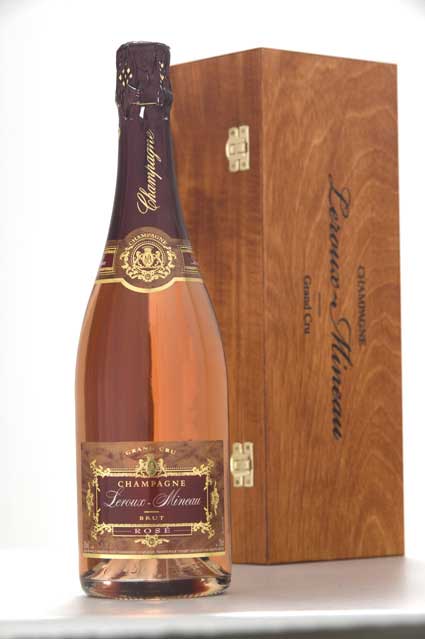 Leroux-Mineau Champagne from First Class Products; Grand Cru quality at credit crunching prices First Class Products announces its Leroux-Mineau Champagne range
First Class Products is Britain's exclusive importer of Leroux-Mineau Champagne. Owned and run by the 19yr old Englishman Tom Ellis, who is still at University; First Class Products is a boutique importer of the high quality Grand Cru Champagne that is available to purchase securely from the website – www.lmchampagne.co.uk. At these purse-tightening times, First Class Products is able to bring the best quality Grand Cru Champagne to UK consumers at the most affordable of prices, direct to your door.
The current collection is perfect for any celebration including St. Valentine's Day (14th February) or Mother's Day (22nd March) and consists of single bottles of Blanc De Blancs (£50), Rosé (£60) and Premiere Vintage (£85) all presented in beautifully engraved, Maple boxes. In addition, the range is available by the case of six bottles; Blanc De Blancs (£115) or Rosé (£150) and a mixed case consisting of three bottles of each (£132.50), all prices include VAT & free delivery.
Leroux-Mineau Champagne is passionately produced 'a la tradition champenoise' by the Leroux family who grow their vines on the east facing chalk plains south of Epernay. This area is known as the 'Cote Des Blancs' at the heart of the Champagne region, which is famous for the white Chardonnay grapes which give freshness, finesse and elegance to their blend.
All Leroux-Mineau Champagne is classified as Grand Cru. This is a rarity as only 8% of all Champagnes can classify themselves in this category as just 17 villages exist where the soil and climate is capable of producing grapes that can produce Grand Cru Champagne. The Blanc De Blancs Grand Cru Champagne is composed from 100% Chardonnay grapes with very small bubbles that rise effortlessly to the top of the glass, which gives it a smooth taste and a host of delicious flavours resulting in an enviable quality.
Champagne is a must at any celebration, but at these testing times costs have to be considered! So what better way to have real Champagne to raise a glass with, than by purchasing Leroux-Mineau Champagne direct from First Class Products – www.lmchampagne.co.uk.