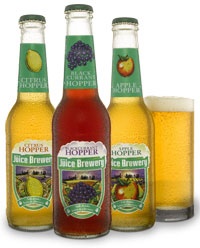 The Juice Brewery has launched Hoppers, an exciting new drink that is the very first of its kind – a 'soft-brew'. Authentic beer ingredients, such as hops and malt, are complemented by the refreshing tang of fruit for a truly unique adult taste. With an eye catching frothy head, they also have fewer calories than beer, all-natural ingredients and no alcohol; leaving you invigorated, in control and without a hangover the next day.
One of the main ingredients, hops, are also known for their relaxant mood-enhancing qualities, making it the perfect celebratory drink to get 'hoppy' with and the perfect addition to the Christmas party circuit. The bitterness of hops also stimulates the palate, making them the perfect aperitif.
Created by a group of drink-lovers who didn't want to feel deprived by choosing the 'soft' option, fruit Hoppers were the pioneering answer to this dilemma. With the idea hatched in a pub and their first batch brewed in a kitchen, they then sought an industry aficionado to oversee their invention – Tim Dewey, CEO of The Juice Brewery. Tim has over 20 years in the drinks business with industry stalwarts Diageo, William Grant & Sons and SAB Miller. He comments:
"Most soft drinks on the market are unpleasantly sweet and goody two shoes – definitely not something that most men would feel confident drinking. We realised there was a big gap in the market for a delicious grown-up soft drink and so, taking our inspiration from the brewery, we invented what we call a 'soft-brew' – a soft drink with enough attitude and maturity to be at home in a pub. With health and drink driving so high on the government agenda, it's about time a sophisticated alternative was available." He concludes, "This is a new way of drinking for society's new way of thinking."
The increasing awareness about the negative effects of drinking has resulted in UK beer sales tumbling this year to their lowest since 1975, having fallen through the five billion litre mark. The numbers spell out a clear message: the public not only need an alternative, they are finally ready for one.
Couple this with the sophisticated look, taste and 'feel' of Hopper – a welcome step away from the garish sickly sweetness of most current soft-drinks – and there is reason to see why there is no time like now to give them a try.
Hoppers are currently available in three flavours: Apple, Citrus and Blackcurrant.
Discover a 'hoppier' you by visiting selected bars, restaurants and stores* or order online at www.juicebrewery.com.
Free post and packing with Foodepedia
Simply add the code BGFAA. when ordering at www.juicebrewery.com. to get free P & P – a saving of £4.50.