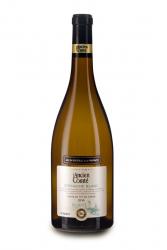 As you might know this isn't my first tasting of Mont Tauch wines, those of you who have read my previous reviews will be aware that this co-operative is one of southern France's leaders in sustainable development, something that many of us are becoming more conscious of and interested in these days. Up until now my focus has been on the Mont Tauch reds but the co-operative has recently launched a new white wine, L'Ancien Comté Grenache Blanc and it seemed only right to give you my views on it.
Grown mostly on old vines, some over 100 years old, in vineyards surrounded by high rocky cliffs, L'Ancien Comté Grenache Blanc is a single varietal wine is made from 100% Grenache Blanc grapes. This is the traditional white grape of the area around Mont Tauch and I am told the main grape in white Corbières. Wines made entirely from Grenache Blanc aren't commonly available in the UK, making this wine something new for most people's palates to savour.
In the glass, the wine has the palest yellow hue to it, giving the impression that it will be light and crisp. Its bouquet has acidic notes of pear and green apples and there is just the slightest oak there. As you drink and let it reach all your taste buds you get a big mouthful of fruit on the palate. There's a great acidic tang to it and you can pick out pear, then peach and apricot come through as well as zesty grapefruit and some slight oak. The L'Ancien Comté Grenache Blanc is a wine that has body from its oak ageing giving it a slightly syrupy feel in the mouth, yet retaining a lovely tingly effervescent quality, particularly at the edges of your tongue. It's a nicely challenging white with great character and good length, in which you're left with yellow fruit and grapefruit zest.
L'Ancien Comté Grenache Blanc is a white that would suit those of us who enjoy fuller flavoured wines with some body and would make a great drink to sip, well chilled, on a warm summer day. Although we drank it on its own, I'm sure it would be a great accompaniment to seafood dishes, even richer ones, as well as white meats and salads. With the barbecue season upon us I am sure it would also work very well with this kind of al fresco dining.
L'Ancien Comté Grenache Blanc is available at Jeroboams price £7.95
You might also like to read our reviews of Mont Tauch Les Garrigues and Fitou