Clear your diary – it's Cocktail Week
Feeling lost and hopelessly sober since the end of summer? Suffering from Post-Summer Stress Disorder? Enter stage left, Cocktail Week. A celebration of all things shaken, stirred, strained and seriously delicious, this year's merriment will be the best yet thanks to Novotel, the official hotel partner. Teaming up with mix-master generals Diageo, Novotel have, with help from an expert mixologist, created the Novotel Royale cocktail and mocktail double act.
Around this changeable time of year I can often be found wondering "Are these still in season?" or "Is it too early for Mulled Wine?" You see, my foodie calendar runs parallel to the Gregorian and around early October, once the dust has settled from a nostalgic and vicarious Fresher's Week, there's not much on until brandy-soaked Christmas cakes come December 25th.
Want to know more about this fall's coolest cocktail? Of course you do.
A Perfect Mix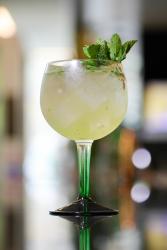 The signature cocktail is a mix of 25ml Tanqueray gin, 25ml St Germain elderflower liquor, 15ml lemon juice and 10ml sugar syrup. The mixture is shaken hard and strained into a Copa glass or martini glass, finished off with Prosecco or Champagne and garnished with mint leaves.
The light green mocktail is a blend of St Germain elderflower liquor, lemon juice and sugar syrup. Like the cocktail, the mixture is shaken, strained and then topped with soda.
The cocktail and mocktail combination forms part of the cocktail drinks menu, Cocktail Company launched for the brand's cocktail month which spans from 7th October – 31st October. Both cocktails will be available in all 31 Novotels in the UK.
Novotel has also announced its'Perfect Mix' offer, which provides guests with a 15% bedroom rate reduction (rates from £47), late checkout and a free cocktail or mocktail with shaker – so guests can create their own Tom Cruise'Cocktail' moment (probably causing a terrible mess while doing so).
Guests at any Novotel during London Cocktail Week will also receive an exclusive London Cocktail Week wristband as part of the deal, entitling them to £4 cocktails at bars participating in the celebrations. The'Perfect Mix' offer applies to stays from 7th October 2013 to 31st October 2013 and can be booked at: www.novotel.com/
Running from 7 to 13 October, London Cocktail Week will again be held in the historic and beautiful Seven Dials in the heart of the West End – offering a wealth of pop-up bars and street party atmosphere.
If you only around for a day or two or staying a whole week, Novotel hotel bars feature a mix of contemporary interiors and delicious drinks excellent for unwinding and having fun.
{YOUTUBE:0CrjJSIoCvk}