Around this time of year, when it gets a little colder and our children begin collecting cans for Harvest Festivals, (who'da thought there was such a thing as Cheeseburger in a can?) we must kick start the oncoming season of good will to all man with a karmic boost for a worthy cause AND an excellent excuse to try some of the best food around.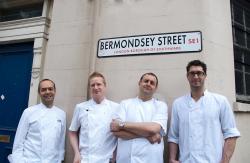 Harvest Feast-ival
Taking place on Wednesday 6th November between 19:00 and midnight, the Bermondsey Village Harvest will take place at Tanner & Co, 50 Bermondsey St, London SE1 3UD. Tickets can be purchased now and are selling fast, due to the incredible culinary talent.
This fantastic foodie event will be fun-filled family style evening bringing together the SE1 community over dinner, drinks and dancing. Proceeds from ticket sales will raise money for local children's charityMagic Breakfast who deliver free, nutritious breakfasts to 7,500 primary students to help concentrate on learning at school.
A 3 course dinner has been created by local chefs to this burgeoning culinary hub including Toby Stuart, executive chef for recently re launched modern brasserie Village East as well as neighbouring British gastro pub The Garrison,Jose Pizarro of Jose Pizarro, Justin Saunders of Tanner & Co and Nick Crispini of Antico.
Tickets priced at £35 per person Include 3 course feast-style dinner, entertainment & a welcome drink. Highlights include starters by Chef Justin Saunders such as " Bubble and squeek croquettes, confit celeriac and squash with truffled goats curd dressing", main courses by Chef Toby Stuart "Venison wellington, creamed celeriac, pickled cabbage, green peppercorn sauce" or  "Wild Girolle Mushroom Risotto (v)" by Chef Nick Crispini and lastly a dessert by Chef Jose Pizarro "Tarta de Santiago with Lemon Ice-Cream".
What you need to know:
DATE: Wednesday 6 November
TIME: 19.00 until 24.00
TICKET PRICE: £35
PURCHASE TICKETS please: email hospitality@village-london.co.uk  or contact 0207 260 2560
ADDRESS:  50 Bermondsey St, London, Greater London SE1 3UD
Priced £35 – includes welcome Jensen's Gin and Antico Tonic cocktail /3 course feasting menu (48 Hour cancellation policy)