The colour is always as entertaining as the bubbles in a sparkling rosé wine, a fact evidenced by the rise in popularity of pink Champagne. Mindful of the cost of a good champers however, I've been nosing about among my favourite alternatives from Spain the Cavas, to discover some value this Valentine's.
A really good buy is the Pinot Noir Brut NV (RRP £10.99 Oddbins, Wine Rack) from the centuries old winemakers Codorniu.
The bottle alone almost justifies the price. You'll need strong biceps to serve your loved one from the hefty, wide based 'carafe' that, when full, weighs in at an incredible 4lbs.
It is handsome though. The gradient of the clear glass neck shows off the wine's beautiful golden pink, coloured like an Iberian sunrise.
This 100% Pinot Noir Cava is very friendly, dry and soft and is loaded with red berry and strawberry fruit carried on fine bubbles towards a pleasing citrus finish.
It may not supply the rich, yeasty length of a fine Champagne but at less than half the price I'm more than happy to enjoy it with some 'sharing' foods. Cava and Sushi anyone?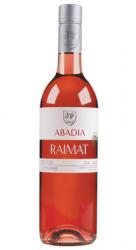 Codorniu also produce the comparable Vintage 2009 Cava Rosado (RRP £13.99 Tesco), which combines a variety of other grapes with the Pinot Noir and ages them. It has firmer fruit flavours and a deeper hue.
The bottle also looks good, with its copper-toned foil, and all the elements of a sound Cava are in place but, for me, it somehow lacks the playful strawberry finesse of the Pinot Noir NV. However, it is currently on offer at Tesco for £6.99 (until 21st February) making it a highly affordable pink sparkler for budget conscious lovers.
If bubbles are not for you, but you want to keep in the pink, Raimat Abadia Rosé 2010 is a fairly lively still rosé (RRP £7.49 Tesco.com, Wine Rack, Oddbins) which has an attractive gold/rose blush and comes in a bottle with a sleek and neatly engineered screw cap.
The Cabernet Sauvignon and Tempranillo grapes combine to give flavours of firm, dry summer fruits with a distinctive, zesty grapefruit finish; perfect for some salmon steaks in butter with herbs and rice.
By the way; when you're done clinking glasses and staring into each other's eyes; don't throw away that Pinot Noir NV bottle, it makes a great red wine decanter.