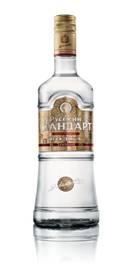 At the beginning of April Russian Standard, Russia's premium vodka, introduced Russian Standard Gold to the UK.
Russian Standard Gold is apparently distilled from 'the finest Russian winter wheat from the southern steppes of Russia and blended with the glacial waters from Lake Ladoga, incorporating Siberian golden roots' to provide its soft taste. Produced in the Russian Standard's state-of-the-art distillery in St Petersburg, the vodka is steeped in Russian heritage having been based on the vodka formula created by scientist Dmitri Mendeleevin 1894 when he developed the recipe for the Russian Czars.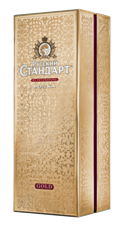 A smooth and rich vodka, Russian Standard Gold has a slightly honey sweetness with a good viscosity in the mouth and a peppery heat in its finish. We tried this new product to the UK shores neat at room temperature, when its heat comes through strongly in its finish. Neat but chilled on the rocks the foremost flavour is its sweetness. With tonic its smoothness came through well, in a 1:4 ratio . Russian Standard Gold would undoubtedly make a great dry martini, or something a little more exotic with a dash of something fruity. Both would work with this voluptuously smooth vodka.
Russian Standard Gold is presented as a premium item, the bottle comes in an attractive golden casket, which makes it a great gift for friends or family members.
Russian Standard Gold has a RRP of £20.00 70cl and is available now at selected Asda stores and will be available in Selfridges from May.