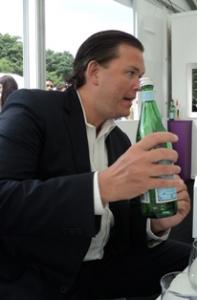 Sourced and bottled at a thermal source in the Italian pre-Alps, S. Pellegrino is an excellent water to pair with good foods and wines, with its fine bubbles and subtle mineral aromas. Having recently attended Taste of London we went to a water and wine harmonisation session with specialist Andeas Larsson. During this session, Andreas had those attending taste some 5 different wines each then followed by a sip of tap water, Aqual Panna, and S. Pellegrino.
Dismissing the tap water to a large extent, as this can vary from area to area, and depend in terms of taste on how it is treated, but that said on each tasting this tap water did completely destroy the aftertaste of the wine. The Aqua Panna worked particularly well with a nice Prosecco, we thought, mixing with the aftertaste of the wine allowing it length in the mouth. We also found that the S.Pellegrino matched perfectly with the still wines, both red and white as well as a fruity sweet dessert wine, somehow the minerals and the bubbles lifted the flavours on the palate and like the Aqua Panna gave them length in the mouth. This was particularly the case with the dessert wine where it was like having a diluted effervescent cordial in the mouth. Andreas then went on to say that S. Pellegrino was also beneficial as the minerals in the water helped to hydrate you and consequently, you needed to drink less in order to remain hydrated.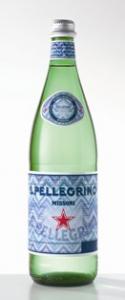 This summer, S. Pellegrino has partnered with Italian fashion house Missoni who have designed a limited edition bottle for them, exclusively for sale at Selfridges stores nationwide from the 1st July. This marks the start of new project "Italian Talents", which will see the S. Pellegrino bottle entrusted to a different Italian designer each year. The Missoni S. Pellegrino label, bears one of their distinctive zigzag motifs, which you might find will give a lift to your dinner table, something to check out when you are next in Selfridges perhaps?