Socks or whisky? Some Old Spice? What do dads really like? BBQing, that's what and this bundle is the ultimate solution.

Whether it's for Dad, your father-in-law, Grandpa or your husband, this bundle is sure to give a warm glow.

"Spirit of Aloha 65", is a versatile spirit infused with six fresh botanicals including pineapple, lemon, ginger and a hint of chilli to create the perfect Aloha 65 serve with ginger ale.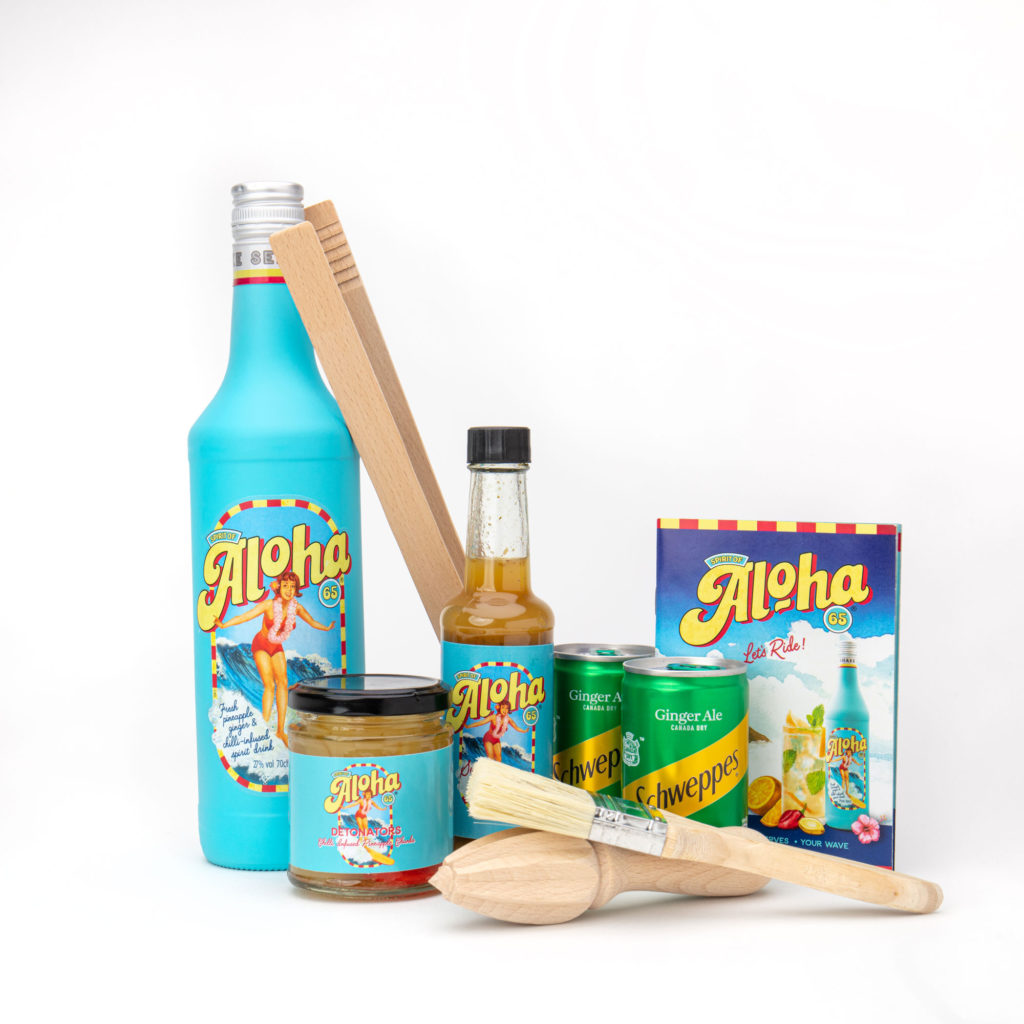 While on the grill, Aloha's sweet and spicy "Sun on a Beach" sauce (which also serves great with the Aloha 65 spirit for a twist on the traditional Bloody Mary) pus some of their chilli-infused pineapple 'detonators', will keep an
adventurous palette satisfied.

Try a refreshing glass or jug of Spirit of Aloha 65 with ginger ale, plus Aloha 65 condiments part of your outdoor dining

The Aloha 65 BBQ Box is £35 including free P&P nationwide for a 2-3 day delivery with additional options for 2-day and next-day delivery. You can pick up yours from www.aloha65.com and Amazon.
The special BBQ Box is an out of the blue BBQ experience, all in one easy delivery:
• 1 x bottle of 'Spirit of Aloha 65' Spirit
• 1 x bottle of Aloha 'Sun on a Beach' Hot Sauce
• 1 x Spicy Pineapple 'Detonators'
• 2 x Schweppes Ginger Ale
• 1 x wooden "hot sauce" basting brush
• 1 x wooden BBQ tongs
• 1 x beech wood citrus reamer
• 1 x Aloha cocktail recipe booklet
• One Bottle of Spirit of Aloha 65 (70cl) The perfect BBQ beverage. Just make a jug of
Aloha 65, with lots of ice and your preferred mixer.
• Two Cans of Schweppes Ginger Ale A couple of cans of the preferred mixer to get
you started with an "Alohan" – one part Aloha to 2-3 parts ginger ale.
• One Bottle of Sun on a Beach, Spicy Sauce The perfect accompaniment to all your
BBQ favourites, this sauce will do the spicy business for any of your BBQ creations.
• One Jar of Spicy Pineapple "Detonators" Fresh hand cut pineapple chunks
steeped in scotch-bonnet chilli
• One Hot Sauce Basting Brush All-natural BBQ basting brush with wooden handle.
Perfect for basting on lashings of Sun on a Beach Hot Sauce.
• One Pair of Wooden BBQ Tongs
• One Citrus Reamer Robust and durable and made of beech wood.

Spirit of Aloha 65
Aloha 65 ticks a lot of boxes: vegan, gluten free, and at under 47kcal per 25ml serve it has less calories than an equivalent measure of gin or vodka (50kcal per 25ml serve). It's made from only fresh ingredients with no added colourants.

Aloha 65 is partnering with Plastic Oceans, donating 5% of its profits to the charity to help preserve the
planet and its natural diversity for generations to come. Aloha 65 is also supporting the promotion of "The Last Glaciers", a new film about climate change, glaciers and the fate of our planet. Aloha 65's product are all vegan, gluten-fee and made with only natural ingredients.