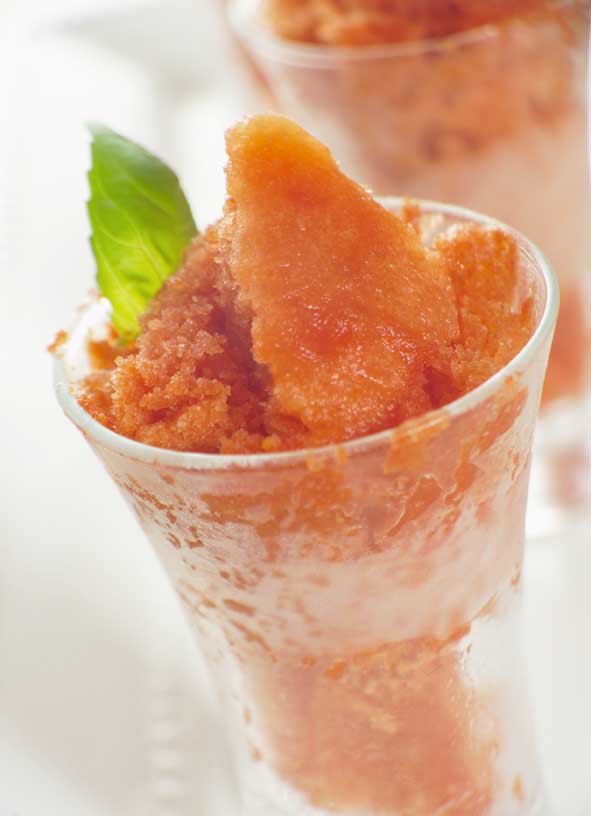 Mindblowingly blissful savoury sorbet made with Cirio Chopped Tomatoes, a suspicion of orange zest, and a dash of Tabasco for a blush of heat. Needless to say, a splash of vodka makes this even more appealing
Serves 4
75g/3oz caster sugar
water to cover
390g tetrapak Cirio Chopped Tomatoes
Finely grated zest of half an orange
6 drops Tabasco
15ml vodka
2 egg whites, whisked stiff
basil leaves for decoration
First make the syrup. Place sugar in and pan and cover with water. Dissolve sugar over gentle heat, then bring to bubbling for 2 minutes. Remove from heat and leave to cool.
Place Cirio Chopped Tomatoes in a processor and whizz smooth. Sieve, and press through all the flesh and juice. Discard seeds. Transfer pulp to a bowl and add syrup and orange zest. Splash in Tabasco and Vodka. Whisk egg whites stiff and fold into mix. Stir well and transfer to a freezer container to freeze. Halfway through freezing while still slushy, remove from freezer and whisk. Return to freezer.
Chill serving glasses – or shot glasses. Remove sorbet from fridge to soften slightly, then spoon, or scoop into glasses. Decorate with basil leaves.