Pity poor Santa, shimmying down chimney after chimney, with nothing but stale biscuits and hastily quaffed pints of milk to sustain him on his epic journey round the world. No 'holiday cheer" to warm those ruddy cheeks. Of course, one wouldn't want the jolly old elf getting too jolly when he's careening through the skies with a prezzie-laden sleigh and eight slobbering reindeer. (Nine, if you count Rudolf, although with that suspiciously red nose, perhaps he ought to have his license revoked).
For the rest of us, however, a wee dram of Scotch by a crackling fire is a welcome way to pass a wintry Christmas Eve…or actually, pretty much any evening. The occasional afternoon, too. And it's not entirely unheard of for some folks (you know who you are) to supplement their breakfast porridge with a nip now and then. Gives you a reason to wake up in the morning, doesn't it?
So now that we've established when to drink, the real question is what to drink. Following extensive, and need I say, selfless research, I've compiled a brief catalog of commendable 2010 releases to add to your Christmas whisky wish list.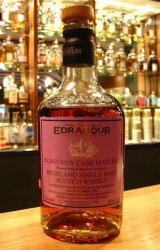 Edradour 2003 Bourbon Matured Cask Strength and 2003 Burgundy Cask Matured
www.edradour.com
Price: Bourbon Matured, about £45; Burgundy Matured, £39.99
Release Date: December and November, respectively
Scotland's smallest (legal) distillery—both in terms of output and the size of its stills—has delivered some of the most robust offerings of the year. Although Edradour produces more than 20 variants, their 'standard" is a 10 Year Old, aged entirely–and rather unusually–in Spanish oloroso sherry casks. (Most makers of Scotch age their whiskies in ex-bourbon American oak barrels, although they might 'finish" them in sherry, port or wine casks to introduce richer, sweeter flavours before their spirits are finally paroled to the bottle).
But for the first time, Edradour has released a whisky that has slept for seven years in erstwhile Old Grand Dad, Jim Beam and Ancient Age bourbon barrels. I sipped the 2003 Bourbon Matured Cask Strength straight from the drum on a blustery November tour of the distillery, which is housed in long, low white-washed farm buildings hunkered down beside a burbling Perthshire burn.
'I get 'bubblegum' when I taste it, with a slight mintiness and vanilla coming through," noted owner Andrew Symington, raising a dram to meet his salt-and-pepper mustache. But don't let those candy-coated metaphors fool you. At 57.4 percent alcohol, this vigorous whisky is zingy on the tongue and will numb your mouth as swiftly as a shot at the dentist's office (the kind that comes in a needle, that is, as opposed to a glass), and it will certainly leave you feeling no pain.
With the warmth of the Bourbon Matured Cask Strength still coursing through my limbs (which was reassuring, as it was the only evidence that I had not suffered total paralysis), I ventured a drop of the newly-released, unchillfiltered 2003 Burgundy Cask Matured. Aged for seven years in Saint-Romain hogsheads, this rosy spirit blushes like a schoolgirl, but the smooth, spicy, woody finish—with just a hint of nuttiness–belies a seductive worldliness. This, gents, is Angelina Jolie in a bottle.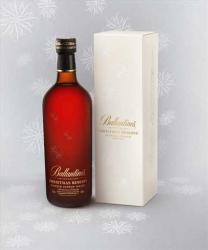 Ballantine's Limited Edition Christmas Reserve
www.ballantines.com
Price: Approximately 30 Euros (about £25)
Release date: October 2010
Raisin fruitcake. Candied apples. Caramel toffee. It sounds like the Sugar Plum fairies' posse, but in fact, these are key players in a new Christmas classic—Ballantine's first Limited Edition Christmas Reserve. It smells of holiday puddings and tastes of oranges, ginger and liquorice, with a long, sweet finish.
Ballantine's Christmas Reserve is sold in 23 countries, including France, Greece, Spain, Sweden, Israel and Morocco, although it's not available in the U.K. But at this price, you can spring for a holiday abroad and bring back a bottle.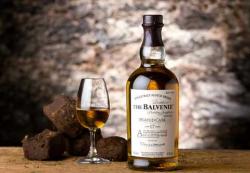 The Balvenie Peated Cask 17 Year Old Single Malt
www.thebalvenie.com
Price: £70
Release date: August 2010
Holy smokes! This new release from The Balvenie is a must-sip for fans of peated whiskies. Its history goes back to 2001, when a mighty peaty batch of barley rocked up at The Balvenie Distillery. It was used to distill a first batch of fluid, and when that spirit was exorcised from the barrels, The Balvenie's Malt Master, David Stewart, refilled the emptied casks—which had taken on a very peaty character themselves–with a batch of 17 year old Balvenie. He then married the resulting liquid with more 17 year old Balvenie that had been finished in new American oak casks. (Are you following? Don't worry; there will not be a quiz).
The important thing to know is this. The final product is a heady mix of smoke and spice, tempered by honey and vanilla. Never mind if you've never flicked a BIC in your life. You're going to want to savour this with a cigar.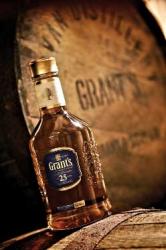 Grant's 25 Year Old
www.grantswhisky.com
Price: £145
Release date: April 2010

A century ago, Charles Gordon, the son-in-law of Grant's founder William Grant, embarked on a yearlong voyage to Australia and the Far East. He wasn't simply joyriding–although, with a hold full of whisky, there was probably no shortage of mermaid sightings. But the real purpose of his trip was to establish Grant's as a global brand.
To commemorate his successful campaign, Grant's has introduced a 25-year-old blend comprised of 25 malt and grain whiskies from every region of Scotland. The blend, with a release of just over 2,000 bottles, dips into some of the company's oldest and most precious stocks, including barrels from the first batch ever produced at Grant's Girvan distillery in 1963 and others made by producers that have long since retired their stills.
'You want to sip it late at night, because the flavours last for a long time," advised Grant's Global Ambassador Ludo Ducrocq at a tasting at the Royal Albert Hall. One of the most distinctive qualities is a certain waxiness, which Ducrocq chalked up to a singular whisky from the now-defunct Ladyburn distillery. 'People often speak about peach and pear (when sampling this whisky), and leather and tobacco notes, as well," he pointed out. The spicy finish, with a hint of cinnamon and ginger, would make a nice compliment to a batch of homemade gingerbread men, too.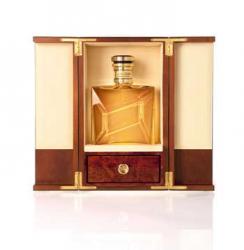 The John Walker
www.johnniewalker.com
Price: £2,000
Release Date: November 2010 in United Kingdom
Johnnie Walker's new kid on the block has, in a sense, the deepest roots of all, as it was created as an homage to the man who founded the company 190 years ago. Like Grant's 25 Year Old, The John Walker is made with some of Johnnie Walker's rarest stocks, drawing from just nine casks hand-selected from a cast of thousands.
The John Walker represents a more nuanced take on Johnnie Walker's other Blue Label blends, namely the original Blue Label and the King George V Edition. As Jonathan Driver, Johnnie Walker's global brand ambassador, noted at a tasting at Gleneagles this September, 'Blue Label is fast, vigorous, dynamic, while King George V is slow and sensual, with a warm smoke that resounds around your chest."
The John Walker, by contrast, is sweeter and subtler, with a lovely maltiness and a smoothness attributed to the Old Speyside whiskies in the mix. 'Anybody can make a powerful whisky," Driver said, 'but to do this and have flavour that you just hold back and you gradually sense on the tongue, on the finish…" His voice faded away as he took another sip, letting the whisky speak for itself.
While it's what's on the inside that counts (just like your mama always told you), the folks at Johnnie Walker aren't afraid to gild the lily. Hence, The John Walker is bottled in individually numbered hand-blown Baccarat crystal decanters (with just 330 trickling into the marketplace), cradled by fine leather and enshrined in lacquered Chinese pine that's almost too beautiful to sheath in tacky cartoon reindeer-and-snowman wrap.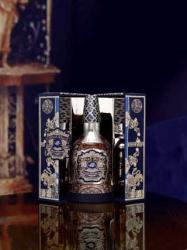 Chivas Regal 18 Year Old by Christian Lacroix
www.chivas.com
Price: US $495 (about £313)
Release date: October 2010
Speaking of bling, Chivas Regal 18 Year Old by Christian Lacroix is like the Lady Gaga of the whisky world. That is to say, the presentation is totally over-the-top, but it possesses the talent to back it up. (Indeed,talent. Y'all don't be hatin' on my girl Gaga. After all, who amongst you hasn't tapped your toes to 'Just Dance?" As for 'Alejandro," well, let's don't talk about that).
Although Chivas Regal 18 Year Old isn't new to the market, I'm including it here because the eye-catching Christian Lacroix 'haute couture" packaging is new and exceptional. Each of this limited release's 3,000 bottles is adorned with embroidered jacquard (yes, 'embroidered," using lasers in place of very sharp needles) and comes nestled in a mirrored brocade box. You won't know whether to drink it or enshrine it on the mantel to impress your friends and family. (Hint: Drink it. This multi-award-winning whisky, with dark chocolate overtones balanced by a hint of smokiness, is too good to waste. If you want to instill envy and annoy your neighbors, buy a sports car and double-park it.)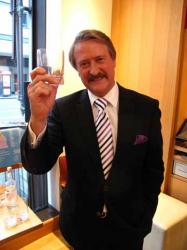 The Dalmore's 45 Year Old Aurora
www.thedalmore.com
Price: £3,000
Release date: December 2010
And now, the granddaddy of them all…drum roll please…The Dalmore's new 45 Year Old Aurora. The legendary Richard Paterson–master blender, master distiller, and Japanese Manga comic book character (really), also known simply as 'The Nose"–introduced this liquid ambrosia at a tasting at Selfridges in September.
At 45 percent alcohol, and indeed at £3,000 a bottle (and there are only 200 of those, by the way), this isn't a whisky to be slung in a glass and ravaged. It requires a little tender foreplay.
'Swirl it around and say, 'Hello,'" suggested Paterson, inserting his famous nez, right up to his Hercule Poirot-style mustache, into a glass. 'Then come back and say, 'How are you,'" he continued, giving it another swirl and a sniff. 'Then go back again and say, 'Quite well, thank you very much.'" He inhaled deeply once more. 'It opens up and reveals its inner self, its inner world—but you must look for it, and you must allow it to come up to the top."
'Now I want you to take a big mouthful and then hold it," Paterson instructed. 'Keep it there, keep it there, because this is the most expensive thing you'll ever have in your mouth. Okay girls?" he grinned. (Ah, the charming cheek of the chap).
To say The Aurora does not disappoint is to say that a shar pei does not lack for wrinkles. It's like a choreographed orgy of flavours: oranges, apples, pears, melon, cinnamon, coriander, and cocoa, all topped off by a hint of rose and jasmine. If I weren't so intent on licking every drop from the sides of the glass, I might have saved a little to dab behind my ears.
'This is a bit like a Chateau Lafite 1961, 1949, or a 1947," Paterson noted, surveying his audience with a satisfied smile. 'This is a beacon. It is the Aurora of light, and hopefully, it will shine on your palette until tomorrow morning."
Ask nicely, and Santa may stuff your stocking with one of these coveted bottles of Scotch–but only if you've been very, very good. For the rest of you there's Granny Clampett's backyard still swill–which, it should be noted, pairs beautifully with vermin pie surprise.
Merry Christmas to all, and to all, a generous dram.