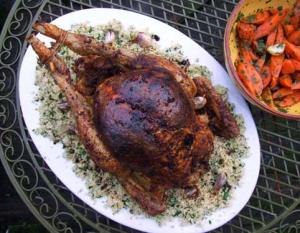 This chicken is stuffed with an aromatic mixture of fruit, nuts, citrus and spices. The soft fruits melt in the mouth, while pistachios provide texture. The best thing about this recipe though, is that the results far outweigh the effort involved. You end up with something much more exotic than a humble roast chicken.
I like to serve this with herb-flecked cous cous drizzled with the pan roasting juices and a warm carrot salad with cumin.
1 free-range chicken
5 cloves garlic, left whole and un-peeled
1 teaspoon all spice50g butter
For the stuffing
Zest of 2 oranges, finely chopped
Zest of 2 lemons, finely chopped
1 teaspoon ground cinnamon
1 teaspoon ground cardamom (crack open the pods, remove the seeds and crush to a powder in a pestle and mortar)
100g sultanas, soaked for ½ an hour in warm water
100g pistachios, roughly chopped
100g sour cherries, pitted and roughly chopped
50g butter
150g cous cous
Salt and pepper
Preheat the oven to 190C/Gas 5
Begin by preparing the stuffing. Put the cous cous in a bowl and pour over boiling water until it just covers the cous cous.Put a plate on top of the bowl and let it steam for 5 minutes.
In a small pan, melt the butter.
Add the sultanas, pistachios, sour cherries and zests to the pan and fry gently, stirring for 5 minutes until aromatic and sticky.
Add the cinnamon and cardamom and cook, stirring for a further minute. Fork through the cous cous and stir this into the stuffing mixture. Set aside on a plate and allow to cool slightly.
Next, prepare the chicken for stuffing. The idea here is to make two pockets in in the breast of the chicken by gently pushing your index finger between the skin and breast meat. This leaves you with two pockets – one on top of each breast. Cram the stuffing mixture into these pockets and stuff any remaining mixture into the cavity. Smear the butter all over the skin of the bird, season with salt and pepper, then sprinkle over the allspice.
Roast the bird for 20 minutes per 450g, basting 3 times during cooking. Check is the bird is cooked by inserting a skewer sideways into the thickest part of the leg and pressing the flesh. If the juices run clear then the bird is cooked. It may need an extra 10-15 minutes cooking time.