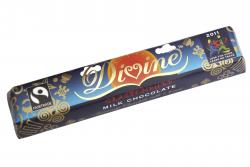 Wimbledon wouldn't be Wimbledon without strawberries and cream – and Glastonbury wouldn't be the nation's favourite mud bath without chunks of a darkish brown mind-altering substance. It's available in small packages, is easy to carry around, you can break it off in small chunks to enjoy bit by bit, it's best in small doses and sharing's always appreciated. Yes, it's that self-indulgent festival staple – chocolate – and, this year, Glastonbury's official supplier is the 100 per cent Fairtrade chocolate-maker Divine.
Console yourself as you swoosh through puddles, or reward yourself after putting up your tent (and especially after finding it again), by indulging in a 45g bar. Its limited edition wrapper can only have been inspired by the type of hope you achieve when in the grip of an out of body experience. I don't mean the strange hieroglyphics depicted around the corners; they are on every packet. It's the psychedelically-inspired and rather optimistic and large orange-red sun between two tiny and perfectly formed cumulus clouds floating in a vivid blue sky with the instruction 'Shine with Divine" that take you to a place of pure phantasmagoria. It's June; this is England; it's Glastonbury and Wimbledon: it rains.
There is, however, some fantasy-fulfilment in store for one lucky nibbler. Inside a 100g packet down at Worthy Farm is a special Golden Ticket giving the winner and a friend an exclusive stage-side view for a performance on the Pyramid Stage on Sunday, 26th June. What better excuse to increase your odds by buying the whole range (milk chocolate, milk chocolate with orange, dark chocolate with orange and ginger, 70 per cent dark chocolate, and white chocolate with strawberry)?
Missed out on tickets? You might still win one of the 45g limited edition Divine bars with the exclusive and very collectible Glastonbury wrapper by entering the Glastonbury competition on the Divine website. Any views on whether the wrapper will be more collectible in pristine condition or splattered with mud that can be proved to be from this year's festival?
To enter the competition, which closes on 10th July 2011: www.divinechocolate.com/glastonbury