With Mother's Day around the corner here are some new cocktail recipes – because a bespoke cocktail is just as exciting as a bunch of flowers and can even smell as nice!

The experts on all things brunch at Bottomless Brunch have come up with the perfect list of mum-friendly cocktails and brunch pairings, to make your loved one feel special this Mother's Day. Forget about cream tea and scones – this year will give your mum a chance to get dressed up, let her hair down, and relinquish her parental duties for a few hours.
Fleur de Paradis

Smelling as sweet as a Mother's Day bouquet, this refreshing cocktail is guaranteed to spark nostalgic conversations and stir meaningful memories.

Sugary yet decadent, the concoction utilises the bitterness of gin, the smoothness of fruity liquor and the fizziness of bubbly wine to encourage the ultimate taste sensation.

For the perfect Mother's Day brunch, why not pair your cocktail with a light, refreshing plate of smashed avocado on toast, complete with a sprinkle of crushed chilli flakes, salt, pepper and a squeeze of lemon.

Ingredients for cocktail:
30ml Gin
15ml St. Germain
3 drops of lemon juice
A teaspoonful of syrup
A teaspoonful of grapefruit juice
1 drop of orange bitters
15ml of prosecco

Method:
Add each of the ingredients into a cocktail shaker.
Shake thoroughly, ensuring that everything within is combined.
Once you have done this, pour it into a martini glass, ready to serve.
Add ice or a floral garnish for decoration.

Ingredients for avocado toast (2 rounds):
2 small avocados
Chilli flakes
1 lemon
Salt and pepper
1 garlic clove
4 x slices of bread

Method:
Scoop out the inside of the avocado with a teaspoon, removing the stone as you do.
Add the avocado flesh to a bowl, then mash it up with a fork until it has a guacamole-like consistency.
Sprinkle in the chilli flakes and some diced garlic.
Spread onto your toast after buttering it, sprinkling on more chilli flakes and squeezing the lemon juice all over.
Finish with salt and pepper.
Australiana Spritz Cocktail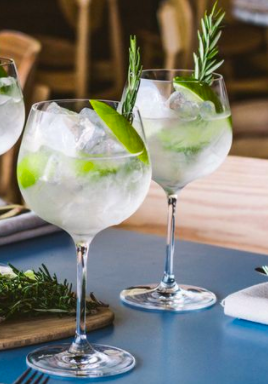 Transport your mum to the white sand beaches of Australia, allowing her to envision crystal-clear oceans, the smell of sunscreen and the sun kissing her skin, as she sips on an expertly-blended cocktail.

Dry and crisp, the cocktail combines gin, vermouth, soda water, and prosecco to offer an intriguing and unforgettable experience.

If you're feeling peckish, try pairing your drink with a Levantine classic, favoured in cafes across Australia: chilli labneh eggs, consisting of runny eggs, yoghurt, toast and tomatoes.

Ingredients for cocktail:
20ml of vermouth
30ml prosecco
A lime wedge
20ml gin
A sprig of rosemary

Method:
Fill a large wine glass with crushed ice.
Add all of the ingredients to the glass and smoothly stir, ensuring that everything is combined.
Drizzle the lime over the top to add a splash of freshness, then add the sprig of rosemary for decoration.

Ingredients for chilli labneh eggs (for 2 rounds):
4 x small eggs
1 garlic clove
70ml olive oil
400g Greek yoghurt
10 cherry tomatoes
25g butter
4 x slices of bread
1 lemon

Method:
Firstly, add your yoghurt to a colander to remove any excess liquid overnight. Use a cloth to make sure none is wasted.
Add the lemon and diced garlic to the remaining yoghurt the next day.
Add to a pan and add your tomatoes, stirring until charred.
Soft boil your eggs for around 5 minutes so the yolk is runny.
Once complete, add your eggs to a bowl of cold water.
Once cool, peel your eggs.
In a separate pan, heat the butter and add chilli flakes. Stir and transfer to a bowl.
Add your already combined labeh to two bowls, topping with the eggs and the chilli butter.
Serve with toasted bread and enjoy.
Cherry Bakewell Cocktail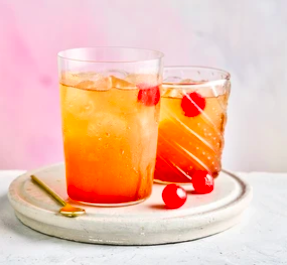 Take a trip down memory lane with the ultimate nostalgic cocktail: the Cherry Bakewell. Inspired by the beloved and delicately-iced cakes of yesteryear, the drink is guaranteed to trigger fun-loving childhood memories – but with booze.

The sugary sweetness caresses the taste buds, while the cherries add an intriguing and unexpected element to the cocktail.

For an extra injection of syrupy goodness, why not pair your cake-flavoured drinks with fluffy American-style pancakes, treacle and a sprinkling of raspberries. Finish with a dusting of icing sugar.

Ingredients for cocktail:
50ml cherry cordial
100ml amaretto
1 teaspoonful of lemon juice
300ml lemonade
maraschino cherries

Method:
For two servings, fill two tumbler glasses with crushed ice.
Add every ingredient, apart from the lemonade, to a cup or bowl and slowly stir until everything is combined.
Pour the mixture into the glasses, then top up with lemonade.
Add the cherries for decoration and you're done!

Ingredients for pancakes (for 4 rounds):
200g self-raising flour
200ml milk
vegetable oil
1 tbsp caster sugar
3 eggs
1 ½ tsp baking powder
25g melted butter
Treacle for drizzling
Raspberries
1 tsp of icing sugar

Method:
Combine the flour, sugar and baking powder in a bowl.
Make a hole in the middle and crack the eggs into it.
Add the milk and the melted butter to the hole.
Whisk together until the mixture is silky.
Heat up oil and a small amount of butter in a pan.
Once added to a jug, pour your desired amount of mixture into the pan to create your pancakes, flipping occasionally until golden.
To finish, add your treacle, raspberries and icing sugar.
Pink Gin Iced Tea


Help to make Mother's Day fun for all the family, with a jug of tantalising pink gin iced tea. Perfect for breathing summer into the colder months, the drink combines the sweetness of elderflower with the bitterness of gin and grapefruit, making it ideal for a (possibly indoor) barbecue.

For a spicy kick, try pairing your iced tea with a healthy breakfast burrito, consisting of a wholemeal tortilla wrap, fluffy scrambled eggs, roasted tomatoes, chilli flakes, avocado and a splash of hot sauce.

Ingredients for cocktail:
100ml pink gin
100ml spiced rum
100ml grapefruit juice
100ml elderflower cordial
Thyme sprigs
A chamomile tea bag

Method:
Add the teabag to boiling water and leave to brew for five minutes.
Remove the tea bag from the cup and allow the water to cool.
Add the rest of the ingredients to the water and gently stir.
Add the sprigs of thyme to jug as a garnish.

Ingredients for breakfast burrito (for 2 rounds):
2 x wholemeal tortilla wraps
2 x small avocados
4 x small eggs
6 x cherry tomatoes
Chilli flakes
Hot sauce

Method:
Preheat your oven to 180 degrees.
Crack eggs into a small bowl and whisk together.
Add a small chunk of butter or oil to a pan and heat, then add your egg mixture, stirring until fluffy.
Set aside and spoon the flesh out of the avocado, chopping it up into finely-diced cubes.
Keep your pan on the heat and add the cherry tomatoes, after chopping them into quarters.
Once everything is cooked, add to your tortillas and sprinkle chilli flakes.
Fold your tortillas up and place it into the oven for three minutes until crunchy.
Finish with hot sauce.
Zesty Spritz


Finally, perfect for people that prefer something sharp rather than sweet, we have the Zesty Spritz. Fuelled by bitters, invigorating blood orange, and prosecco, this cocktail instantly evokes glamour and opulence, allowing your mum to feel like the royalty she is!

To round things off for Mother's Day, treat your mum to delicious, buttery garlic mushrooms on toast, consisting of heavy cream, diced garlic, chopped mushrooms, and salt and pepper.

Ingredients:
90ml prosecco
3 splashes of orange bitters
30ml tonic water
60ml blood orange liqueur
Orange slice for garnish

Method:
In a tall glass, add all the ingredients, except the tonic, and stir.
Once everything is combined, top it up with tonic water for extra bitterness.
Add ice – depending on personal preference.
Finish with a slice of orange on the rim of the glass.

Ingredients for garlic mushrooms (for 2 rounds):
10 mushrooms, chopped into thin slices
2 tablespoons of heavy cream
2 tablespoons of cheddar cheese
1 tablespoon of olive oil
4 x pieces of bread
Butter for cooking
1 garlic clove

Method:
Heat up the oil in a frying pan, then add your knob of butter.
Once melted, add your chopped mushrooms, along with some salt and pepper.
After finely dicing your garlic clove, add to the mixture.
Once the garlic has darkened, add the cheese and heavy cream, stirring regularly until the mixture is combined.
Butter your toast and pour the mixture onto the slices.
Finish with a sprinkling of salt.