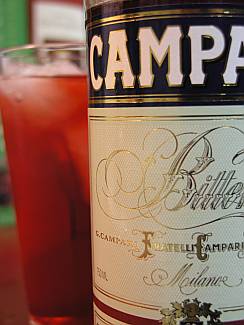 Fancy being all sophisticated? Then Campari is for you.Fans of the unique taste of Campari include Jessica Alba and Heston Blumenthal and the latter knows a thing or two about great taste. Created in 1862 by Gaspare Campari of Milan Campari's brilliant red hue, bittersweet taste is unique
Campari has long been famed for its digestive properties thanks to a closely guarded secret blend of ingredients – it is the original bitters from the distillation of bitter herbs, aromatic plants and fruit in alcohol and water which takes over a month to prepare before the final infusion is blended and bottled.
Today still, only three people know the full recipe. It has a 25% ABV which is lighter than other spirits but stronger than wines making Campari a perfect daytime or early evening drink.
The Negroni. For the dedicated Campari drinker
1 part Gin, 1 part Campari, 1 part Sweet Vermouth, served on the rocks with a twist of orange to garnish. Guaranteed to impress the bartender when requested!
Campari and freshly squeezed orange
The bittersweet ruby red spirit tastes fantastic with fresh orange: fill a tall glass with ice and add 1 part Campari and three parts freshly squeezed orange juice, finish with an orange wheel.
or try
The Classic Aperitivo
35ml Campari
75ml freshly squeezed orange juice
Fill a tall glass with ice.
Add the Campari and top with the freshly squeezed orange juice.
Garnish with a fresh orange wedge.
The Italian Icon Aperitivo
30ml Campari
70ml Sanpellegrino Limonata
Fill a short glass with ice. Add the Campari and top with Sanpellegrino Limonata.
Finish with a fresh lemon wedge.
The Aperitivo Milano
25 ml Campari
20ml Gin
25ml Cloudy Apple Juice
12.5ml Apricot Brandy
12.5ml fresh lemon juice
Fill a short glass with ice. Shake all the ingredients together in a cocktail shaker with plenty of ice. Strain into the glass and garnish with 2 slices of red apple.