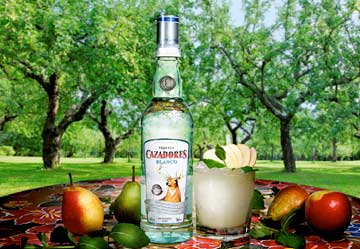 Forget bottled cider ‐ according to London's top mixologists there's only one way to have your apples and pears this summer and that's mixed with Cazadores, Mexico's national spirit.
The official cocktail of the boutique festival tipped as one of this summer's hottest tickets (Secret Garden Party of course), the Secret Garden Margarita is available now in award winning London bars such as Green & Red and Quo Vadis.
This classic fruit combination was famed in the capital's rhyming slang and now provides inspiration for a modern take on the ubiquitous Tequila cocktail. Floral Tequila notes are balanced with the sweetness of English orchard fruits. The light and summery flavours allow the complex spicy and tropical notes of the unaged Blanco to shine through before the smooth finish that Cazadores is so renowned for. Steffin Oghene, General Manager at the award winning Shoreditch cantina, Green and Red advises using a simple mix of fresh pear, cloudy apple juice, lime, Cazadores Blanco and elderflower liqueur ‐ a serve that can easily be recreated at home.
Meanwhile, across town at exclusive members club Quo Vadis, Bar Manager Rich Hunt has created a connoisseurs version of the drink: adding a touch of Falernum cinnamon and clove liqueur and Cointreau orange liqueur for a subtle and warming autumnal kick.
Cazadores Secret Garden Margarita recipes:
The classic, created by Steffin Oghene, Green and Red
Ingredients:
50ml Cazadores Blanco
Half a juicy pear / 40ml Funkin Pear Puree
15ml elderflower liqueur
25ml cloudy apple juice (Eager/Copella/local)
squeezed lime wedge
Method: muddle the pear, add the rest of the ingredients, shake and strain to serve
Glass: high ball or rocks, over ice
Garnish: dust with cinnamon or nutmeg shavings
The Quo Vadis twist, created by Rich Hunt
Ingredients:
50ml Cazadores Blanco
15ml Cointreau
10ml Taylors Velvet Falernum (available from www.thedrinkhop.com)
40ml apple and pear juice
20ml fresh lime
Method: shake, strain and enjoy
Glass: high ball, over ice
Cazadores is Mexico's favourite spirit, known widely by the locals as 'the one with the deer on it' ‐ referring to and underlining the importance of its origins in the Highlands of Jalisco. Cazadores is a 100% agave premium tequila with a rich, fruity, naturally sweet taste. Unlike many other tequilas which are aged in used bourbon barrels, Cazadores only ages in new American oak casks ‐ adding a distinctive oaky spiciness to its unique flavour profile.
Cazadores has three products in its range: the youthful, un‐aged Blanco; the Reposado which is rested for a minimum of 3 months; and the eldest of the trio, the Añejo, which is aged for a minimum of 12 months. The exceptionally smooth taste of Cazadores can be enjoyed neat or in classic and contemporary cocktails. Cazadores is available now in leading bars such as Callooh Calley, Pinchito and B@1 and key Mexican outlets such as Green &Red, Crazy Homies and Cafe Pacifico. Cazadores is available online from www.drinkon.com, www.thedrinkshop.com and Gerry's of Soho, London.
Cazadores has three products in its portfolio, distinguished by their age statements. All products are produced in 70cl
bottles at 40 % ABV.
Tasting notes:
Cazadores Blanco: Never aged before bottling ‐ sweet & soft. On the nose the Blanco is fresh and intense with
tropical fruit notes. The taste is light with cinnamon sweetness, jasmine tea, dried peppers and an underlying dryness.
Finishes with some luscious spice.
Cazadores Reposado: Gently rested for a minimum of 3 months in new American oak barrels ‐rich & smooth. On the
nose it is earthy, with honey, dried fruit and caramel notes. The taste is complex and layered: creamy with vanilla,
pear drops and herbal undertones. The finish is herbaceous and dry with subtle fruit.
Cazadores Añejo: Aged with care for a minimum of 12 months in new American oak barrels – a distinctive taste. The
nose is rich with citrus fruit, vegetal at first, before opening up into lemon and honey. The taste is elegant, rich and
oaky with dark chocolate, nutmeg and lemon notes. Rich and rounded, it finishes with hints of chocolate and pear
drops.