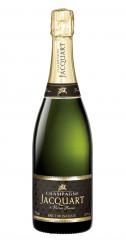 Personally, I couldn't live in a world without Champagne.
It occupies a cultural space where celebration, extravagance, quality and style meet; but when I do drink Champagne, I want it to be good, I want it to be memorable and, preferably, I want to be able to afford it.
Champagne Jacquart's Brut Mosaïque NV (£26.50 Great Western Wine) fulfils all these criteria and is high on my list of recommendations to friends who remain unconvinced of the uniqueness of one of France's greatest products.
Dry but a little off dry, the light, active and perfectly formed bubbles of the Brut Mosaïque carry a beguiling array of sophisticated fruit and savory richness like golden stardust over velvet. A hint of aromatic sweetness flirts with you all the way through the long, rolling, finish.
Yes, I think this is what a Champagne experience should be like. There are very few rivals to greatness but, interestingly, one of them is being produced right on our own doorstep.
If you would like to get a right up to the minute experience of state of the art wine making in England, you really have to try the remarkable Nyetimber Rosé 2007 (Berry Bros.& Rudd £38.95).
Comparable to a fine pink Champagne in quality and style, this Sussex made newcomer has a personality all of its own and is causing quite a stir among connoisseurs of bubbly.
With a gorgeous golden rose colour and a nose of faint strawberry and grapefruit, the wine comes at you with a bracing attack of lively, fruity acidity and yeasty class that gives way to a tantalising and subtle interplay of small red fruits; and, just when you thought it was all over, a finish as sharp as a fresh cut lemon appears and delivers a flinty, bone dry clang like the ring of a ship's bell.
That's quality for you, celebratory wines that mark an occasion by taking you on a journey with each sip. A journey in style; and one you don't forget.