Ginger and Pineapple Mojito with the Microplane® Gourmet Series Fine Grater.
Havana, Cuba, is the birthplace of the mojito, although its exact origin is the subject of much debate. It could have derived from the Spanish word 'mojadito' meaning 'a bit wet' or the African word 'mojo' meaning 'to cast a spell'. Either way, it makes every Christmas party utterly magic.
Serves 1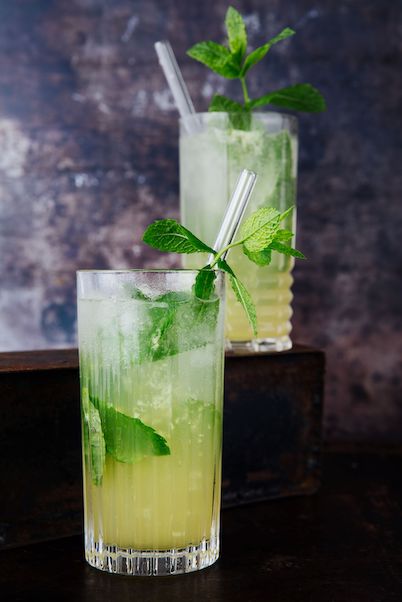 Ingredients:
Approx. 10 mint leaves
20ml pineapple syrup
1 tsp fresh ginger, using the Microplane® Gourmet Series Fine Blade
Zest of 1 lime, as above
60ml white rum
120ml pineapple juice
120ml tonic water
Juice of 1 lime
Crushed ice
Mint leaves for garnish
Method:
1. Cool the glasses in the freezer overnight
2. Gently muddle (crush) the mint leaves and pineapple syrup in highball glass – to release the aroma of the mint
3. Add 1tsp each of grated ginger and lime zest
4. Top up with rum, pineapple juice, tonic water and lime juice. Add crushed ice, stir and garnish with a couple of mint leaves
The high-performance paddle-style Microplane® Gourmet Series is available in ten different blades offering a wide variety of grating results, including: Fine, Ribbon, Large Shaver, Extra Coarse, Star Blade, Ultra Coarse, Slicer Blade, Julienne Slicer and Fine Julienne.

Eggnog with the Microplane® Master Series Fine and Ribbon Graters.
Can you genuinely claim to have experienced Christmas if you haven't had a glass of Eggnog? The creamy, brandy-based, toothsome drink is not to everyone's taste, but this version of the festive classic adds chai tea, coconut and almond milk. You've simply got to give it a try!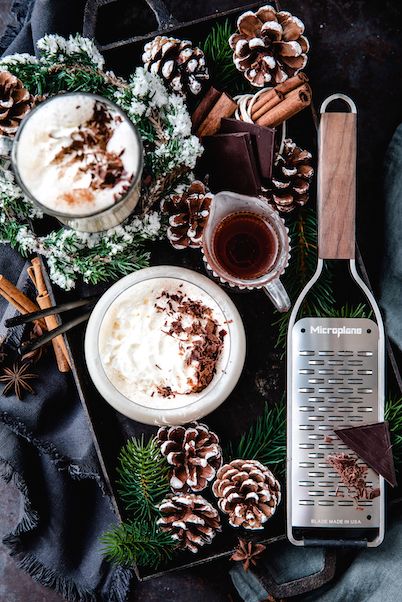 Ingredients:
250ml coconut milk
500ml almond milk
80ml maple syrup
3 teabags of chai tea (or 2 tsp of chai spice mix in a spice bag)
pinch of salt
1 tsp vanilla extract
3 egg yolks
For the topping:
200g whipped cream
Piece of dark chocolate – grated using the Microplane® Master Series Ribbon Grater
1 shot of rum or brandy per glass (optional)
1 tsp cinnamon – freshly grated using the Microplane® Master Series Fine Grater
Serves 2-3
Method:
1. Put all the ingredients, except for the egg yolks into a saucepan and warm through slowly. Do not boil!
2. Leave to infuse for 5 minutes
3. Mix the egg yolks in a bowl and add some warm almond milk then pour it into the saucepan and heat everything up again, slowly, stirring constantly
4. Remove the tea bags/spice sachets from the pan
5. Pour a shot of brandy into each glass, divide the mixture equally, top with whipped cream and a fresh grating of cinnamon and chocolate
The Microplane® Master Series is a collection of elegantly designed graters crafted with a walnut handle and sturdy stainless steel frame, available in FIVE blade styles including the long, narrow Master Zester (RRP £29.95) and FOUR paddle-shaped graters; Fine, Coarse, Ribbon and Extra Coarse blades (RRP £34.95).
The Microplane® range is available from Borough Kitchen, Divertimenti, hartsofstur.com and independent cookshops nationwide.
www.microplaneintl.com @microplaneintl #microplaneint
–