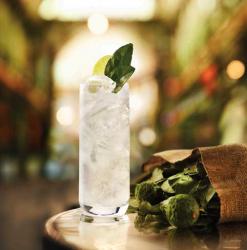 The Kaffir Lime-ade is sweet and sour in all the right places, it is a clear colour, refreshing and cool in the hand and oh, so easy to drink. Too easy. And all of it, every last delicious drop, was made by me. Yes, me, with the 'chipolata fingers' my step brother teased me over. Chubby, half-Iranian fingers.
Before this revelation in Battersea Square, at a cocktail masterclass to celebrate the launch of the limited edition Beefeater London Market Gin, the closest I've come to making a cocktail is throwing various bottles into a punch bowl at a uni party – the same, I imagine, as many others. Cocktails have always seemed a bit of a magical mystery to me. A university friend went on to complete a qualification in mixology and I always imagined he must have gone to somewhere very like Hogwarts.
But back to Battersea for a moment, and here it is, plain as day, a cocktail I've made. It helps, of course, that we have a master at hand. Dre Masso doesn't just have a brilliant name, he's also a bit of a whizz with various, lovely alcohols too.
When I arrive at the recently opened Bennett Oyster Bar and Brasserie feeling like a secret agent behind enemy lines, I don't let on that, actually, I don't much like gin, it's all girly and stuff. Amazing how a cocktail recipe dreamt up by an expert can change your mind.
Along with the Lime-ade, we try a Pomegranate Fizz, a Martini and, something Dre seems particularly excited about, a punch. We make them all with Dre's help, apart from the punch, which he makes (perhaps this is why Dre is excited – no fat-fingered half-Iranians to cock it up). Although I'm suspicious, he says we can even do it when he's not around – a new website called ginandtales.com edited by Dre was launched not long ago with stories, interviews, tips and recipes for beginners through to experts.
We use household objects to make them all so we can see just how easy they can be; an airtight jar, rolling pin and chopsticks are all suggested as excellent 'make do' cocktail tools. And they work, a little too well perhaps. So well, in fact, I'm beginning to think I could even defect to the gin side. Even if I do mix it using my chipolata fingers.
Beefeater launches its new limited edition Beefeater London Market Gin this season. Current master distiller, Desmond Payne, chose ingredients based on Beefeater founder James Burrough's recipe adding fruity notes of pomegranate seeds, a citrus tone from kaffir lime leaves and the spice of cardamom pods to reflect the vibrant mix of London's own markets. RRP £17.99 from selected retailers.
Launched in May, www.GinandTales.com is edited by Dre Masso who has almost 20 years experience on the cocktail scene. The website features recipes, tips and monthly interviews with some of Dre's bartending heroes.