To celebrate Easter and the month dedicated to chocolate, Sanderson Hotel has collaborated with the standout ethical chocolate brand Tony's Chocolonely, to create a delicious chocolate themed cocktail menu.
If you are like me and sometimes just crave a more individual spin on Easter eggs and treats I have a great preposition. Consider Easter inspired cocktails made in collaboration between the infamous Long Bar, Sanderson and Tony's Chocolate.
In addition to the limited edition cocktails there is a flurry of other Easter activities happening across the Sanderson hotel, including an adult Easter egg hunt. But let's focus on the cocktails 'Choctails' for now. The limited edition menu consists of three 'Choctails'.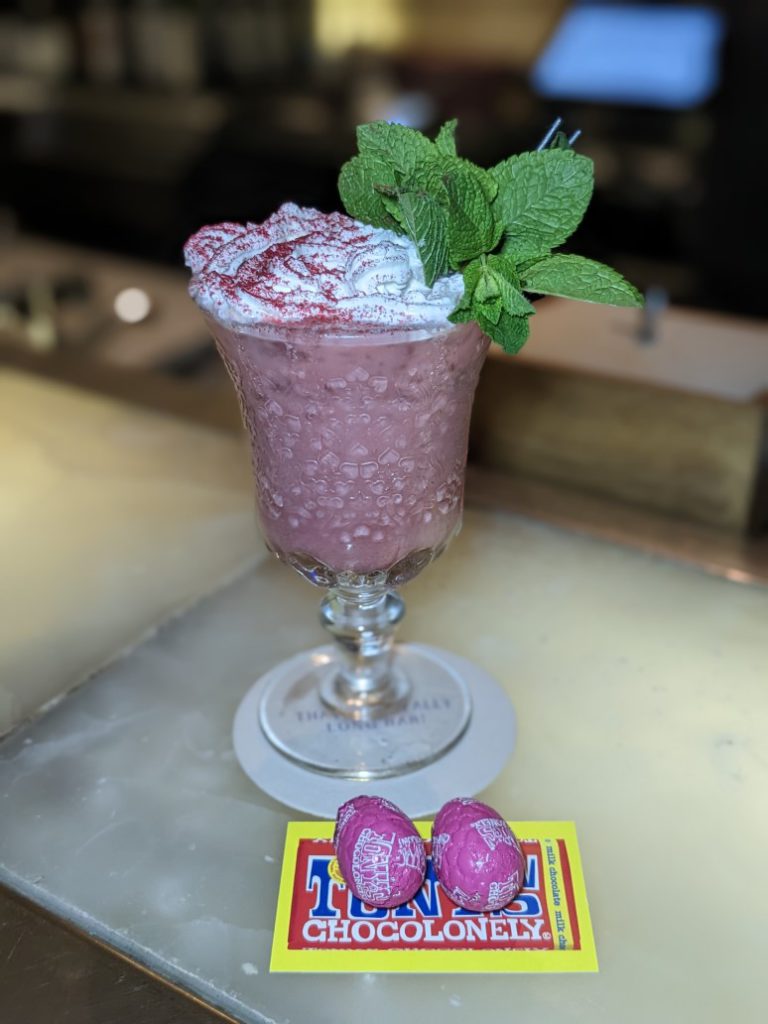 Tony's Spring Fling, inspired by Tony's Raspberry & White Chocolate Popping Candy, this mix is suitably sweet. Absolute Vanilla is mixed with limoncello, Mozart White, raspberry puree, and vanilla & blood orange syrups.
The drink comes topped with whipped cream and raspberries for extra extravagance. It's a bit like a more fruitier juicier milkshake with a vanilla vodka kick to it. Even if you are not huge on sweet things you'll enjoy it.
There is also a very classy looking Mon Cherry, inspired by Tony's Dark Almond and Sea Salt Chocolate. It comprises of Woodford Reserve, Amaretto di Saronno, Frangelico, finished with cherry syrup and fino sherry.
It's served red in a martini glass that comfortably sits in one hand. It comes with a dark chocolate silhouette on top. Mon Cherry is less sweet but quite fruity with abundance of cherry and plenty of class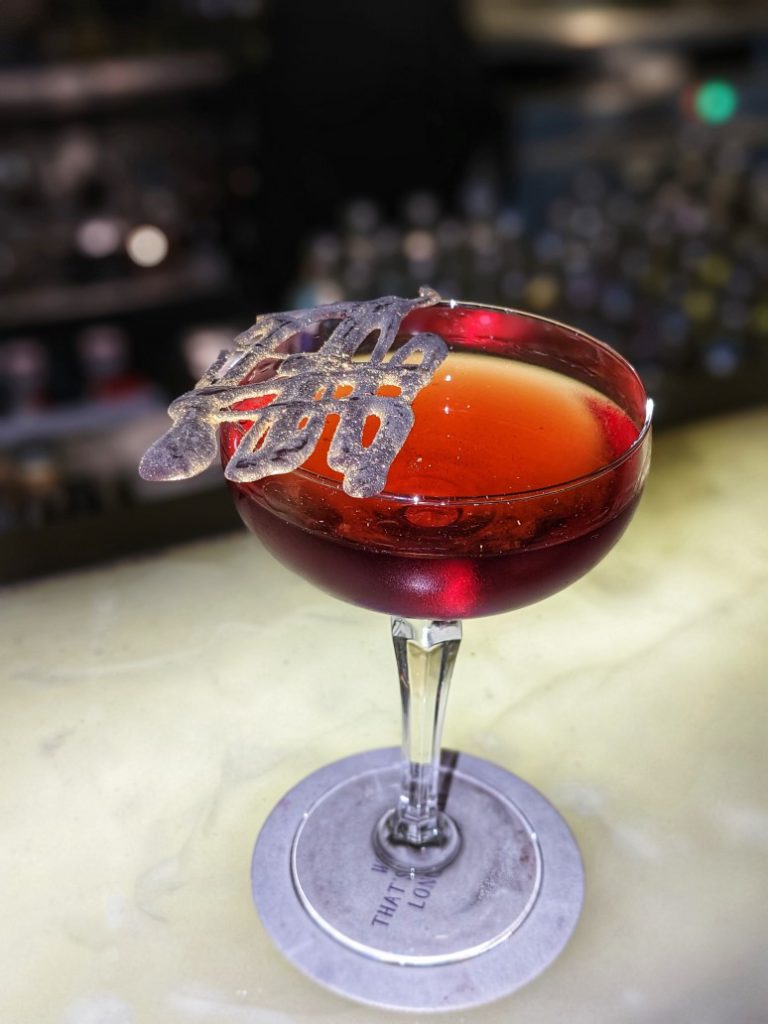 To continue with the bar setting we also decided to try a few bar nibbles. Squid tempura and chicken karaage caught our eye. The squid had to be redone because at first the batter came rather flat and slightly bitter. Second round was quite delectable.
I'd say it's more of a fish & chips style of batter, fluffy and well-rounded rather than bubbly like on prawn tempura. But we are definitely not complaining. It's balanced with well prepared fresh slices of squid inside and just the right amount of oil, fresh not overused oil in the fryer.
The chicken karaage arrived super crispy, perhaps a little too crispy for our preference but the lemon mayo dip balanced the crunch well. For the final round of cocktails and to accompany our sides we had the The Chocotini cocktail.
It's inspired by Tony's Milk Caramel and Sea Salt Chocolate. Gosling rum is shaken with Borghetti espresso liqueur, an espresso shot mixed with caramel syrup and a pinch of salt. It comes topped with Miraculous foam bitter and coffee beans.
I'd say it's an edited version of an espresso martini filled with coffee flavours and very light caramel hint.
Our verdict is all three cocktails are very different but cleverly put together. You have the classy Mon Cherry to suit someone who likes cosmopolitan style of drinks. Tony's Spring Fling for the fruity and sweeter type, which is my favourite. And The Chocotini for those preferring coffee inspired cocktails.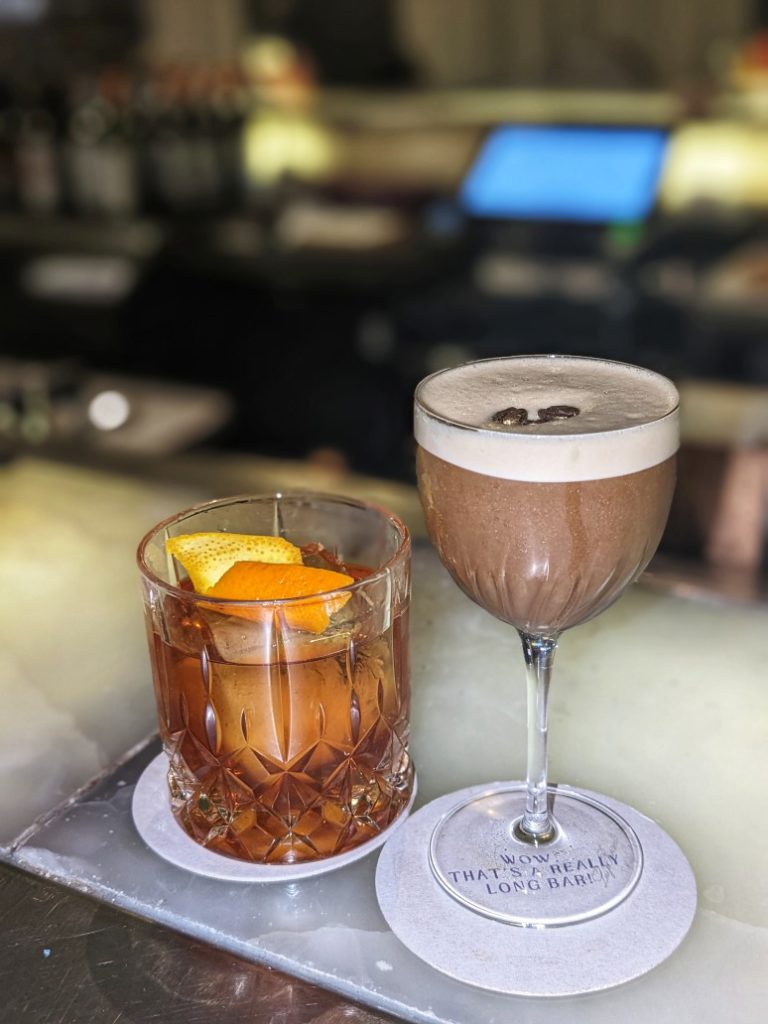 Once you are done munching on the chocolate eggs at home definitely check out the The Tony's Easter themed cocktails. They are only at the Long Bar for the month of April.
The Sanderson team is also hosting a competitive adult Easter Egg Hunt throughout key spaces in the hotel. Guests can hop around the quirky lobby seeking small hidden bunnies which, if found, can be exchanged for a special luxury Tony's Easter bundle.
It's a great way to continue the Easter celebration. Here are some more convincing facts for visiting the Long Bar. It was made famous in the 90's as a popular haunt for celebrities such as Kate Moss and Naomi Campbell, still retaining its cool air of sophistication, the bar stands at an impressive 80-feet in length and serves up a renowned list of innovative cocktails.
At the heart of the Sanderson social scene, DJs spin the decks every weekend to make sure all guests are in the party mood. It's the perfect spot for date night, or an evening with friends.
And the final bit about the collaboration with the Tony's Chocolonely. The brand is on a serious mission to end modern slavery in the chocolate industry. The chocolate is made without palm oil and most of their packaging is plastic free. Their vision is 100% slave free chocolate world-wide.
Sanderson, 50 Berners St, London W1T 3NG