What better way to celebrate than with an Eight Lands take on the iconic Vesper Martini – "License to Distill".

Originally inspired by James Bond's love interest in Casino Royale, the Vesper is a superb variation on a Martini.

Eight Lands has put its own stamp on the classic cocktail, using both its multi-award-winning Gin and Vodka to work side by side in perfect harmony.

Eight Lands Gin and Vodka are made at the family-owned Glenrinnes Distillery at the foot of Ben Rinnes in Speyside.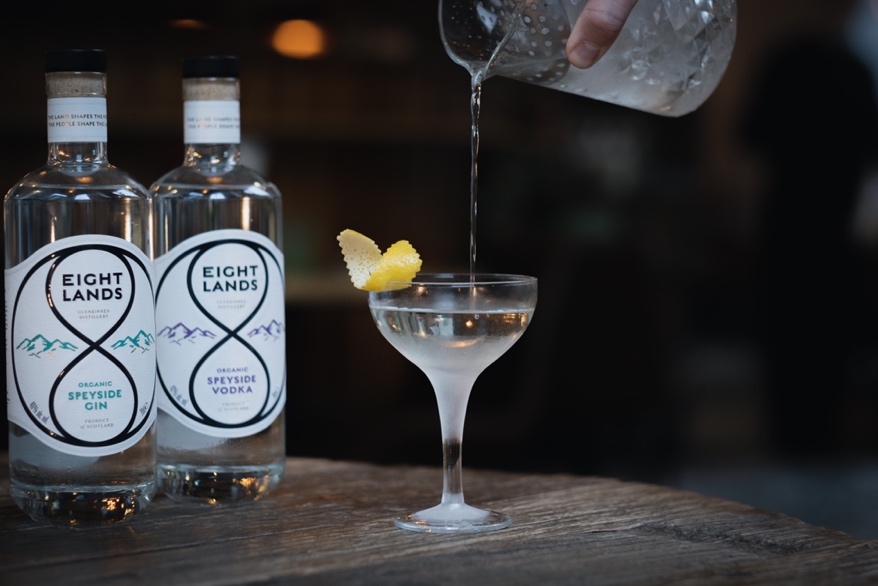 Using the freshest Scottish spring water, organic ingredients and a superior distilling process, Eight Lands spirits combine to deliver the cleanest and smoothest martini you could hope to drink.
Mixing gin and vodka (easy on the vodka) makes a different kind of martini, with the vodka damping down the gin's botanicals for a milder, sweeter flavour.
Bond, in the Ian Fleming book, specifies "Three measures of Gordon's, one of vodka, half a measure of Kina Lillet. Shake it very well until it's ice-cold, then add a large thin slice of lemon peel. Got it?"
Gordon's was of course the classic gin of the 1960s. In the film, Sean Connery, being Scottish, would surely have demanded Eight Lands gin and vodka.
Kina Lillet sadly no longer exists, so for the vermouth, try and find Lillet, a similar French vermouth to the one Bond specified, and available from thewhiskyexchange.com.

We love Eight Lands gin here, one of our very favourites. It's not gimmicky, it's just well put together with juniper to the fore. It's a London Dry gin style with cowberry and sorrel from the estate, and eight other botanicals. All very refreshing.

Buy Eight Lands gin and vodka direct and also from www.harveynichols.com
Recipe
Eight Lands Organic Gin 50ml
Eight Lands Organic Vodka 20ml
Dry white vermouth 10ml
Unwaxed lemon peel garnish
Method
Martini glass (chilled)
Stir all ingredients over ice for a while (or shake if preferred)
Strain into chilled glass
Garnish with a twist of lemon