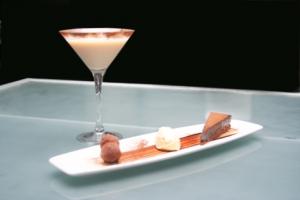 With London Fashion Week literally just around the corner London restaurants and bars are falling over their now designer clad selves to launch tie in events and menus to keep the famously hard to please crowds happy. The Trafalgar hotel is no exception, in their Rockwell Bar they've introduced a Taste The Trends cocktail and dessert menu.
Last week I packed up my notepad and headed off to Trafalgar Square for a preview of the afore mentioned menu. I was intrigued to finally get my feet on the floor boards of the Trafalgar Hotel; it's right opposite the N159 bus stop that I have frequented in the dirty hours of the early morning on Saturdays and Sundays for the last eight years of my life. I'd struggle to find a waiting point that means more to me than here.
That bus stop has been the halfway point of journeys back from Camden clubs where the taste of fresh air in the mouths of members of our troupe was vomit inducing, the place where once I kissed a complete stranger just because I was bored waiting for the bus, where a drunken boyfriend appropriated a child's bike from a nearby lamp post and rode it down the stairs of the Department for Culture headquarters. Essentially the history of that bus stop plays out like an episode of 'Skins'- the exact opposite of what the atmosphere inside The Trafalgar hotel was like.
The Rockwell Bar was dark and moody with big red lights hanging from the high ceiling, well dressed urbanites in every available space and an almost endlessly long stainless steel bar that ran the entire length of the room. Suave men in suits rested their elbows on the metal surface whilst 'talking office' and gangs of friends sat at tables rolling their heads back with laughter.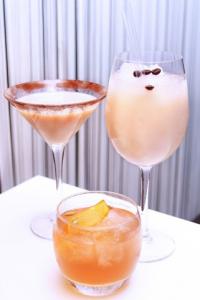 I took my place at our table along with the other bloggers and writers who'd been assembled and we all dived straight into the Nude Lace. This first cocktail was made with a 'smooth blend of creamy Mozart white chocolate liqueur with a devilishly decadent kick of Sauza tequila and the suggestion of coffee to finish.' I could certainly taste the coffee and hints of sweet white chocolate. The tequila gave the cocktail a sharp edge that stopped it from being too saccharine and defied the preconceptions I had based on what it looked like in the glass.
After looking at the menu with it's thoughtful layout designed to look like a spread from Grazia magazine with pictures of models and clothes that represented the fashion trend each cocktail borrowed it's name from, I remembered that this event was due to end at 9. It was already 7.30 and the prospect of backing 3 cocktails in the space of an an hour and a half seemed a little extreme even for me, a member of the 'binge drinking generation'.
There was no time to dwell on that though because out came the 'Autumn/Winter Assiette'; a trio of mini chocolate, hazelnut and coconut deserts served on a single plate. The Assiette was a rich chocolate torte that packed a strong cocoa hit amidst it's silky texture, truffles with a hidden surprise of popping candy and coconut ice cream that tasted a lot like the shredded coconut bars they sell in newsagents. That's not a bad thing, I love that sweet tropical stuff.
Next the Pretty Poetess rocked up. This was my favourite of all three; a concoction of golden rum, green cardamom syrup and Angostura bitters served in a solid tumbler. Warming, spicy, refreshing and invigorating are all words that I opened my mouth to say but instead I spouted out a soliloquy about how the glass was "Mad Men-esque" and the flavours were "sturdy, powerful and hard-hitting".
"I like the way this looks, it's not pretty or fussy or girly like the others" I said. The other women at the table looked at me as if to say "I bet she doesn't like pink either" whilst the men gave me that look they specifically save for women they suspect of being militant feminists. Neither of these accusations are true so I just smiled.
The final cocktail was 'The Girl in the Camel Coat' containing Grand Marnier and tequila along with another creamy liqueur. It was incredibly strong but indulgent like those Pot au Chocolat you get at good french restaurants. I heard some people say it was 'naughty but nice' which summed up the cocktail perfectly.
With each rather large drink priced at £10 and the Assiette dessert at £7.50, its a surprisingly good value menu given the central location of The Trafalgar hotel.
The Taste The Trends menu is available from now until September 30th.