The London Essence Company release tickets to The Essence House – a one-of-a-kind two-floor experience, set to delight drinks enthusiasts, in the epicenter of the world's biggest celebration of cocktails   
Taking place across two floors of the Carriage Hall, on Floral Street – the pop-up has new and elevated features for 2021 and extended throughout October (2nd – 24th October).  
An exciting new addition to The Essence House will include 'The London Cocktail Week Bar', a brand-new bar in partnership with the festival open to all members of the public, presenting a full menu of cocktails, including signature drinks created by bartenders from the UK and Europe, all using London Essence's luxury mixer collection.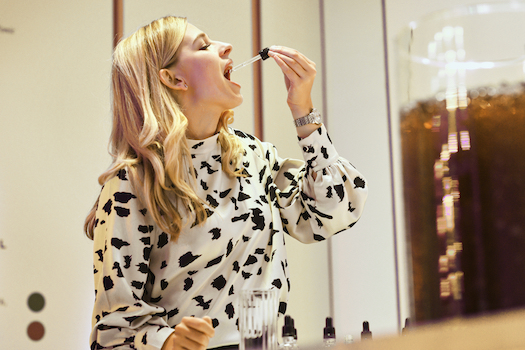 The London Cocktail Week Bar serves exclusively curated Signature Cocktails from £7 for those with a London Cocktail Week wristband, and £10 for those without. In addition to this, the space will also host other experiences that visitors can enjoy, including "Sunday Cocktail Brunches" with Belvedere Organic Infusions. 
A first for London Essence – this year, drinks enthusiasts will be hosted in two standout spaces, at the centre of the festival's celebrations. Inviting guests to engage in unique experiences, designed to win the hearts and minds of cocktails devotees. 
   On the top floor of Carriage Hall, 'The Essence House' will engage visitors in a fully immersive, multi-sensory event, created to inspire imaginations and impart the tools to create cocktails, distinctively designed for individual palates.  
The journey begins in 'The Palate Profiling Room' – a unique hands-on experience, curated by Dr Rachel Edwards-Stuart – one of only a handful of experts dedicated to the science of gastronomy and flavour perception in the UK.
Through a series of interactive taste and aroma tests, guests will be exposed to new ways to reimagine taste – uncovering their sensitivity to sweet, acidic and bitter flavours, to help build a picture of their palate and its flavour preferences.  
As guests move through The Essence House, they will enter 'The Effervescence Room' – an immersive journey into the world of bubbles, fizz and carbonation and how these sensations elevate the drink experience. 
Through a series of blind taste tests – guests will gain a deeper understanding of how carbonation effects flavour and how The London Essence Company creates its superior flavours and aromas. With these next level skills, they'll understand how to reinvent cocktails they create for others too.   
Guests will then be led to "The Essence House Kitchen"- an immersive masterclass highlighting the importance of ice, glassware and garnishing. From exploring tips to balancing flavour pairings, to the art of presentation and the impact this has on drinking experiences, visitors will be able to personally handcraft elegant garnishes to add a unique and personal touch to their cocktails. 
Following garnishing their bespoke drinks, visitors will be able to enjoy this beautifully mixed cocktail that has been perfectly matched to their palate profile. 
With the knowledge of their personal profile, the experience will conclude at The London Essence House Bar. An exquisitely designed, relaxed and elegant setting, where guests can enjoy a second complimentary drink. 
Plus, guests are invited to have a drink on the beautifully lit terrace bar.
Throughout The Essence House experience, London Essence's premium mixers from distilled botanicals will be paired with Hennessey VS Cognac, Martin Miller's Gin, X by Glenmorangie Single Malt Whisky and Belvedere Organic Infusions, as well as Everleaf; a complex non-alcoholic aperitif.
For further information on visiting Essence House visit www.londonessenceco.com.  
Tickets now available from 2nd -24th October for £21.97 per person eventbrite.co.uk 
londonessenceco.com| londoncocktailweek.com  |  #LondonEssence  | @londonessenceco
 The experience lasts approximately 45 minutes and tickets should be booked in advance.