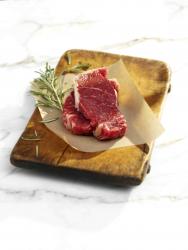 Take three Yorkshire farmers, one Japanese emperor, several straws of semen, one vet, a supermarket – and the result is bound to turn heads. It's Wagyu, the world's most expensive beef, and it will be hitting butchers' slabs in five Asda stores later this year, making Asda the first UK supermarket to sell Wagyu. And it will be available at a price we can afford. Ok, so it is likely to be more expensive than other supermarket beef but it won't be stratospherically so. For those of us who value quality and flavour over price, it won't cause a flicker of concern. So how is it possible? And why Asda?
For generations, farmers have been working hard to get closer to the customer, welcoming us to the countryside during the lambing season, to stroll through woods to see bluebells in May, to pick our own at the height of summer, to buy in farm shops throughout the year and, through ABP (one of the largest beef businesses in Europe) to provide the beef we want to eat.
Asda has similarly been getting closer to the customer through its well-regarded 'Chosen by you' initiative. It has also been trying to broaden its customer base, increasing its appeal to more-discerning customers through its Extra Special range. So it should not surprise us that Asda and ABP are working together – or that Asda is the driving force behind this innovative scheme to bring Wagyu into our kitchens.
It all starts with the beef which has its origins in Japan. Wagyu's intense flavour, exceptional tenderness and plentiful juicyness set it apart from other beef. Instead of choosing between taste and texture, as we usually do, Wagyu's extensive marbling of fat, which flows throughout the meat like a network of tiny tributaries, means every mouthful is juicy, flavourful and tender. The very highest grade has the densest amount of marbling and is, unsurprisingly, known as 'white beef'. Most Wagyu has a more delicate amount of marbling running throughout. Before you reach for the statins, be reassured that this fat is, unusually for steak, high in monounsaturates. So that's two winning points: Asda's prices won't give you a heart attack, and nor will its Wagyu beef.
Let's tackle that price issue. How can Asda keep the price per kilo so much lower than Japan (about £155), Selfridges (around £180) and Harrods (approximately £198) while maintaining quality?
Take one Wagyu bull, Blackgold Shogun (Shogun is the Japanese word for emperor) and a herd of Holstein-Friesian cows. Aha, so it's a cheap cross-breed! I hear you think. No. Cross-breeding Wagyu with Holstein-Friesians is typical. Beef from Holstein-Friesian cows marbles in a similar way so it is an ideal match for Wagyu. Indeed, beef from this cross-breed supplies the Japanese and Korean market so it is by no means a poor relation – and the cross-breed is not the clue to affordability. It's Asda's foresight through its BeefLink scheme with ABP, creating a close-knit production process which kicks off with a subsidy. Here's how it goes.
Blackgold Shogun was imported from Japan by Asda then placed in an artificial insemination stud (owned by the Duke of Westminster, since you ask) to reduce the cost of each straw of semen to £7.50. Asda bears the cost of the straws, supplying them to one Holstein-Friesian dairy farmer who inseminates the cows and rears the calves until they are two weeks old. The second farmer in this chain, the rearer, looks after the calves for roughly 12 weeks until they weigh 130kgs, feeding them on a growing diet, precisely specified to include a high percentage of wheat (mimicking the traditional Japanese feeding regime which includes beer). The third farmer, known in the trade as the finisher, then rears the cattle until they are ready for slaughter (16 months for bulls and 20 months for heifers). Asda guarantees the farmers a minimum price for the calves at every stage of the process, reducing the farmers' risks.
All three farmers are members of ABP; they run neighbouring farms; the abattoir, 15 miles away from the finisher's farm, is owned by ABP; one vet looks after the cattle on all three farms. This geographical closeness, shared ownership though ABP, specified nutrition, care from the same vet, and controlled genetics, ensure consistency of breeding, rearing, care, slaughtering and, therefore, quality – essential with such an exclusive product. It also means Asda's Wagyu has a low carbon footprint, reassuring those of us who need to assuage our guilt for spending on quality.
Pearce Hughes, head of agricultural development at Asda, explained it has taken Asda three years to get to this stage. 'We are trying to achieve the highest quality," he said. 'Marbling reaches a peak as the cattle age but meat from younger cattle looks less marbled – and more attractive to the customer. We are aiming for the peak point at which marbling meets tenderness, without scaring the customer."
With such a premium product, it's important to make full use of the carcase, stressed Andy Madeley, one of the ABP farmers involved in this process. He trains Asda's butchers to run meat counters and said we can expect Asda to offer Wagyu Côte de Boeuf, rump, rib-eye, sirloin, fillet – and burgers.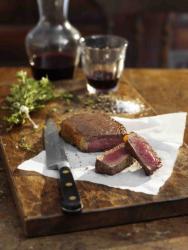 If you prefer your beef well-done don't waste your money on Wagyu; it should be seared quickly, leaving it bloody and thirst-quenchingly juicy within – as it was at the tasting. The rump was as delicious as you can expect beef to be. Flashed over a hot, commercial kitchen griddle without oil (the marbling provides all the fat needed) its deep flavour was hugely satisfying; chewyness was minimal for such a meaty steak; it dribbled with succulence. Sirloin was, of course, more tender and less intensely flavoured but just as juicy. The burgers, which I cooked at home on my reasonable-quality home-griddle, were utterly delicious. Silken in texture, moist, richly flavoured, they are my top tip. If you can't afford Asda's Wagyu steaks, stretch your burger budget. Moneybags Alastair, who joined me at the tasting, will be ordering a rib of beef for Christmas Day.
Still worried about the yet-to-be-revealed cost? As Jim Bloom, the farmer who fattens the Asda calves, said: 'It's about the proportion of your food bill in relation to your gas, water, electricity bills – and the pleasure you get from eating, the interest you take in what's on your plate." My thoughts exactly.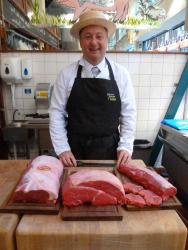 Asda will initially (from the end of November) be supplying Wagyu from 1,500 cattle to five Asda stores in England, from north to south:
Aintree, Liverpool;
Trafford, Manchester;
Cheltenham, West Midlands;
Clapham Junction, London; and
Havant, Hampshire.
It intends to increase the amount of Wagyu available to meet demand.
Make a special journey (but order first).