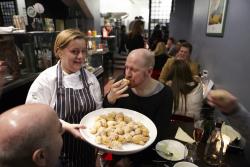 A London café specialising in sweet treats was transformed into a Catalan home kitchen for one night only. Courtesy of Cava producer, Codorníu, 'Bea's of Bloomsbury' was decorated with Bacchanalia.
Drawing inspiration from Barcelona's diverse barri (neighbourhoods), Rachel McCormack, owner and tutor of 'Catalan Cookery School' prescribed a procession of plates for sharing. Some of these were delivered by a waitress from Warsaw who, exotically, sported a necklace of teeth dipped in molten gold.
Originally from Glasgow, McCormack spent much of her twenties nosing Barcelona's food markets and tapas bars. Of her passion to recreate Catalan flavours, she told Foodepedia: 'I try to be as authentic as possible whilst being aware that there is no 'definitive recipe" for anything that comes from a domestic house.' She added: 'I am utterly convinced that unless you are a brilliant chef of the calibre of Joan Roca or Ferran Adria, simple is best.'
Pronounced 'Cod-or-New" according to marketing man, Nick Mantella, Codorníu's production of still wines dates back to the 16th century. However it wasn't until 1872 that matters sparkled. Family member, Miguel Raventos ventured to Champagne in search of the secret of luxurious, yeasty bubbles. His ensuing vision saw the construction of the 'cathedral of cava', a bodega which spans 30kms over five floors with a total capacity for 100 million slumbering bottles.
Anna de Codorníu Brut (£9.99, Your Favourite Wines) is one of Spain's best selling sparkling wines. Crisp, calcium dry and citrusy, its fresh bubbles cut through an 'aperitiu' of ruddy chorizo and jamón Iberico while a 'primer' of bone broth, 'carn d'olla', which is supposedly Catalunia's oldest dish and popular in bourgeois neighbourhood San Gervasi reacted favourably with more fulsome Codorníu Seleccion Raventos Brut (£9.99 Majestic, Oddbins).
Newly introduced, Codorníu Reina Maria Cristina '08 (£17.99, Noel Young) is Spain's first white sparkling wine made from the clear pulp of red grapes. Notably lithe, refined, long lived and with the tightest bubbly bead, it sung with a 'principal' of rabbit casserole ('conill amb ceba'). According to McCormack, Mallorcans mark the end of January by lighting fires in town squares whilst eagerly eating this dish.
'Postres' of soft Catalan doughnuts ('bunyols de l'Empordà') ensued, flavoured, respectively with lemon and amaretto and rum and orange. Finally, Tarragona hazelnut soup, which McCormack described as 'featuring the best hazelnuts in the world' blended crunchy crocanti and deliberately melting ice cream. This was offered with bright Pinot Noir rosé (£10.99, Oddbins/Majestic).
Rachel McCormack's 'Conill amb Ceba' (rabbit with onions)
The rabbit recipe is from Mallorca and is another recipe showing the ingenuity of the peasant making something delicious with only a couple of ingredients. In the past it was cooked on top of a fire because people did not have ovens – but baking the rabbit in the oven means it will not dry out.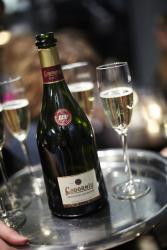 You will need:
1kg rabbit pieces, bone in
1.5kgs onions
Few slices of sobreassada or chorizo
Olive oil
Glass of red wine
Salt
Marjoram
Instructions:
Preheat oven to 180°c
Peel and slice the onions in fine strips lengthways. Drizzle olive oil in a pot and addchopped sobreassada or chorizo then add onions. Turn the heat right down, adding marjoram. Let the onions sweat until soft, stirring occasionally.
Remove the onions from the pot and season the rabbit. Turn the heat up and sear the rabbit on each side in the pot. Remove. Place half the onions in a casserole dish and then place the rabbit on top. Put the rest of the onions on top of the dish and pour the wine over and place in the oven for 45mins. Remove and serve with a smile.
Codorníu sponsors Channel 4's 'Supper Club' featuring hot bottle, Olly Smith
Rachel's Catalan cookery school and supper club: www.catalancooking.co.uk
Bea's of Bloomsbury: www.beasofbloomsbury.com