Recently, I was woken early by the lone cry of cockerel instead of the sound of some star-crossed lovers screaming at each other over who necked the last bottle of Bulmers. I opened the shutters to a rosy Tuscan sunrise spilling over a ridiculously green hillside instead of the sickly yellow glow that struggles through London's grey skies like an undercooked egg.
And instead of a sweaty sprint for a seat on the circle line, all I had to do was wander down three flights of stone stairs and across a dewy lawn, past the potted lemon trees and into a kitchen where I and a bunch of food fanatics were about to spend five days being taught the rudiments of Italian cuisine.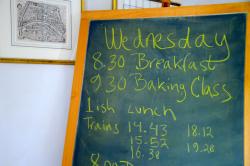 I distinctly remember smiling at that notion, and yes, it probably had an unbearably smug edge to it.
There's something intrinsically magical about food and Italy, in particular, the sun-drenched, olive tree-scattered rolling hills of Tuscany. When you tell people you're off on a gastronomic trip there their mouths tend to emit mumbles of'ooo' and'ahh' while their eyes glaze over in a sort of envious state of dreamy irritation — half jealous that you're going and not them and half lost in the thought of the culinary delights you're sure to sample.
And who can blame them? Italian produce alone deserves to be talked about in hushed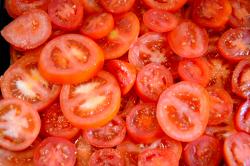 tones of reverence; coming as it does from one of those Mediterranean idylls where the tomatoes are plumper and more outrageously red, the pasta is fresher and richer, the milk-white mozzarella is more delicate and everything tastes, well, indefinably better. 
My friends seemed especially envious/rage-filled when I casually explained the trip that I was actually taking: five days in the Tuscan countryside learning how to cook traditional Italian food interspersed with copious wine drinking and bread gorging at the sprawling 19th century Villa Boccella in the hills outside Lucca courtesy of Bake with Maria's Maria Mayerhofer.
Even I couldn't quite believe my luck as I peeled my pink-skinned tourist self out of my taxi at the top of the tiny town of Ponte a Mariano, gawping at the Villa's Keatsian Ode-worthy facade…and a tiny part of me waiting for some bronzed Italian Baron to set the dogs on me for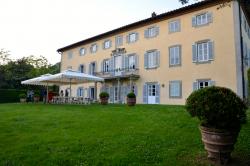 trespassing on his family's ancestral homestead. 
That was until Maria Mayerhofer herself came striding around the side of the villa, smiling like I was an old friend arriving for dinner and insisting I had a glass of wine immediately. And to be honest, that's exactly what cooking with Maria feels like: a casual lesson with a friend. It just so happens that this friend is a wizard with bread and has the ability to make even the most kitchen-phobic of chefs leave feeling like they could take on Masterchef. 
Bake with Maria opened in 2010, with classes being held in Maria's own kitchen before demand soon outgrew her home and she moved into the fully equipped Baking Lab in November 2011. I'm no stranger to her bread masterclasses or her cooking classes either, having been tutored on how to be gluten savvy there earlier this year.
Maria has been running the five-night cooking course at Villa Boccella for four years, and it's become a family affair with her parents, her husband Marshall and their toddler, Kasper, all coming along for the ride alongside a Bake with Maria regular and teacher, Annamarie Jones. Throughout the trip, while I and the rest of the Villa's latest cooking ingenues were busy baking in the onsite kitchens with Maria and Annamarie, it was this crack team of family food enthusiasts who were whipping up vast panzanella salads, tackling endless mountains of washing up and hauling up vast quantities of wine for us all to glug between lessons (Kasper less so; sadly his baby arms could only carry a pitiful amount of wine).
It didn't take long before the sprawling, 19-bedroom Villa, with its array of eccentricities that ranged for the gorgeous – the ivory marble bathrooms, the library, the tiny stone chapel – to the ridiculous – namely the huge murals of a yoga-loving jesus that cover the dining room's walls – began to feel like home and the prospect of leaving this sun-soaked Italian idyll more and more unappetising.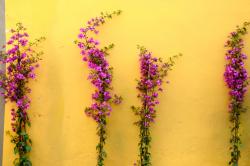 But, there's more to this trip than just lounging around like a lizard in the afternoon heat; the course included four half-day cooking classes with the aim of making enough food to cater for the group for lunch and evening meals.
As well as endless variations on bread, from olive-oil saturated foccacia and stone-baked pizza spilling over with bubbling pools of mozzarella to ciabattas studded with handfuls of herbs from the kitchen garden, we learned the rudiments of rustic Italian cooking.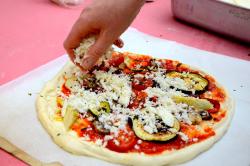 We discovered how to massage hand-chopped mix of herbs and garlic into huge haunches of pork, juicy chunks of which was served later, and rich under the white hot afternoon sun with glasses of chilled white; how to make egg pasta by hand and roll it to the flimsy transparency of skin before stuffing it with ricotta and peppered spinach; how to layer smoky chargrilled aubergine with ladlefuls of tomato sauce and fistfuls of parmesan to make unctuous parmigiana reggiana and how to turn the lemons from the Villa's own trees into a canary-yellow curd, which in turn became a marshmallow semifreddo coated in a slick of vanilla-scented raspberry coulis and crunchy with shards of toasted almond.
Between throwing and proving dough we wandered into the town. Ponte a Mariano is a sleepy, pretty little residential place that feels like it hasn't quite caught up with the rest of the world, where mustachioed men in clapped-out Nissans slow down to wish you bonjourno as you walk into the bar-cum-ice cream-shop-cum-ticket-office by the scrubby train station to spend your small change on train tickets to Lucca. 
We caught the rusted trains that shed flecks of cobalt paint for the short hop to Lucca and got lost in the city's honeycomb streets of pink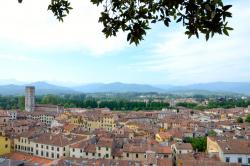 stone; using its wide central piazzas and famous tree topped tower as our marker. The days fly by in a tangle of flour-smeared aprons, sunburnt faces and evening meals spent discussing shared kitchen disasters that stretch into the balmy nights. 
On the final evening, sitting in front of the great stone fireplace burning old newspapers and feeling distinctly grumpy (and fat, by this point I was monstrously fat) I realised that I would eventually have to write about this trip and, in doing so, share it. Which, when you find a place like this, a place that becomes your own personal slice of edible Italian heaven for what feels like the briefest of moments it is one of the hardest things to do.
Five nights at Villa Boccella with Maria and her cooking crew costs £1,250 per person (including accommodation, four cooking/baking classes, a vineyard visit with lunch, a trip to Lucca with an evening meal and a recipe book of all the dishes cooked during your stay. Excluding flights).
If you can't wait until next May to experience Maria's authentic Italian cooking, the next Italian Bread Class will run on 22nd August at Bake with Maria. Alternatively, you can get a taste of the trip with her recipe for fool-proof pasta recipe or her Cantuccini recipe for crunchy, nutty biscuits atypical of the Tuscan region that are perfect with your morning cappuccino.
Fresh pasta 
Ingredients
180g flour type 00
2 medium eggs, lightly whisked
1 small pinch of salt
Method
Whisk the flour and salt then mix all the ingredients in a bowl, transfer on the table and knead until the dough starts to clump together. If the dough feels a little sticky, then you can add a touch more flour. Knead the dough until it's silky smooth and elastic.
Wrap in plastic and let it rest for about 20 minutes at room temperature. Keep refrigerated up to 12 hours if you don't use it immediately.
Feed ¼ of the dough through a pasta machine at a time, keeping the rest of the dough wrapped so it doesn't dry out. Start with the widest setting and roll the dough several times, changing the direction that your feed it in each time so that the gluten develops evenly, until the dough is smooth and elastic.
Reduce the thickness setting and roll through until the desired thickness is reached.
When you've rolled your pasta, it can be left in sheets to make lasagna, cut into small strips by hand to make tagliatelle or filled with stuffing to make ravioli or tortellini: just dot spoonfuls of the mixture along one sheet, dab around the filling with water and cover with another sheet of pasta, pressing down gently to seal around the stuffing mounds and cutting out with a pasta stamp or roller.

Cantuccini 
Ingredients
300g Tipo 00 flour
200g sugar
100g halved almonds
2 large eggs
40g milk
1tsp orange zest
pinch of salt
½ tsp bicarbonate of soda
Method
Line a baking tray with baking paper and preheat oven to 190 degrees.
Sift flour, salt and bicarbonate of soda into a large mixing bowl. Carefully mix in the sugar, orange zest and halved almonds.
Make a well in the centre of the dry ingredients and add two eggs.
With a small fork,'gather' up the dry ingredients to form a soft dough, which you can just handle – Don't overwork it or the dough will become too sticky!
If it's too soft to shape, add a little more flour and if too stiff add a little milk.
Shape into three long'sausages' on the baking tray – about 4cm wide and a little over a finger thickness deep. Leave plenty of space around them to rise and spread.
Bake for 15 minutes at 190 degrees until golden brown.
Remove from the oven and while still on the baking tray, cut each'roll' diagonally into 1-2cm slices to get the classic cantuccini shape.
Spread the biscuits out and put back in the oven to'dry' for about 10 minutes until golden brown.