From the wonky to the wonderful, Suffolk and Bury St Edmunds serves up fab food and plenty to see.
Staycation is THE word for 2021. We headed out to Suffolk for a few days of superb sightseeing and great eating

It's not all that well known a fact that the wonderful TV series The Detectorists, was not filmed in Essex, as in the script, but in Suffolk.

It's those beautiful vistas of quintessential English farmland and fields that open up to you as your car finally shrugs off the last traces of London and the landscape flattens.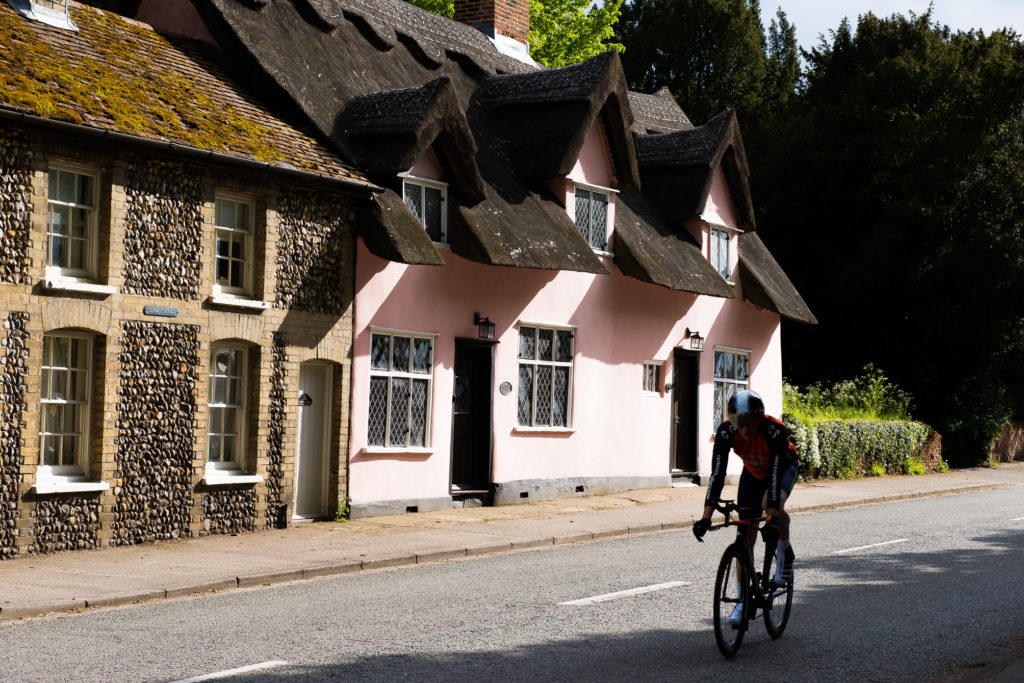 Our destination is the market town of Bury St Edmunds, our mission to sightsee and eat in this foodie area. First stop though the medieval town of Lavenham.

It's said to be one of Britain's best preserved medieval villages, and if it weren't for the cars you really could have gone back in time.

There are over three hundred listed buildings here, quite a tally for a small place and almost all of them lean together like drunks, holding each other up and defying gravity. Not one building would pass a spirit level test, putting up shelves must be a nightmare. It is a dream to look at, though.

Lavenham was in its day a very rich town, wealthy from the production of cloth, but under Henry VIII's reign the export market collapsed and so did the money.


In a way the loss of money preserved the town; no one could afford to repair or modernise houses so the place simply stayed frozen in time. Even photographs from just before WW2 show a place still standing well apart from the modern world.

It's a great place to wander around, not touristy at all, and the locals all seem friendly even if many of the cute houses have the giveaway key safe mounted on the outside wall that says 'second home/rental'.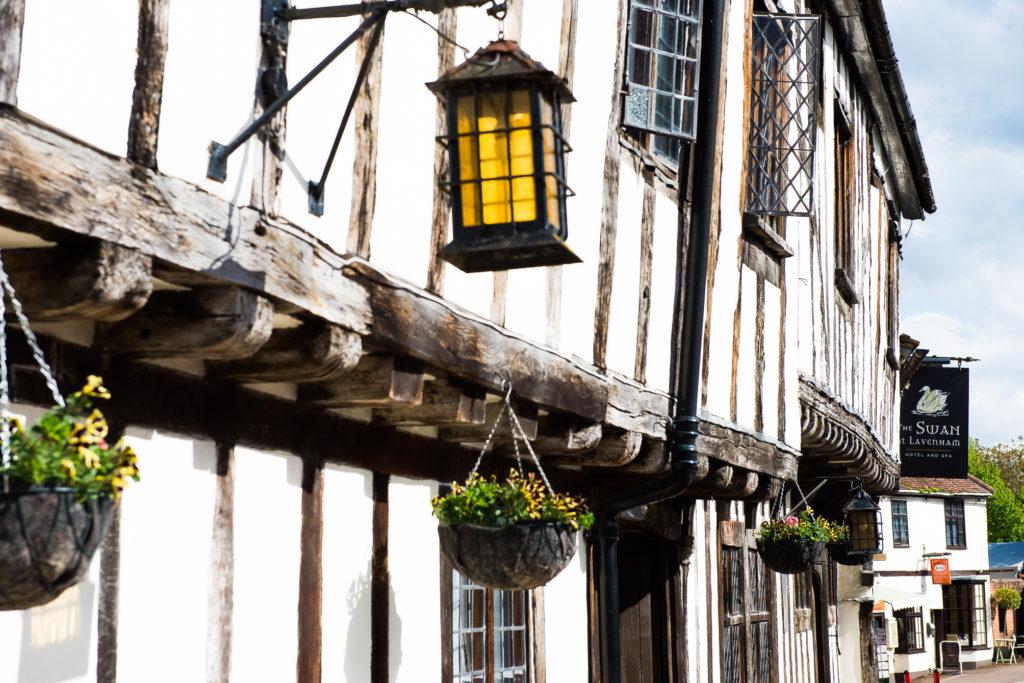 The butchers, opposite The Swan Hotel, Lavenham, itself an ancient building with forehead knocking doorways and wooden beams aplenty, is the kind of butchers that even a semi veggie like me finds alluring. Local meats are beautifully presented and at prices that don't make you clutch your own heart.

Much of this makes it onto the menu at The Swan, where we've booked dinner as well as a beautifully romantic and quirky wood-beamed room. Recently installed Head Chef Olivier Bertho is making the most of local produce, including fish from the not too far away coast.

He tells me that he is only just dipping his toe into what's locally available, as the pandemic had limited his foraging excursions so far, but he is very excited to discover more just as soon as time and rules allow. A Frenchman who has been in the UK over eighteen years, he already loves Suffolk.

We ate in The Gallery Restaurant, a vaulted timbered room. There's also Mess Call 487 for a more casual experience, and you can mix and match dishes from both the Mess Call 487 menu and The Gallery menus.

I'm not usually one for chicken in restaurants but 'Corn Fed Chicken Supreme pea and ham croquette, sweet corn puree, edamame beans, dauphinoise potatoes' was tempting.

Excellent chicken, and the pea and ham croquette crispy and clean on the outside and really quite filling, I was glad there wasn't too much of the Dauphinoise potato, tasty though it was.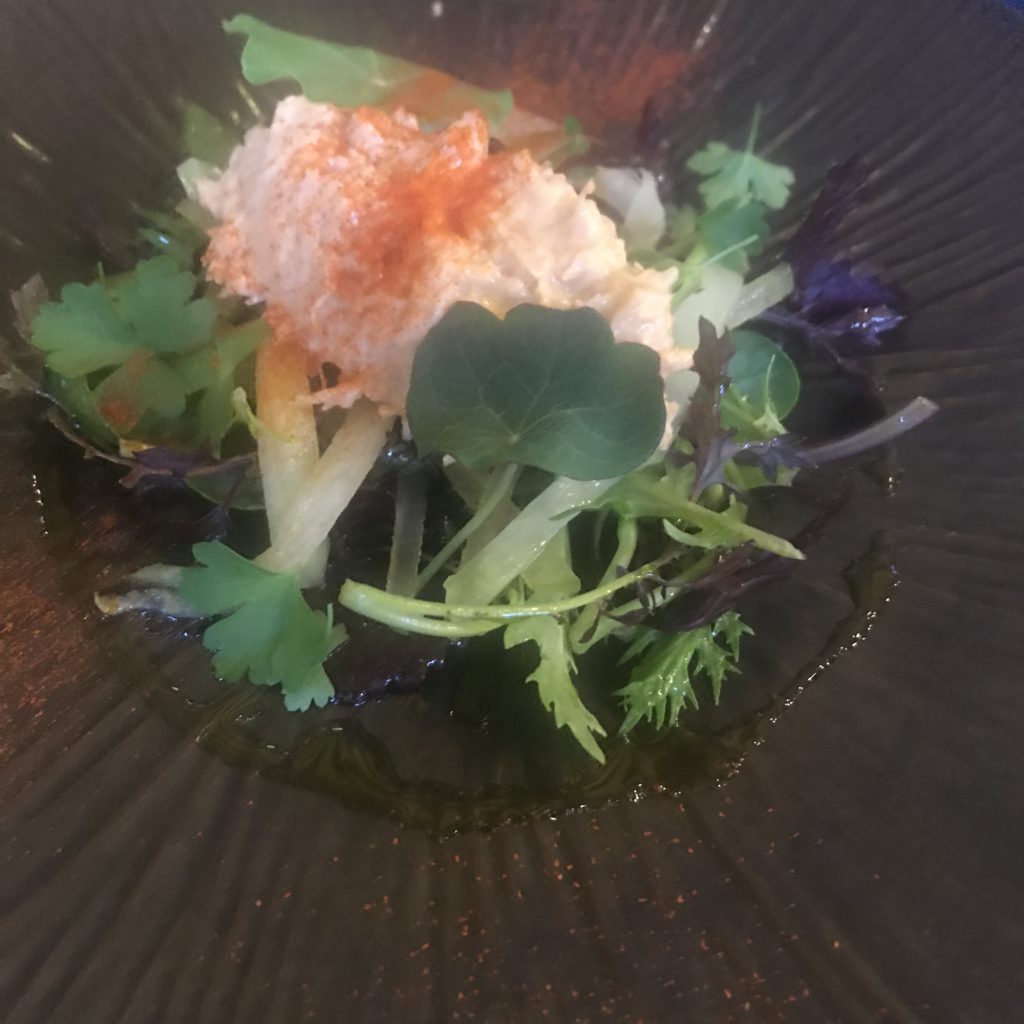 Pan-fried Scallops with 'Smoked Pancetta grilled spring onions, celeriac puree, gremolata dressing' was elegant and balanced, while 'Hand-Picked Cornish Crab Salad kohlrabi, peas, compressed apples' got the balance of sweet crab and the acidity of apples just right.
Some Suffolk cheeses and we're done. Time to stagger down the House of Fun corridors to bed.

A final tour

Any stay in an English hotel can be marred by a poor breakfast, it could almost claim to be dish we do best and what defines us

The full English being a bit more than I could handle, I happily ate a perfect poached egg on avocado sourdough punctuated with fresh chili. P had the smoked salmon with scrambled eggs. All washed down with fresh orange juice and strong coffee.

Afterwards we strolled around the town again to see the 14th Century Guildhall of Corpus Christi; it's one of the most well-known buildings in Lavenham and now with added tea rooms.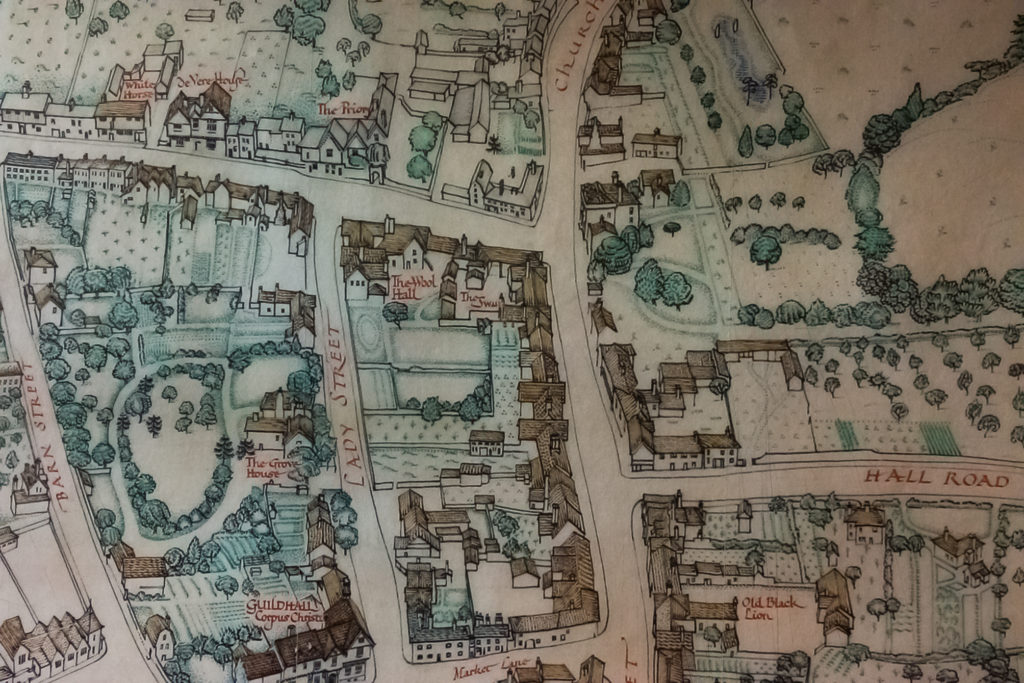 To Bury and Beyond

Leaving Lavenham with some regret at not having time to explore all of its tearooms and cafes, galleries, museums, and boutiques, we wound along the lanes to Bury St Edmunds, twenty minutes away, with the spire of St Edmundsbury Cathedral visible some distance off.
The Cathedral is set alongside the ruins of the Abbey of St Edmund in the beautiful Abbey Gardens and the whole area forms the beating heart of Bury, now known as Suffolk's foodie town. We parked up at our hotel, The Northgate and, as it was 1pm, headed straight out to lunch.

Tapas Time
Not wanting anything OTT we'd been recommended CASA, a friendly tapasy kind of place in a 600-year-old listed building and run by the very welcoming chef/owner Maria.
A plate of juicy Padron peppers, properly scorched and dusted with rock salt and some rather good olives and salted almonds, kept us busy until the plates started piling in.

Soft, spicy cooking chorizo imported from Spain and simmered in wine begged for the ample bread provided, while the goat's cheese halloumi on tomatoes redolent with the spices of the Middle East was excellent.
Maria recommended the pork belly with Moroccan spiced potatoes, aioli and crisped serrano – a good choice.

Somehow we also made inroads into a generous feta and pomegranate salad with roasted peppers, squash and cranberries.

And we had to reluctantly be going, it was high time for a wander around town.

A foodie kind of place

The central open air market (wednesdays and saturdays) in Bury's Buttermarket and Cornhill area was busy , with plenty of local food stalls doing good business. I'd have loved to have bought some of the good-looking fresh fish and seafood, and meats too, but we weren't going home for a day or two.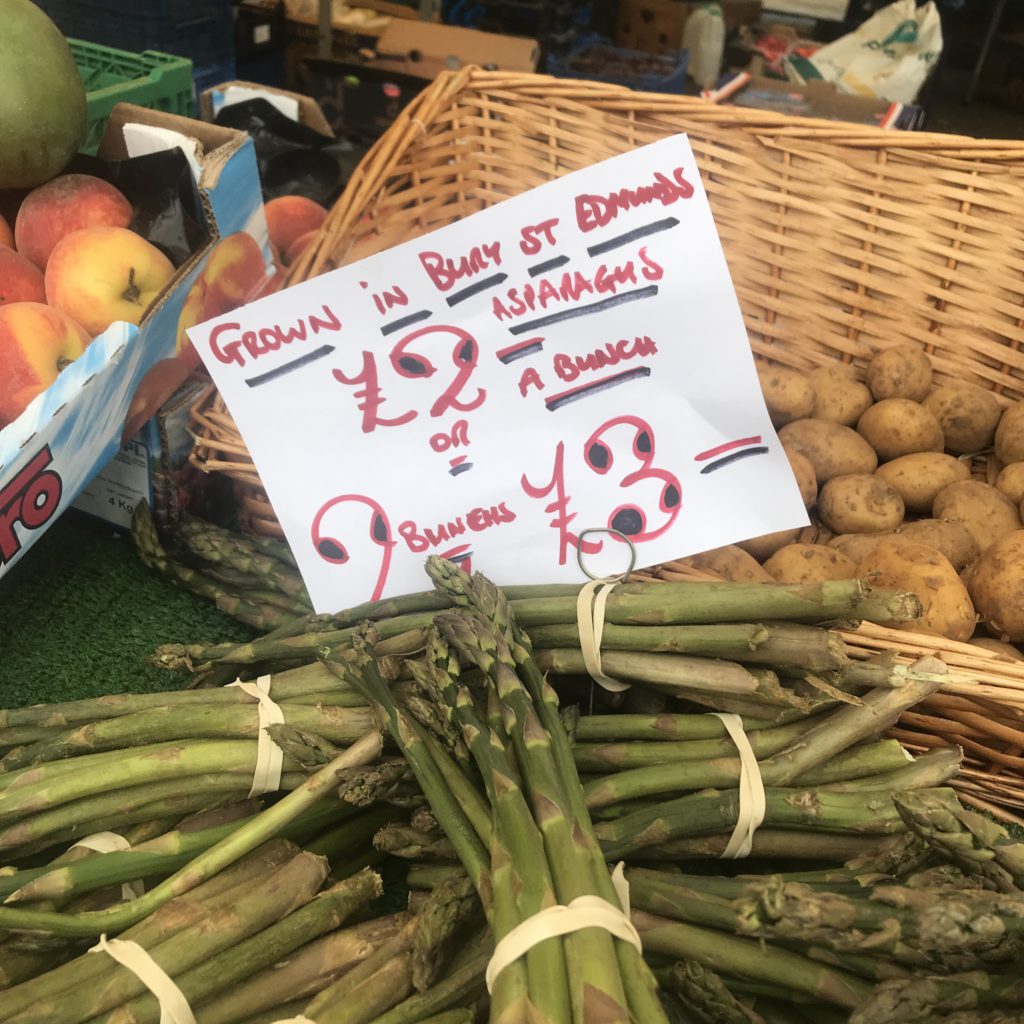 We did get some local asparagus though, a tasty local treat well able to survive 24 hours in the car boot, and we also bought lots of bottled beer. Bury is famously home to the Greene King brewery and has been for 200 years. Tours and tutored tastings are available most days.

The streets around the market square, built on a grid pattern by Abbot Baldwin in around 1080, are charming; lots and lots of coffee shops, bars and restaurants and boutique shops that had us constantly stopping and popping inside.

The Angel Hotel also had our attention, an impressive Georgian building it was apparently home to Charles Dickens for a while and mentioned in his The Pickwick Papers. More recently Angelina Jolie used the hotel as a base during the filming of Tomb Raider. Shame the two of them never met.

DInner for Two

Our hotel in Bury The Northgate is close to the Abbey gardens. Two classic Victorian houses turned into an arty, Hoxton-style, 'restaurant/cocktail bar with rooms'. Nine individually designed bedrooms to be precise, each styled in an eclectic way and wisely retaining their period features such as sash windows and fireplaces.

Our room, The Duncombe, has a French fin de siecle period feel with a marvellous bathroom with walk -in shower ( as well as an occasionally cheerfully gurgling sink, thanks to some quirk of Victorian plumbing).

And The Northgate has a fine restaurant, where Head Chef, Greig Young, creates some seriously cool modern cooking a country mile away from most rural hotel menus.

In the hotel's strikingly decorated dining room, after a cocktail in the bar, we ate grilled mackerel, local wild garlic, caper and anchovy salsa, and also a fine whole roasted beetroot on whipped goat's curd and topped with slivers of pickled beetroot for starters.

Mains of cod set on marinated local mushrooms, and sweet brown 'commas' of shrimp put P in a happy place while I, tempted by another vegetarian dish, put away roast potato gnocchi with a Baron Bigod sauce, roast onion petals and bite-sized bits of white asparagus.

Baron Bigod is a local cheese, brie in style and in fact the only traditional raw milk Brie-de-Meaux style cheese produced in the UK. A really lovely, complex but satisfying dish and a knockout visually.
We finished with a creme caramel with a BBQ fig leaf and dotted with rock salt, a very good idea.

An excellent meal and it's easy to see why the restaurant and bar are so popular with in the know locals. The garden with its giant tepee is also a great venue for the hot weather with thick sheepskin throws for guests if it gets nippy at night

Bury and Beyond

After a great hotel breakfast from The Northgate, perfectly poached eggs for me, we viewed the nearby Abbey gardens, went around the cathedral and generally loitered without any particular intent enjoying the relaxed atmosphere.

Beyond Bury is Long Melford full of antique shops, cafes, boutiques, restaurants and Tudor mansions and less than half an hour away. We had a quick rummage around, bought an antique lampshade ( well, IKEA 2010) and popped to see glorious Kentwell Hall, a Tudor mansion with a moat.

We toyed with seeing the seaside towns of Aldeburgh, Southwold, Felixstowe and Lowestoft, not too far away but we had lunch booked in Bury. Not at its Michelin Star restaurant Pea Porridge (fully booked) but at a place I had heard good things about, 1921.

1921. Lunch with purpose

Unprepossessing on the outside, 1921, the home base of chef patron Zack Deakins (he and his family literally live upstairs) , is on Angel Street a short walk from the Abbey Gardens. Inside it has the charm that seems endemic to Bury; wooden beams meet calm modern decoration. Relaxed and confident.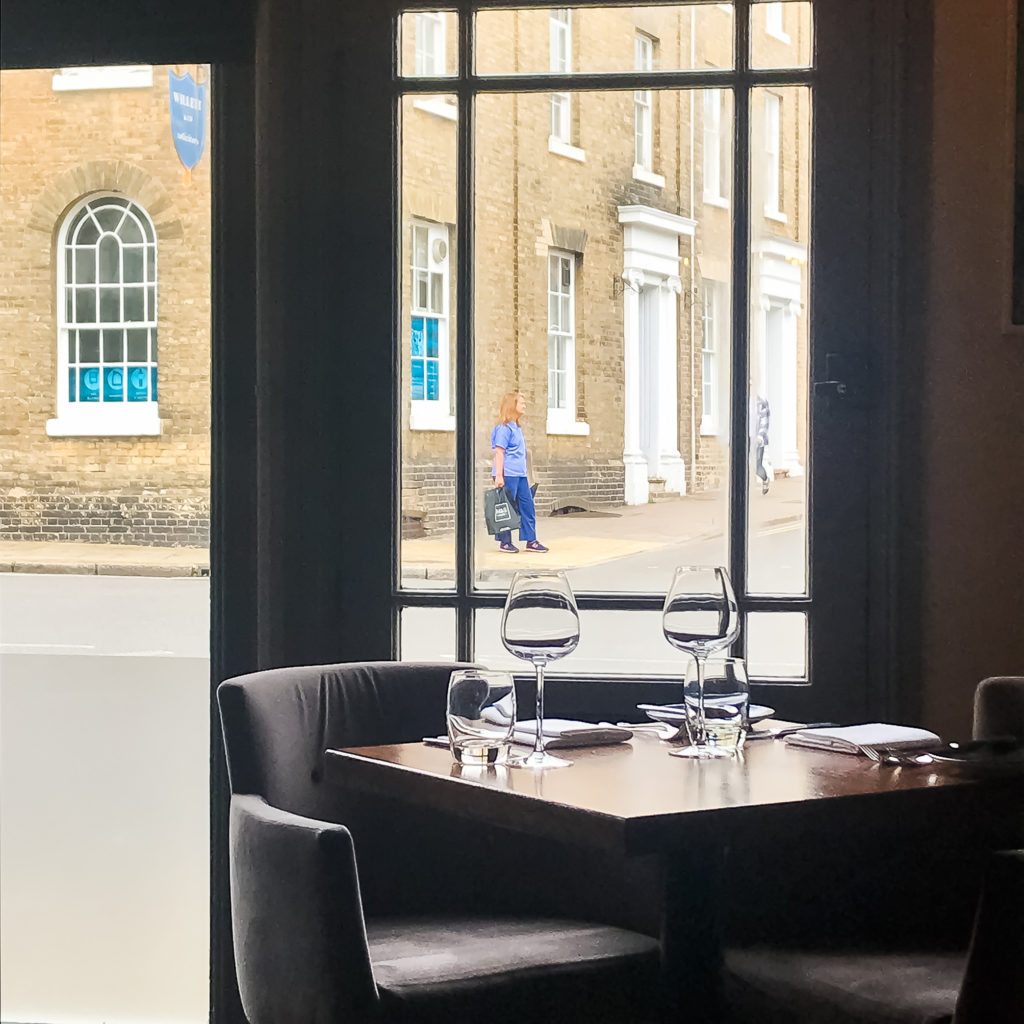 And so is the menu, £22 set lunch? Some mistake surely but no, this is what can be achieved when the chef knows how to get the best and the most out of simple quality ingredients.

A quiet room even when busy, the people coming here seem to know what they're getting and are ready to enjoy.

Mackerel is not an expensive fish, in fact you could say it was rather a common fish. Here though it is treated with respect, torched lightly and served with rhubarb and the juice of fresh tomatoes. Not liquidised tomatoes, but the juice that slowly drips from a muslin bag filled with the pulp and seeds.

A sliver of crunchy radish, a duo of peppery nasturtium leaves, singed mackerel fillet. It all fits together with precision, a dish to be eaten slowly.

P has a lamb kidney, another 'cheap' product that is so often overlooked, here seared and served with baby gem, a broad bean puree and a marvellous bowl of pickled brown mustard seed.

Fillet of hake with pickled artichoke (pickling things is still all the rage with young chefs) is topped with crunchy bread crumbs and adorned with shrimp. Perfect fish with a plateful of flavours.
Sutton Hoo chicken thigh, the best part of a chicken and perhaps the least expensive, came with an obscene white asparagus and what was claimed to be St George's mushrooms, but which looked just like morels to me. The nasturtium leaf gave eye appeal as well as a welcome pepperiness.

And a big shout out to the 'salt and vinegar potatoes', cooked, smoked, roasted and vinegared. They were a revelation, one of the best things I've eaten this year.
Fun desserts of custard parfait, strawberry and pistachio and a 'bounty' terrine with a passion fruit sorbet were just the right weight.

An excellent lunch and one which summed up our all too short trip to Suffolk- relaxing, invigorating, surprising and satisfying.
 www.burystedmundsandbeyond.co.uk 

Addresses
The Swan Lavenham 1 High Street, Lavenham, CO10 9QA

The Northgate, Northgate Street, Bury St Edmunds, Suffolk. IP33 1HP

CASA, 98 Risbygate Street, Bury St. Edmunds, Suffolk, IP33 3AA
1921, 19-21 Angel Hill, Bury St Edmunds, Suffolk, IP33 1UZ