As part of celebrations to mark 50 years since Singapore Airlines first flew from the UK, Singapore Airlines and Feast Box have partnered to create a culinary adventure, inviting customers to travel with their taste buds from the comfort of their own kitchen.
Available until 04 July, each week customers can order specially curated dishes inspired by Singapore Airlines and some of its most popular Southeast Asian destinations.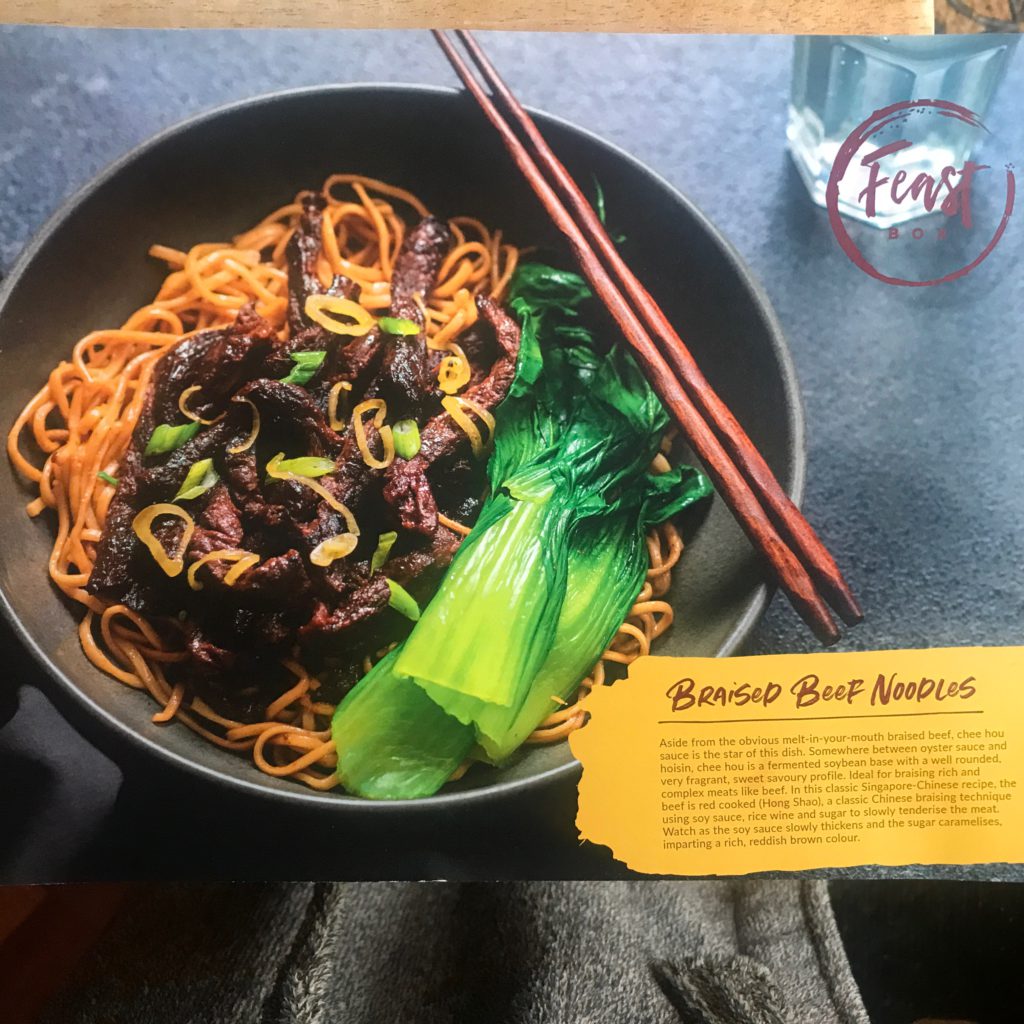 In total, the partnership features 14 authentic dishes, including two which are newly created and limited-edition Singaporean specialities, so customers can enjoy a tantalising journey through Asia by taste.
The recipes are easily recognisable thanks to a Singapore Airlines symbol appearing on the recipe photo.
The cook-at-home kits are available to purchase via feastbox.co.uk with delivery available across the UK and include a Singapore Airlines discount code of up to £100 to redeem on a future flight booking.
The full list of recipes includes:
Delivery Dates
Dish
Origin
Cook Time
Price pp
23 or 25 June
Beef Rendang & Aromatic Rice
Beef coated in a spice paste with lemongrass, chilli and galangal, then simmered slowly in coconut milk until richly dark and thickly coated in flavour. With fragrant jasmine rice.
Indonesia
60 mins
£9.50
Vegan Pad Kee MaoSatisfying textures, nutty and intense flavours, and lots of fiery chilli
Thailand
30 mins
£6.40
30 June, 02 July, 06 July, 09 July
Hainanese Chicken Rice
Singapore's national dish, it features flavourful rice and tender poached chicken infused with aromatic ginger and spring onions
Singapore
40 mins
£6.40
Braised Beef Noodles
Melt-in-your-mouth beef, red cooked, caramelised and doused in home-made sweet-savoury chee hou sauce
Singapore
55 mins
£8.20
30 June or 02 July
Chicken Larb & Papaya Salad
Minty salad of minced meat and raw vegetables with a distinctively zesty, cooling freshness, bolstered by piquant green papaya
Laos
45 mins
£7.40
Khao Pad Goong
Fruity flavour, with tangy raw mango salad adding both depth and brightness to a satisfyingly straightforward stir-fry of fresh prawns
Thailand
35 mins
£7.50
Hanoi Beef PhoFlash-fried pepper steak, fragrant broth, rice noodles, chilli & herbs
Vietnam
40 mins
£7.20
Vegan Vietnamese PancakeRice flour and coconut milk batter infused with golden turmeric, filled with a rainbow-coloured riot of stir-fried and raw tangy vegetables
Vietnam
40 mins
£5.40
07 or 09 July
Vegetarian Malaysian Curry PuffA flaky handheld pastry packed with Southeast Asian flavours
Malaysia
40 mins
£7.60
Spicy Thai FishcakesShallow-fried, fragrant minced fish blended with red curry paste. Served with a refreshing cucumber relish and fruity chilli dip
Thailand
35 mins
£9.40
Feast Box helps customers to recreate the magic of travel through food. The distinct flavours, authentic ingredients and cooking techniques from different cuisines provide a taste of how people all over the world live. Each recipe is adorned with a rich history, and each ingredient helps to tell the story.
The partnership forms part of the 50th anniversary celebrations for Singapore Airlines as 3 June marked the airline's first flight from London to Singapore in 1971. To date, Singapore Airlines has celebrated several historical moments in the UK including launching joint Concorde flights with British Airways in the late 1970s and operating the first ever A380 flight from the UK in 2008.
Food has always been a key element of the Singapore Airlines on-board experience. The airline was the first to offer a choice of meals in economy in the 1970s and later introduced the International Culinary Panel (ICP) in 1998, composed of some of the world's most renowned Michelin starred chefs, thus demonstrating the airline's commitment to innovative and high quality meals in the air.
Mohamed Rafi MAR, General Manager UK & Ireland, Singapore Airlines, commented: "We are very happy and proud to celebrate 50 years of flight operations between the UK and Singapore. We hope to tantalise customers' taste buds with our Feast Box partnership, celebrating some of our favourite destinations by showcasing their authentic cuisines".
Jyoti Patel, CEO and Founder, Feast Box, commented: "Food is a wonderful way to explore the world and helps to shape our fondest memories. Offering people the chance to travel the world through food is at the core of everything we do, so working with Singapore Airlines on this wanderlust inducing menu has helped to bring Feast Box to life in a very special way".
An informational booklet, a selection of dish images and logos can be downloaded here.
For more details on Singapore Airlines visit singaporeair.com and for more details on all recipes and to book a kit, visit feastbox.co.uk.
*Terms and conditions apply, please visit this link