'The Watford Gap, The Watford Gap, a plate of grease and a pile of ****'. Thus sang Roy Harper on one of his albums, a tribute to the service station he used to pause in when endlessly touring the UK in a Ford Transit. If, like us, that's all you know about Watford then we've both been missing out.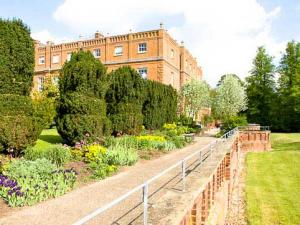 Watford Junction is only 15 minutes from Euston, which in itself is surprising to any southerner. For us 'North of Watford' suggests the outer reaches of civilisation. In fact rather nice houses creep all the way into the centre and it's far less unattractive than its name suggests. As the taxi bowls cheerfully along out of town toward The Grove Hotel you get to see leafy streets and friendly suburbia.
This all changes when you swing into the long drive of The Grove itself, suddenly you're in wide open parkland with sculpted views, water features and a narrow old stone bridge that cars must delicately take turns to cross over. Only the slightly surreal Prisoner-like sight of silent golf buggies ambling like purposeful little beetles across the verdant swards reminds you that this is not open country but a 'Londoncountry estate' with a championship Golf Course attached.
House Beautiful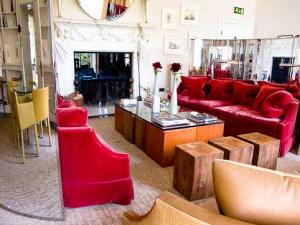 The house soon hoves into view, an ancient mansion now refurbished and with added wings, which thankfully don't detract from its appearance. The old front drive has been closed off and cars arrive to be valet parked at what was once the house's rear but is now a grand entrance mixing modern with traditional in an intelligent and stylish manner.
Inside the old house, lounge follows library follows lounge; a maze of remarkable rooms each beautifully furnished in a way that suggests you're in a person's home not a hotel. Someone with a bit of taste moreover, who respects the past but is not in thrall to it. In the old library curved reflective metal sheets function as room dividers, creating little pockets of intimacy and throwing back unusual reflections of both room and people. In another you look up to see a dome above your head that is unannounced but impressive.
You can get lost in these rooms, all flooded with light from the French windows that give onto the grounds and terraces – suddenly finding yourself back where you started from or coming into an already visited room from an unexpected direction. In a world where hotels are so dully predictable you could be in Buenos Aires or Bangor for all the difference you find inside, this is quite wonderful.
Big bed, bigger room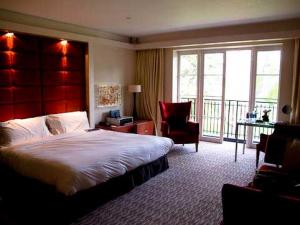 The rooms in the modern wing are spacious offering balcony views of the main house, a rather enormous tree and people having drinks on the terrace down below. Being purpose-built the rooms have discreet and efficient air conditioning, clever controls right next to the bed, a big flatscreen TV and a bathroom that has a proper wet room style shower and a repro classic bath. The bed is big, but then apparently the hotel is popular with footballers. They could have a five a side on the bed if they wanted. I hear they sometimes do.
Colette's. The main attraction
Prior to working here, Russell has worked in many Michelin star restaurants including Pétrus and Auberge de L'Eridan, Capital Hotel and Restaurant and Midsummer House and alongside chefs such as Gordon Ramsay, Marcus Wareing and Marc Veyrat.
He invites us to have a little amble around the veg garden in the fading light, although the harsh winter has meant the vegetables are well behind with only the perennial herbs up and running. Lines of onion bulbs and bamboo canes indicate that in a few months the place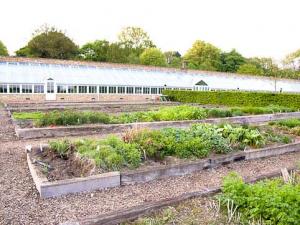 should however be a real organic larder for the main kitchen.
And so after a shower, a shave and a sit down it's time to head off to dinner. Out the front door, a swift right hander and into Colette's. Here after some nibbles in the bar we find that Russell's menu is innovative and correctly compact with hints of influences from across the globe. For starters there are roast scallops with peanut puree and lime, Smoked eel and chicken wings with a teriyaki glaze, Roast Scottish langoustines with air cured ham and watermelon and a Risotto of in season broad beans with morel mushrooms and Spring truffles.
The langoustine dish is a well balanced dish texturally – the soft crunch of the langoustines, the semi-crisp watermelon and the more toothsome ham meld well. The slight saltiness of the ham bringing out the inherent brininess of the langoustine, with the melon nicely refreshing the palate after each forkful.
No one seems unhappy with their dishes and it's interesting that Russell manages to make every dish a rich taste experience, without making the experience heavy and stifling. No more so than with a dish of Rose Veal Breast and Sweetbread, White Onion, Maple Syrup, Pedro Ximenez and Thyme Sauce.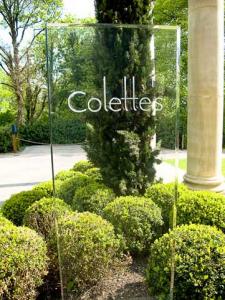 On paper this could be a lot to deal with but on the plate it's pretty near perfect. Thyme seems to have a way of cutting heavy sauces, even ones made with sticky Pedro Ximenez sherry, a sherry so thick you have to almost slap the bottle's bottom before it will creep out with glacial slowness. This is the second time this week I've eaten veal sweetbread and I'm not getting bored yet, far from it.
Dessert is from the walled garden, Poached Rhubarb, shortbread and almond ice cream. Quintessentially English with the astringency of the rhubarb, now nearing the end of its edible life before it becomes a tannic monster to be avoided, is pleasant on the palate and balanced by the ice cream.
The cheese board is massive and unmissable, a parade of Top of the Cheese Pops, from France and UK, many of them local. Chef Russell comes out with chocolates for our coffee, looking impossibly young for someone who has worked at Pétrus, Auberge de L'Eridan, Capital Hotel and Restaurant and Midsummer House – top restaurants all. And he smiles a lot and seems relaxed, it's a fact that people on top of their game always are, it's the ones struggling to make the grade who put on attitude.
Night and day
And so to bed, untroubled by rumblings 'downstairs' from overindulgence and soothed by gentle air-conditioning and a soft bed. The rooms really are very well designed and set up, luxurious without being intimidating, classy without being brassy.
All that's left is breakfast, taken in one the other main restaurants aptly called The Glasshouse, a glass-walled, modern room that looks out onto the gardens. No nasty warming trays here, the kitchen is open to the room and sunny fried eggs as freshly slid out to you along with good quality sausages and bacon. It shows the team here thinks, quite rightly, that breakfast is as important as fine dining to deliver a complete guest experience.
The Grove is a great example of creating a boutique hotel that isn't cramped and quirky. And with Colette's it has a class act fine dining restaurant. And all just a short ride from London. Watford now has a greater claim to fame than a motorway stop and Elton John.
The Grove – London's Country Estate, Chandler's Cross, Hertfordshire, WD3 4TG www.thegrove.co.uk