The Deck at The National Theatre, South Bank, London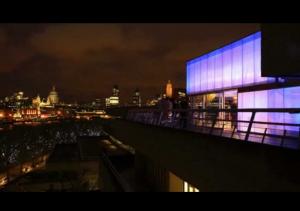 Whoops! There goes another one of my lettuce leaves, rising on an updraft and passing over the IBM building before gambolling in the breeze on its way up the Thames towards Tower Bridge.
It can be a bit windy up here on The Deck at the National Theatre and you have to hang on to your picnic tightly if it's not to feed the fish downstream. Best to try forking up the lighter stuff in between gusts, I decided as I bit down on a suddenly empty fork. Mind you it's very pleasant eating a posh picnic in the sun knowing that all that's between you and your pre-booked play is a flight of stairs.
A good idea by The Deck this, a play and a pre picnic all booked together on one ticket for £55 pp. The menu tonight is made up of Potted Ham with homemade piccalilli, a freshly made and still hot Scotch Egg, smoked salmon and fennel salad with a dill and Chardonnay dressing, a salad of asparagus with broad bean, summer squash and goat's cheese plus some Westcombe Cheddar with pecan and raisin bread with homemade chutney.
This is topped off with a summer berry trifle and washed down with Pimms or lemonade. All very agreeable and The Deck has fine covered area with deckchairs to sit in, or picnic blankets to sit on, should the weather become particularly inclement.
With or without the sun shining this is one of the best views in London facing both up and down the Thames, a secret eyrie that not everyone's aware exists but which is used for weddings and parties by those in the know.
It neatly solves the problem of pre-theatre dinner in restaurants, the nagging sense that service is slow and curtain up is getting close – here you know that you'll not miss the play's start and can eat at your own pace.
And so replete we went downstairs to watch Middleton's Women Beware Women, a play I haven't seen since being obliged to read it at school. Obviously a long time ago, schools these days, so children inform me, are disinclined towards such things preferring gritty dramas of drug dealing and 'respect' written by ex-convicts using large grants from the council.
A pity because Middleton's themes are timeless and the production superb, making full use of the Olivier's deep and high stage to great effect. The language is clear and resonant, full of allusion, wit and wordplay as well as the obligatory rhyming couplets to close a scene or act. The staging particularly at the end is breathtaking, a whirl of images and choreographed dark angels smoking satanic spliffs.
Actually, bearing that last bit in mind, maybe 'kids' might be persuaded to watch it after all, it even has sex and violence in it too. What more do they want from drama, innit?
Fine food and food for thought, The Deck's picnic and play deal has it all this summer.