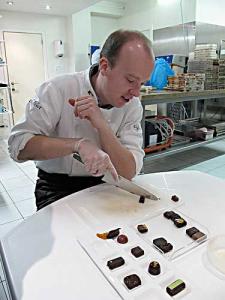 'Chocolate and beer, Belgium's gift to the world!' laughs David Maenhout as we stand in the cool of his chocolate 'factory' behind his shop Chocolatier M in Knokke on the Belgian coast. 'My family had a small brewery for generations but it came to an end in 2003 and so for me there was only one choice, to chase my dream of being a chocolatier. In 2005 after learning my craft I opened this shop and workshop.'
And what a shop it is. In serried ranks stand row after row of the most exquisite chocolates I have ever seen, each is a little jewel, a little work of art and they taste every bit as good as they look.
'Of course we have so many chocolatiers here in Belgium,' says David as we move around the cases, 'but I am different, I am a fusion chocolatier, I am always looking for fresh new flavour combinations to surprise and delight my customers. I cannot stop thinking of new ideas. My wife would be happy if I didn't, if we just made the classics and kept the same chocolates, but I can't stop!' His wife, busy adding 'gold dust' to chocolate moulds using a small paint brush grins across the room. She doesn't really mind and the chocolates they create together are so wonderful who could fail to want to come to work each day in such a creative environment?
The room is pleasantly cool but not cold. 'Chocolate actually only starts to melt at around 27C', David explains, 'there really is no need to keep chocolates in a fridge and anyway they will absorb bad flavours from what else is in there, as well as lose their perfect shine.' Ah yes the shine, it's what you notice first about his chocolates, a mirror finish that you can almost see your greedy face reflected in as yet another creation approaches your lips.
'It's crucial,' David agrees. 'The moulds we use we hardly ever wash, firstly because it is not necessary as the chocolates come out without leaving a trace behind, but more importantly because water contains minute tiny particles which would scour the insides of the moulds and soon the moulds would not be able to turn out the perfect surface on the chocolate that we must have.'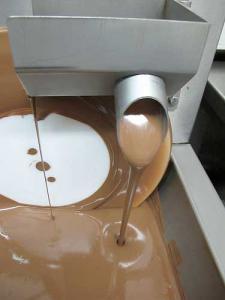 He demonstrates the basics of making a chocolate, taking a mould tray and turning to the machine I can only call a 'chocolate melter'. Here the finest chocolate David can source, from the preeminent chocolate factory in Belgium, is melted down and kept moving by a paddle. 'It comes as 'beans' or in 5 KG slabs,' he explains. 'These machines melt it at precisely the right temperature so that it is kept constantly ready for use.'
I could cheerfully go get a straw at this point; the chocolate is fluidly in motion, a glossy glowing stream, and when David flicks a switch it flows from a spout back into the main reservoir and with a deft motion he passes the mould under the stream to fill each compartment. Then he lets excess drain back in so that each mould contains only enough to create a very thin chocolate shell. 'The customer is paying for the filling, the chocolate shell cannot be too thick!' The mould is placed on a vibrating platform; 'to make sure any tiny air bubbles are driven out' then chilled for a few minutes. 'The chocolate will shrink away from the sides a bit and so will come away cleanly when we want it to,' David explains. At this point they decide the filling for each chocolate shell, which is piped in before the base of the mould is sealed off to create perfect chocolates ready to be demoulded and put on sale.
It's making me pretty hungry and I only ate a 'Full Belgian' and hour or so ago (boiled egg and toast actually) so David grabs a large knife and a selection of his favourites for us to share. 'Normally I would insist you eat some whole,' he says wielding a razor-sharp Global knife, 'many have liquid centres a random spread of ingredients such as rock salt, or a piece of fruit inside, but these should be okay for dividing up.'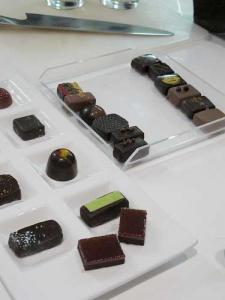 He brings them on a piece of bespoke china, the way they are served in the many Michelin restaurants in the area that he supplies. 'The last thing you eat in those places has to be as perfect as everything else,' he says sitting down, 'and many like to offer up to ten chocolates at the end of the meal. We work with the chefs to innovate, to match their seasonal menus. They perhaps would like to make their own chocolates, and some say they do! But in reality it is me I think, most of the time.'
'The majority are actually happy to credit me on their menus,' he says bisecting the first chocolate with solid snap of the knife, 'it is part of what customers pay for, the sourcing of the very best by the restaurant. They are showing customers that nothing served is second rate.'
Mango with balsamic vinegar really illustrates the fusion concept; the tang of the vinegar meeting the mango head on but 'fusing' to an extraordinary experience on the palate all held in the mouth by the creamy viscosity of the chocolate.
One is made with layers of blood orange jelly, 'they are in season now so we make our own juice and freeze it as supply for the whole year'. It's been combined with a ganache of 'mare's milk', yes horses' milk the strong flavour of which is leavened with orange zest. A drawing of a horse decorates each one so no one can be in doubt it contains this unusual ingredient.
Another contains lemon and coriander seeds, the lemon is Calamansi from South East Asia and quite different to ordinary lemons. 'The fruit is quite bitter but the peel is very sweet,' David explains. 'I think it's very nice,' he's right, it is.
We try a mojito chocolate – fresh passion juice with cane sugar, fresh mint and rum and a caramel that has salt 'to temper the caramel's sweetness. It's a very popular chocolate with our customers, it took some time to get right and even now we cannot make it simply by mechanical measurement. The ingredients are never exactly the same twice so it is done by tasting, tasting, tasting.'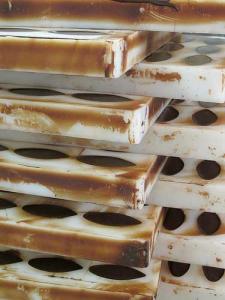 The taste of his chocolate with chilli is subtle, the chilli only becoming apparent after a short while in the mouth. 'This is how we like to make chocolates,' enthuses David. 'Some are gone in a second, not ours, we want the flavours to linger up to twenty seconds, developing and revealing themselves. We even make our chocolates smaller than most, one or two bites only. Most chocolates are 15g but ours are 8g to 12g each, this means each one is just enough and you get more variety for your money.'
We try his four-spice mix – cinnamon, cloves, aniseed and ginger as well as a great blend of figs, port and rosemary. The ideas keep flowing out of David, as he is the first to admit.
'I have 50 or 60 new ideas for the coming season,' he says as his wife rolls her eyes in mock exasperation. 'We will continue to do what people ask for, but I find once they try our new chocolates they immediately become their new favourites.'
As I leave, clutching a gift box as beautifully engineered as the chocolates themselves to take home for the family – well me mostly – I can't help being sorry we don't have people in England who make this sort of treat for us. 'Oh yes English chocolate,' says David trying not to pull a face. "Ah well, you will enjoy that box all the more when you get back eh?' He's right, I certainly will.
Chocolatier M,

Sylvain Dupuisstraat 38

8300

Knokke

,

Belgium
www.chocolatier-m.be is under construction but already contains samples of David's chocolates all beautifully photograohed.
Foodepedia travelled to Knokke with the kind assistance of Visit Flanders, the Ostend Tourist Board, the Knokke Heist tourist board and Eurostar.
Eurostar operates up to 10 daily services from London St Pancras International to Brussels with return fares from £59. All Eurostar tickets to Brussels are valid to/from any Belgian station at no extra cost. Tickets are available from eurostar.com or 08705 186 186. Fastest London-Brussels journey time is 1h51 minutes.