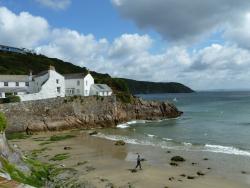 It's February; it's wet, snowy and very, very grey – and many heads are turning over ideas of where to go for a break. Not too far, not even necessarily guaranteed to be sunny; just different from this early in the year gloom. Good food is essential. Perhaps also combining something you keep meaning to do but somehow haven't got round to?
With several holidays in Cornwall as a child (Newquay before its waves were discovered; Fowey before the yachts moved in) it went back on my to-do list when the Eden Project opened and that was 12 years ago. I've now done it. And The Lost Gardens of Heligan. That's two ticks and rather too much smugness.
The smugness started as I sank into a soft, wide seat in the first class carriage of the First Great Western train leaving Paddington for St Austell. First class! It sounds self-indulgent but it does mean the break starts as the train pulls out of the station – much needed if the journey takes up a significant proportion of your time away. Space, a table, a trolley – it was impossible not to relax the moment I started staring out of the window, blanking out daily pressures. Crossing Brunel's Royal Albert Bridge, with its impressive views of the Tamar Bridge, Saltash and the Tamar Valley, then tranquil coastal views with boats leaning skittishly above the tide, this two-night break felt like a proper holiday.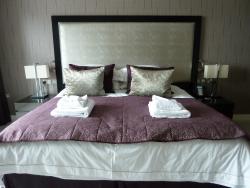 Arriving at The Llanwroc Hotel is a lesson in not judging a book by its back cover. Set behind the small harbour of Gorran Haven, its sea-facing façade has some architectural merit including a large terrace for when the sun does shine. Its less interesting back – up to which we swept in our hired car – is unrepresentative of its location and its style. Don't be put off. A glitteringly glamorous chandelier dangles high above a hall filled with aubergine, pewter, bronze and black furnishings. In Soho you would wonder if you had walked into a bordello. Here it is stylish boutique chic in colours that repeat themselves from the terrace overlooking the sea to the hotel's name embroidered on the bath towels. With wit and humour – in the décor and the hotel's name (read it backwards) – it was clear that The LLanwroc doesn't take itself too seriously and that we weren't in for a dull, corporate, cloned experience.
I was in it for luxurious comfort – and the food.
After a glimpse of the part-sea, part-countryside view from my balcony, a swoop of seagulls calling out in the light breeze, our first stop was The Lost Gardens of Heligan.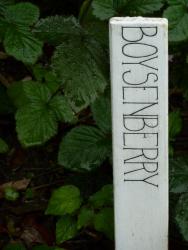 Over 400 years old, created organically from the mid 1700s as a self-sufficient community by four generations of the Tremayne family, it tumbled into dereliction from the 1920s. It's 200 acres have gradually been revitalised and include a sub-tropical jungle, woods, a couple of unsettling living sculptures and a fascinating and satisfying (for the food obsessed) vegetable and fruit garden. And an excellent moistly-crunchy flapjack in the garden's modest café cum shop.
You could spend a day there, spotting signs of what's just been planted, at full peak or will emerge in seasons to come – melons and pineapples, berries we've forgotten about, brassicas and beans, herbs – amidst ancient potting sheds, restored greenhouses and an obligatory scarecrow. But we had supper to eat and cocktails to drink so back to the The Llanwroc we went.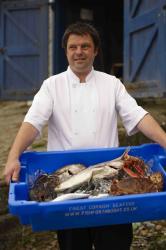 Chef Jon Palmer leads the team in the kitchen including apprentices whose first task is to learn how to bake the hotel's signature loaf – soft, moist, lightly seeded, slightly malty and perfect for a hefty whack of Cornish butter. Eat snacks in the bar, dine lightly on the terrace or do as we did – head for Gwineas, the hotel's restaurant named after rocks in the sea just beyond Gorran Haven's beach.
Fowey mussels, a generous portion served in a marmite, echoed the hotel's local but slightly non-conformist approach – a light touch of garlic and salty bacon to balance the creamy-buttery cider and Cornish blue sauce. No need to ask for a spoon – it was delivered automatically, so obvious is it that you'd want to scoop it all up which of course I did.
Scallops came appropriately caramelised and with crushed peas, chorizo, a light foamy, buttery sauce and a sprinkle of pea shoots adding pea punch and crunch. My only criticism is that serving it on slate (creating a lovely combination of colours) meant less sauce (any more than a waft and it would have sloshed over the sides).
The richness of a generous slab of pork belly, in an almost black, sticky sauce, was balanced by a few capers garnishing an excellent celeriac remoulade, first rate paprika roast potatoes and a light dollop of apple sauce – a wondrous mixture that demanded, and got, a large glass of full bodied shiraz.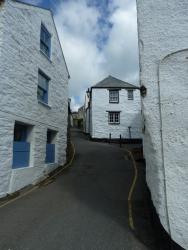 There is something very restorative about waking in a soft, enveloping bed to sunshine glinting on the sea followed by a plump, freshly smoked Cornish kipper, with a flash of flaked salt to emphasise its fishiness, and two perfectly poached eggs. For essential exercise, we sauntered down through narrow winding lanes between whitewashed cottages to the harbour and a lucky encounter with the Llawnroc's personal fisherman, Rob.
He's retired, officially, but continues to take out his boat (for the love of it) when weather and winds permit. A younger man wanting to make a living would need a bigger boat, he tells me, but this brings in some bread and butter income and keeps him active and fit. With the unpredictability of the weather, fishermen using net, pots or line are truly adaptable (unlike trawlermen who can battle more easily against the wind and rain and are therefore less affected by the seasons).
His most common catch is crab and lobster (which he had delivered to the Llawnroc the morning before) but a trip often yields plaice, Dover sole, cod, pollock, bass, mackerel, dogfish/rock salmon and wrasse. John's never tasted wrasse, a scaly and colourful fish that wouldn't look out of place in Finding Nemo, but Japanese sushi chefs consider it the best of fish from English seas. Chances are you've eaten it as sashimi.
And then we were off to the Eden Project. We all know what that's about; we've had its important environmental, research and education roles drummed into us and the admirable Tim Smit (now Sir Timothy Bartel Smit, awarded the KBE for his work on Heligan and the Eden Project) is an icon for many. What is less well known is that at almost every turn, the Eden Project is about food.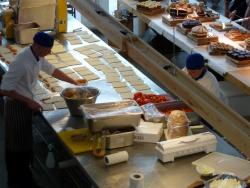 Is sugar food or fuel? What is the point of chocolate? Pineapples are grown as fruit and for alcohol, candles, animal feed, medicine and its fibres woven into a silk-like cloth. Bananas, which we take for granted year round, are a very tricky commodity – the World Trade Organisation shifted the balance of production from small holdings to big plantations putting those small producers at risk. How can we protect them? By buying fair trade bananas.
All this might be common knowledge to readers whose schools took geography seriously but for those of us who were taught only how to trace a map of Australia, it's eye-opening and thought-provoking. At £45 the entrance fee seems pricey but make a matching donation and go as often as you like for a year. If we had stayed longer I'd have gone back again and again, not only for the mind-bending knowledge but also to eat in one of its many cafés, large and small, indoor and out, all of which were as cliché-free as it is possible to be – everything's cooked from scratch in front of you.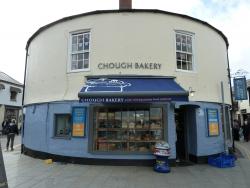 We didn't eat there; we had a date with Padstow and some steaming Cornish pasties from the local, independent Chough Bakery – a couple of years ago it had the Mary Portas revivalist treatment and they've clearly stuck to her advice, trading busily despite many surrounding competing chains. We munched our pasties straight from the bag leaning against the harbour wall, facing the sun.
A wander round art galleries, a sneaky award-winning west country Yarde Farm ice cream, then it was back to a foamy bath, reading a book on the terrace and hoping I'd have enough room for dinner.
I did, giving Gorran Haven wrasse a go. Served as crispy seedy-breaded goujons on a bed of heritage tomatoes with pea shoots, pumpkin seeds, the light smokiness of sage leaves and a hint of cumin, it needed a light sauce to contrast with all that crunch. Aged Cornish rump steak served juicily rare, Mevagissey scallops correctly slightly transparent in their centre, a more than competent tarragon-rich béarnaise sauce, and crisp on the outside, fluffy on the inside homemade chips were a huge success. An excellent gooseberry fool rounded off me, and our mini-break.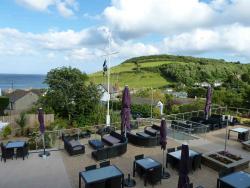 As we checked in an expensively but casually dressed rock star style couple checked out, full of praise for the Llawnroc. Locals dropped in to meet others for a drink in the bar. A full of fun and laughter family group celebrating a significant birthday got through almost as much of the menu as I did. Ours was a more sedate party, taking our reviewing seriously. If it is important to you not to be pigeon-holed, to avoid the characterlessness of chain hotels, eat locally-caught or locally-grown food, and have a chic but welcoming place from which to explore places you really ought to have been to by now, I recomment going to Cornwall … backwards.
With thanks to: