Tomato Garlic Ratatouille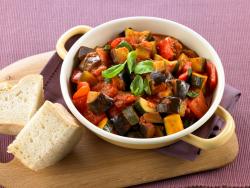 The quickest, easiest and most delicious ratatouille you will ever make
Serves 2
Cooking time: 30 mins
Ingredients:
1 aubergine
2 small courgettes
1 red or yellow pepper
2 tbsp olive oil
175ml dry white wine
sugar, a pinch
fresh basil
Method:
Cut the vegetables into large chunks.
Heat one tablespoon of the oil and fry the aubergines for approximately 6-8 minutes, or until brown on all sides.
Add the remaining oil, the courgettes and peppers, and cook for 2 minutes.
Stir in the sauce, wine and sugar and simmer gently for 7-8 minutes, until the sauce is heated through.
Tear the basil leaves, stir through the sauce and serve.
Top tip:
Sprinkle over some toasted pine nuts before serving for a perfect crunchy topping.
Pan-fried tuna steak with tomato, chilli and olive sauce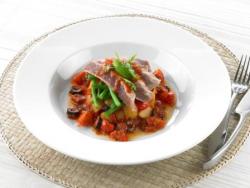 Seared tuna steaks sliced and served on a stack of new potatoes and French beans and drizzled with a rich, spicy tomato sauce for an impressive but quick dinner party dish.
Serves 2
Cooking time: 10 mins
Ingredients:
1 dsp oil
2 fresh tuna steaks, seasoned
75ml white wine
8 cherry tomatoes, quartered
2 tbsp sliced black olives
200g cooked new potatoes, cubed and kept warm
100g French beans, trimmed, cooked and kept warm
olive oil
sherry vinegar
rocket leaves, dressed with a little olive oil and vinegar, to garnish
 Method:
Heat the oil in a heavy based frying pan.
Add the tuna steaks to the hot pan and cook for 1-2 minutes on each side for medium rare tuna (cook a little longer if preferred) remove from the pan and keep warm.
Add the wine to the pan and cook for a few minutes until most of the liquid has evaporated. 
Stir in the cherry tomatoes, Tomato and Chilli Sauce and black olives and cook for a few minutes.
Mix half of the sauce with the warm chopped potatoes ensuring that they are completely coated in sauce.
Season the French beans and drizzle with a little olive oil and sherry vinegar.
To serve, place a ring of potato (use a pastry cutter as a mould) onto each plate and top with French beans.
Slice the tuna and arrange on top of the beans.
Drizzle the tomato sauce over the tuna and decoratively around the plate. 
Garnish with rocket leaves.
Top tip:
Roasted salmon fillet makes a tasty alternative to tuna in this dish. 
Loyd Grossman sauces are widely available. For more information on the range, visit www.loydgrossmansauces.co.uk