Hot on the heels of the Great Horsemeat Scandal, we receive news of a Beagle restaurant…Oh, wait, it's not serving up ACTUAL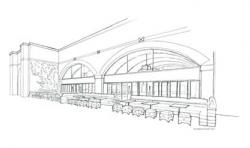 beagles, or serving food to them- although this being a Shoreditch venture, both are possible and, arguably, some of the clientele might be derogatorily described as'real dogs'.
No, this particular Beagle takes its canine moniker from an old North London line locomotive, and houses a restaurant, bar and coffee shop in a series of railway arches. At least one of the founders seems a bit animal crackers, though- Danny Clancy is also the man behind Bonnie Gull, although there's no word on his brother Kieran's proclivities.
Heading up the a-bit-Brit, a-bit-Med kitchen is James Ferguson, who's getting his wood grill all fired up over his daily-changing menus swamped with seasonal produce. In the bar, the British pride continues with Adam Freeth's seasonal-and-foraged cocktail menu alongside UK spirits, classic wines, and'restorers' like house-made nettle and ginger cordials.
The persistent London'un-design' wagon trundles on with Beagle's interiors – there's brushed blackened steel, clean brickwork, and railway sleepers make up the wooden floor and outside furnishings. With a solid sample menu promising pretty gutsy fodder, let's hope Beagle's bites are as good as its bark.
Beagle opens in March 2013. Beagle, 397-399 Geffrye Street, London, E2 8HZ, www.beaglelondon.co.uk