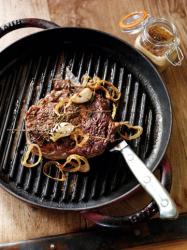 For those looking for a delicious meal to prepare for their partner this Valentine's Day, why not stock up on some succulent Welsh Beef this month.
With the dark nights and cold days, Welsh Beef is the perfect treat this February.
And to spice things up try a tasty steak with a side of seasonal winter root vegetables and a glass of fizz – a guaranteed winner in the romance stakes this February 14th.
Welsh Beef has paired up with up-and-coming chef, Luke Thomas, who has created a sumptuous and easy dish
Rib of Welsh Beef with Peppercorn Sauce
Ingredients:
4 8oz Welsh Ribeye Steaks
Sea Salt and Freshly Ground Pepper
3 tbsp Olive Oil
Small bunch of Thyme
1/2 head of Garlic1 Shallot, minced
2 garlic cloves, minced
4 tbsp green jar peppercorns
50ml Brandy
200ml Beef Stock
200ml Cream
Small bunch of tarragon leaves, chopped
Method:
Take 1 tbsp olive oil and sweat the shallot and garlic with the peppercorns. Cook for a few minutes then add the brandy. Flambé the brandy and reduce by half. Season with salt and some ground black pepper then add the beef stock and leave to reduce on a medium heat.
Now get a griddle pan, and place on the stove. Take the Welsh Beef steaks on a tray, season heavily with salt and pepper and pour on 2tbsp olive oil, rub the seasoning into the steaks.
Add the cream to the peppercorn sauce and leave to reduce until thick and sauce consistency.
Place the Welsh Beef steaks in the griddle pan, leave for 2-3 minutes on one side to colour. Then turn and leave for a further 3 minutes then take the sprigs of thyme and 1/2 head of garlic place on the steaks to infuse and then remove from the heat and rest for a few minutes.
To finish the sauce add the tarragon and taste for seasoning, then to plate up, serve the Welsh Beef steaks with their own juices and the peppercorn sauce in a pot on the side. 
Luke Thomas
At just 18 years old, Luke's portfolio is already impressive and extensive, having worked in restaurants around the world including Alinea in Chicago, La Pergola in Rome and the Burj al Arab in Dubai. He has also had the opportunity to work alongside some of the world's top Michelin-starred chefs including the likes of Gary Rhodes and Heston Blumenthal.
With such experience under his belt it was only a matter of time before Luke began building his own restaurant empire, and in February 2012 he launched Luke's Dining Room at Sanctum on the Green, Berkshire. His ambition is to be the youngest chef to be awarded a Michelin star.
Luke is now an ambassador for Welsh Lamb and Beef and wants people to get a little more adventurous with cooking.
With a whole host of recipes available this February, Welsh Beef has Valentine's Day all wrapped up in the food department. For more information see: www.eatwelshbeef.co.uk