12 Winsley St, W1W 8HQ, www.yalla-yalla.co.uk
'Yalla Yalla' means 'Let's go'. A colloquial incitement to shake a leg, much in the manner my Dad used to use the Hindu phrase 'Jaldi jaldi' to get me to hurry up and get moving. And that's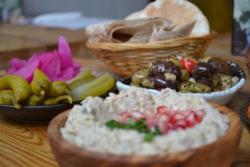 just what we're doing, hustling along in freezing sleet to the Winsley Street branch of the Beiruty street food joint that looks, with all its pine panelling, appealingly sauna-esque. Thankfully, though, everyone remains clothed, although the sheer bustle generates enough heat to necessitate removal of a layer or three.
When they say fast food they're not messing. Dishes are plonked down moments after ordering, zapped out from the semi-open kitchen by waiters seeking to reclaim the'nippies' title of staff at the old Lyons Corner Houses. The speed perturbs me slightly – I prefer a more sedate supper. And topsy turvy drinks send me into a spin- an expectedly dry coriander martini I order as an aperitif is as syrupy as the mint tea I end on sadly is not.
But munching those shocking pink torshi pickles, a few glossy olives and salty-sour chillies puts a smile back on a busy gob. And the cold mezze we've chosen keeps it there.  Pitta are soft and chewy, well-structured to use as edible shovels for that silky Leb-style hommos, here crowned with fatty-crisp shards of lamb shawarma; koussa – a roasted courgette take on baba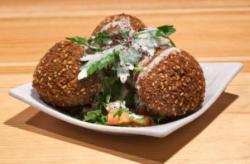 gannoujj – with a good, hard tahini kick; and muhammara.
Ah, muhammara. How I've missed thee since our last encounter in Oxford's fabulous Al Shami. Yalla Yalla's is a top rendition of the coarse walnut-red-pepper-and-pomegranate-molasses paste, topped with roasted mixed nuts and more molasses. Tabboule is fresh and zesty; herb-heavy and bulgar-light. Just as it should be. Don't drizzle extra olive oil from the less-than-fresh tabletop bottle, though – repeated re-capping has capped its flavour.
On to hot eats, and we really are talking a tale of two halves. Presentation's consistently good, but so is lack of flavour, mostly resolved by hearty application of salt.'Tis the season for underseasoning – it's something I, not an overly salty dog, am encountering increasingly. Still, better too little than too much and, seasoning aside, torpedo-shaped lamb kibbe and cheese samboussek are assured efforts – although the latter's bready casing could be a mite less doughy.
I've been hotly anticipating the next hot dish, those chicken livers in pomegranate molasses that sends Time Out et al. into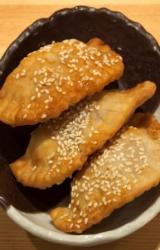 rhapsodies. It's…okay. The livers have taken on that mealiness from a few seconds too long in the pan, and the molasses dressing is thin and instant-heartburn acidic. I'd envisaged hunks of blushing innard lightly cloaked in a sticky sour-sweet glaze, not these nuggets bobbing in a sea of sharpness. It's not awful, just not worth the hype.
Our final mezze, a mixed tempura-like fry of whitebait, prawns and squid on grilled aubergine, certainly asserts its presence. It's a vast shoal, appropriately crisp and tender both, but a yogurt dressing is both thin and insipid. Another whack of salt, a big squidge of lime, and it perks up slightly – but the best bits remain the squashy aubergines and the scrunchy batter detritus, like what you get in the bottom of  a frying basket at the chippie.
A main is really uncalled for, and if I had my time again I'd throw in a few falafel boulders and be done. But we take punishment for our greed in the form of a lacklustre lamb shoulder stew, where the lusciously textured meat seems to have selflessly imparted all its lovely flavour into the accompanying seven-spiced rice and kept none for itself. Sweating out all its salt while at it. Baa humbug. I take succour from having tried those sexy shawarma shavings on the hommos.
If mezze and mains are a mixed bag, desserts firmly tip the balance back in Yalla Yalla's favour.'Knefe' delivers a strange, stretchy, splendiferous confection – a shallow'cake' with a syrup-soaked semolina outer shell and a filling of a cheese that strings from plate to mouth like hot mozz on a pizza. 'Osmalliah' is a calamitous, joyful haystack of crisp vermicelli, ricotta-like cream and rose sauce. Dense tahini ice cream is drenched in carob molasses- by God it's good.
So, choose Yalla Yalla for spanking fresh dips and salads; crispy-fatty-moist (and quite frankly gut-busting) grills; and an unusual pud menu. Don't if you fancy mind-blowing hot mezze and lusty stews like you get on the Edgware Rd; or if you don't fancy drinking the sort of cocktails that return you to the heady days of swigging illicit alcopops outside the yoof club.  But if you do go, be on the safe side – sneak in a salt cellar.
Yalla Yalla has just launched a pop-up at 186 Shoreditch High St, E1 6HU, featuring live music, al fresco dining and sheesha pipes. For more information, visit www.yalla-yalla.co.uk