You gotta be British, too, to make the shortlist. The YBF Awards are back to recognise the cream clotting at the top of the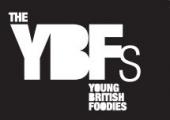 nation's simmering saucepan of talent. Designed to champion unsung and upcoming voices across the food industry, this year's entrants will be judged by established figures including Nuno Mendes and Marina O'Loughlin.
Categories range from the sensible to the sensationalist, recognising skills in mixology, cured meat production and making a decent cup of coffee, whilst heralding the best'Food Experience Artist';'Mobile Mover and Shaker' and'Alchemist of the Oven'. Oh- the last two are just fancified names for street-food vendor and baker, although the first is anyone's guess.
The Most Irreverent Young Chef could be interesting, although prospective winners please note the prize is not carte blanche to merely commit culinary capers willy-nilly. We will not be amused by whoopee cushions on our dining chairs. Older, non-British, food-hating characters fear not- there is an award for an'Honorary YBF' – who might not need to meet all three of the merit's titular criteria.  
The YBFs is an egalitarian affair, encouraging application from anyone with a yen for their particular culinary craft. Home growers, market traders and Michelin chefs are all equally in the running for reward, and winners will have the chance to showcase their sublime skills sets at the Awards"exhibition' evenings. Pencils at the ready, entries close on 30th April 2013. 
For more information on the Young British Foodie Awards, and to enter, visit www.the-ybfs.com