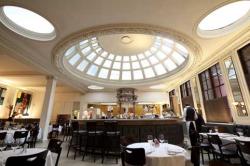 1 Lombard Street is a high-end restaurant housed in a Grade II listed converted bank located within spitting distance of Bank Station. An all-day brasserie too it has been serving up modern European cuisine to the Square Mile since 1998. The website proclaims it to be'the place where the city meets for breakfast, lunch and dinner, launches new businesses, signs deals and celebrates profits.'  All of which explain its lofty proportions and clientele of fat cats with fatter bank balances. 
It has the hallmarks one would expect of such an establishment which, for someone who is more at home at the MeatLiquors of this world, go like this. The ever-painful check in (immediately leaving me flustered with my arm stuck in my coat), waiters-in-tails dishing out slices of warm bread with sliver tongs (making it impossible to consume an entire basket before the starters arrive), bar surrounded by braying city boys slapping each other on the back (eye roll), and'classic' modern European menu (eye-watering prices).
To give it its due and to stop me from sounding like a terrible inverted snob, it also an infectiously blithe atmosphere and elegant dining room scattered with starched-white tables, curved leather booths and abstract nudes. It even has a'cupola' (a central glass domed ceiling designed by Italian architect Pietro Agostini) just to remind you how far away you are from the nearest trendy burger joint.
Unfortunately on our visit to the brasserie, what it didn't have was good service. It took them ten minutes to offer us water, another 15 to ask if we wanted wine, 20 to deliver said vino to the table; and the hour was fast approaching before we convinced someone to take our order.    
Thankfully my starter of Crab Linguine made up for the clockwatching. Al dente fronds of homemade pasta dressed with a generous mound of crabmeat, drenched in butter were hard to fault. My companion, who feels eternally obligated to order steak tartare if he spots it on a menu, decreed 1 Lombard Street's version'one of the better examples'. I also liked the fact that some starters came with an'upsize' option, should one not think the selection of mains sufficient/want to share/fancy showing off. 
It was hard to tell if the standards dipped with the mains, or whether I'd just ordered one of the more soporific dishes – an entrecote steak oddly lacking in beefy flavor but saved by crisp fries and a bernaise. In contrast, Veal Milanese, served with a punchy Salsa Verde, was a sterling example of the most comforting of Italian comfort foods.  
On a wrong order roll, I opted for the Apple Charlotte, which looked the part sitting in its bath of vanilla-scented crème fresh, but walked the wrong side of stodgy. Whilst I consoled myself with a glass of nectar-like pudding wine my friend gloated over his perfect crème brulee.
If that read like a confused 500 words, that's because I am still to reach a conclusion to how I felt about 1 Lombard Street. Despite the prices (which flit between making me wince and making me shrug resignedly) the food is actually pretty good and probably better than that if you order wisely.
And, like any London brasserie worth its celery salt, a greater emphasis is on a well-turned-out room humming with money and gossip than anything as pedestrian as the eating. So whilst this inverted snob isn't in a hurry to go back, if you happen to have a wad of fifties burning a hole in your pocket and adore to dine under a glass-domed'cupola', you could do a lot worse. Just take your coat off first and don't wear a watch.