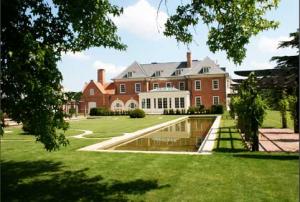 Lime Wood had the travel, food and business press all a little bit hot under the collar when it opened at the tail-end of last year – the main reason being that it was one of the most interesting projects to launch in a long time. The newly-restored Georgian hotel is set in the deepest depths of the New Forest (you'll notice the droves of wild ponies on your drive to the entrance), and looks like it could become the definitive country pile for visiting tourists (the Yanks are going to love its quintessential 'British-ness'), staycationers, weekenders and slebs alike.
Indeed, it already got a pretty glowing celebrity endorsement when jazz pianist Jamie Cullum and model-turned-food-writer Sophie Dahl chose to secretly tie the rather disparate lengths of their proverbial knot one snow-covered weekend in early January. Supposedly Cullum serenaded his bride on the grand piano he helped to choose for one of the hotel's main rooms. Lime Wood's management structure too has turned some heads, consisting as it does of hotel guru Robin Hutson (of Hotel du Vin and Babington House fame) and hotshot GM Justin Pinchbeck (previously of cool-hunter hotel of choice the Zetter). But really, Lime Wood is chef Alex Aitken's baby.
Aitken, who gained a name (and a Michelin star until this year's guide) for himself with his Le Poussin restaurant and hotel group in the Brockenhurst area, has been involved with what is now Lime Wood for over eleven years, after it was purchased by his business partner Jim Ratcliffe in 1999. Since then the property (some of which dates back to the 1700s) has undergone £30m worth of conversion and restructure at the hands of architect Charles Morris, making it into what is now an aesthetically stunning development. Aitken's long-term vision for the place has been helped into fruition by the partnership with Hutson and his hotel expertise, and there's a lot of thought and love that has gone into making this, as well as a lot of money, which isn't hard to spot. But, rather refreshingly, it manifests itself in genuine charm rather than gratuitous ostentation.
Charming details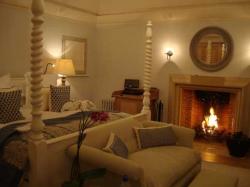 Each of the 29 rooms has its own fireplace where log fires can be lit on request by the lovely staff who wear Catherine Cookson-esque country garb (or by you if you're feeling intrepid), there are plasma screen televisions, iPods and iPod docks, roll-top baths, under floor heating in the bathrooms and decor is chic/antique Georgian. A luxury spa is set to open in a couple of months, and there's even a room full of Hunter wellies to fit anyone who might fancy spotting some deer in the surrounding forest. All very nice stuff. But this is Foodepedia and all, so what of the food? This is a very serious element of the operation and Aitken has created both an eponymous fine dining restaurant and a more casual eatery to suit his guests.
At the Scullery – whose walls are adorned with blue and white crockery – you can wander in at any point during the day and choose from snacky dishes like wild mushrooms on toast (£7.50) – AA is big on foraging – and 'Forest rarebit' (£6), to more substantial meals like lobster (half: £25 or whole: £35) and chips and steaks (start at £15). Aitken is very interested in provenance and has taken the usual local sourcing/grow your own idea one stage further by rearing his own meat in the abundant surrounding land. 'All the turkeys we served at Christmas we'd reared ourselves," he told me on my visit to the hotel. 'We've got pigs, chickens, cows and sheep and a small-holding, which is great for the restaurants. Lots of people grow their own vegetables, but the great thing about doing our own meat is that we know where it's slaughtered – which is 40 minutes away."
A hands-on approach to produce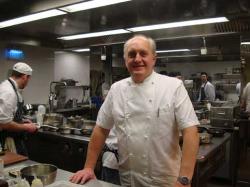 Aitken makes the most of rearing his own animals, doing things like soaking the barley he feeds his cows in alcohol for the last six months of their lives. 'It enriches them with more fat and beer gives them an appetite so they eat more and get bigger," he says. Because of the way the animals are hand-fed, they are tamer and easier to handle, meaning that there is less stress in the meat when it comes to slaughter. Aitken also has a smokehouse on-site (next to the lake) where he smokes his own bacon and cod roe, and he has a stalker who shoots all his game – a former poacher who has, under his guidance, gone legal to supply him with the rich-pickings of the surrounding areas.
Informed by this hands-on approach to produce, fresh, seasonal and local ingredients underpin the self-taught chef's cooking. Dishes like the sweet and velvety Jerusalem artichoke and foie gras veloute showcase Aitken's ability to combine flavours with sophistication and delicacy. On my visit it was the wild mushroom risotto with a soft poached egg on top and a truffle and Madeira sauce which really stood out. Served in a kilner jar, when I opened the lid I was met with a waft of intense truffle mist that ignited the palette better than any amuse bouche. The silky, perfectly al dente risotto had the fungal, earthy flavour of the forest floor enriched by the fragrant Madeira sauce and creamy egg yolk. Like Lime Wood itself, this dish was a luxurious and restorative journey into the New Forest.