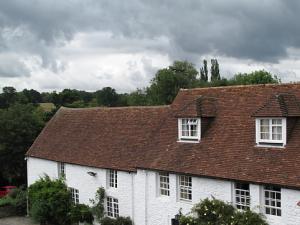 Everything creaks at the Spread Eagle in Midhurst – the stairs, the floorboards and the doors. Of course you'd creak a little too if you were almost 600 years old and had saggy bits, wobbly bits and bits that didn't quite fit anymore. It comes to us all as we get older.
That the hotel maintains this wonderful charm while delivering everything the modern guest expects, such as broadband access and air conditioning in rooms, is a triumph of sensitive hotel management. So many people would have either gutted the place or torn down half of it and then rebuilt the rest in a mock Tudor style to attract team-building courses from campus-based tech companies. Whoooo! Yeah! Go for it!
The old black and white photos are the only things running and just up the stairs. Taken around the time of the First World War or perhaps even earlier, they show that the principal rooms have barely changed at all. Enormous fireplaces you could roast an elephant in, walls plastered in the wobbly horsehair and quicklime way, windows whose glass has looked out over centuries of change.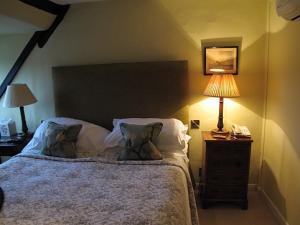 The building has grown out over the years, absorbing its equally ancient neighbours like a friendly amoeba so that you can cheerfully get lost wandering about the place. This is such a nice change from the regimented corridors of a modern hotel. The staff pop out unexpectedly from their hidden lairs, all cheerful and relaxed. And yet at the back of the hotel is a state of the art pool and health spa that has been seamlessly added to the facilities without clashing with the mood.
Dark wood abounds but not in a gloomy way and on the main staircase a portrait of a stern Victorian man gazes admonishingly down as if daring you to enjoy yourself, quite pointlessly because you're far too excited at being in his house to worry about some old Dombey grouch.
Our room at the very top didn't have the original fireplace and big four poster of some of the main bedrooms we peeked in, but it did have a cute dormer window and a slanted ceiling to crack your head on when getting out of bed in the dark. Not that we minded, that's the way it is in old buildings. If you want to avoid bumps in the night, stay in a TravelTavern. The bedroom had choice items of antique furniture and so did the bathroom, but the plumbing while retro in style was thoroughly modern in function and so worked perfectly, especially the big drench shower.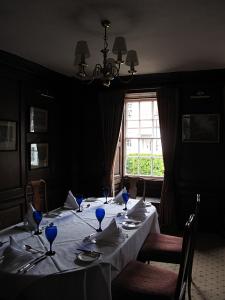 Craning our necks out the window we disturbed some pigeons mooching about and could see countryside all around this historic town, once an important stop for travellers between London and Portsmouth. The town of Midhurst has held hold on to its old nature all over; the shops may have modern names but they haven't torn out the fine old windows to fit tacky plate glass like so many places have. Maybe it's forbidden around here, if so full marks to the local council.
The bar looking out onto the old square is straight out of ancient history, with deep and luxurious leather sofas and another massive fireplace dominating the room, which must be a happy sight to see and sit next to when lit. Stumbling out of a cold winter's night into this welcoming spot would have been the salvation of many a weather beaten traveller. It's a good spot to take a look at the restaurant menu, which is to be honest, rather too old-fashioned in concept and style, as if out here people are all living in an 80's time warp. Prawn Cocktail is offered unironically and with iceberg lettuce, while steak comes with pepper sauce. A bit of a shame as the dining room is exceptionally pretty and Georgian and the staff eager to please.
Next day we explored the town after some rather decent kippers for breakfast and found a great bakers with 'real' bread and a butcher with some of the most varied and tasty sausages I've seen for a while. If you're heading back home the same day, a cool box would be a good idea to take some of the bangers back to your freezer. Although Midhurst, like seemingly every town in Southern England, seems to have more charity shops than anything else, there are interesting plenty of bespoke clothes shops and shops selling things that are more interesting than rows of dusty 'pre-enjoyed' paperbacks. You can wander down the High Street and enjoy them before reaching Midhurst's odd little jewel the ruins of Tudor Cowdray House.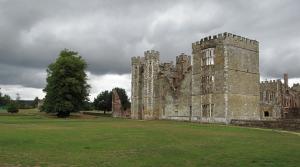 Set in untouched parkland, from a distance the house seems a grand and perfect Tudor mansion. It's only as you get nearer that you realise there is nothing behind the great windows but sky. The house is a shell having been burnt almost to the ground in 1793 Today it's preserved in it's ruined state which in many ways makes it more interesting than something frozen in time with velvet ropes closing off rooms full of untouchable furniture. It's a magnificent ruin and you can well believe that both Henry VIII and Elizabeth I visited there. In fact Elizabeth I stayed at the Spread Eagle as well, so you're following a regal precedent.
Once you've done Cowdray and taken some tea back at the hotel, then finish your break with a visit to West Dean Gardens with its restored walled kitchen garden, Edwardian Pergola and beautiful gardens. This week you can see the Totally Tomato show, a celebration of the amazing range of tomatos grown here and around the area.
West Sussex is often overlooked by Londoners heading out to Norfolk or Kent, but it's remarkably close to London and with a hotel like the Spread Eagle to make your base it's perfect for a romantic and relaxing weekend break at any time of year.
Midhurst, West Sussex, GU29 9NH
Cowdray Heritage Trust, Visitor Centre,
River Ground Stables, Cowdray Park, Midhurst,
West Sussex GU29 9AL
West Dean, Chichester, West Sussex, PO18 0QZ