Stow-on-the-Wold, The Cotswolds, GloucestershireGL541HY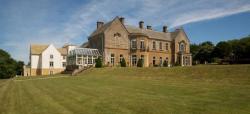 I'm in two minds what a hotel with flagpoles at the entrance is trying to say. On one hand it denotes grandeur, prestige, an assurance of quality, on the other it smacks slightly of international conference chain, of 'fur coat, no knickers' showboating.
From a practical point of view it's handy that Wyck Hill House Hotel has three such poles, as otherwise we would have flown straight past it on the approach road to Stow-on-the-Wold. Wending our way down the drive, first impressions are indeed of a very pleasant rural conference centre.
The original 18th century Cotswold stone manor now has several appendages in varying architectural styles and, along with the flags and the signposts, looks from the outside like an upmarket business complex. Indeed, in the front-facing bay window, a group of businessmen are working hard at thinking outside of the box.
Stepping inside, the imposing oak panelled hallway is dominated by a central staircase with brightly lit, heavy brass chandelier, underneath which sits a (brave) receptionist and to her left, proud and upright like a suit of armour, Stephen. Tall, snowy haired and mustachioed Stephen helps you with your bags, he shows you around and reminds the receptionist of her lines when she forgets to ask if you'd like a newspaper. Stephen stays in position, pretty much, 24/7. I'm slightly intimidated by Stephen.
Although, as dinner is to prove, there are plenty of guests in residence, the place is eerily quiet and has now taken on the feel of a Victorian boarding school. There is a smart panelled library and a smart panelled bar that are both completely deserted. The hard backed antique sofas look good but are perhaps not conducive to relaxation so we stay in our room, which is also smart (but not panelled) and, like everywhere else, heated like a furnace.
Dinner is taken in the conservatory and is three quarters full when we arrive but still somehow devoid of atmosphere. If there is one thing I can't abide it's a 'clacky' restaurant (Definition: when the only sound is that of clacking cutlery and the occasional sputtering cough).
Having seated us at a prime corner table, the waiter unfolds our napkins with a flourish, sending a dead fly tumbling across the tablecloth. It's one of those unfortunate occurrences for which no one is to blame but, along with the fake oil paintings and smoke scented staff, unfortunately calls to mind the coat/knickers adage once again.
The food is in the hands of Mark David Jane, previously of Bishopstrow House and Lower Slaughter Manor, and since Wyck Hill House re-launched in April 2010, he has earned the place a 2 AA Rosette award. The fixed price menu is familiar on face value, with some quirky touches to appease the inquisitive.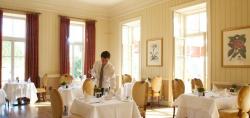 For example, a starter of three king scallops on a bed of carrot and golden raisin salsa with wasabi mayo has both Thai and Japanese overtones. A similarly Thai flavoured crab, coriander and ginger cake is surrounded by diced tomato and leaves smudged with caviar, whose presence can only be warranted to impress the ladies, as it is barely indiscernible over the strong taste of the crab cake.
My companion's roasted fillet of Hereford Cross Beef came beautifully cooked with the atypical combination of fondant potato, wild mushrooms, red cabbage and a red wine jus, plus a mysterious quenelle of what turned out to be tomato puree, right in the middle of the plate. What's that all about, Chef?
My breast and ravioli of partridge was, by contrast, quite inspired. Moist and tender with a gently spiced, flower shaped parcel of pasta atop buttered baby gem lettuce and a thyme potato rosti. Warm sauternes and a daub of apple jelly completed a pretty picture of a dish. My only gripe would be that the food could have been warmer, and that includes the cheese. I've never had solid Stinking Bishop before and shouldn't have to again. If there's one cheese that's meant to ooze and crawl over the plate, this is it. Whereas most of the other 10 local cheeses on the list are hard, their diverse flavours were diminished by being just brought out of the fridge.
On the topic of quirkiness, I'm not sure what to say about the bottle of 2009 Chateau Musar I chose from the Bekaa Valley, Lebanon. I've read some great things about the ideal wine-making terroir in this war torn land but I'm not sure my description will do it justice: a lightly sparkling, cherry red wine with hints of farmyard and a smooth, smoky finish. Bizarre in the extreme but it kept us laughing throughout.
Overall, for me, Wyck Hill House Hotel is one of those places that you can't really find fault with but you know that something, barely imperceptible, is preventing it from being quite right. My advice: turn down the central heating, light some fires, add soft seating, play some music and get yourself a nice, big, comfy pair of pants.