Inamo St James 4-12 Regent Street London SW1Y 4PE www.inamo-stjames.com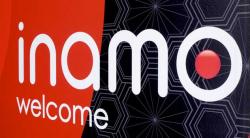 Why more people weren't in the newer Inamo St James, I don't know. Launched in December, this second sister to the original Wardour Street pan-Asian restaurant is quieter, more spacious and better designed. Hell, we were seconds from Piccadilly Circus yet it was as silent as the sea this Thursday lunchtime.
As we're on the theme of décor, let me expand. Inamo has open booths, loosely separated by bamboo trellises and a palate of cinnamon, coconut cream and light soy sauce colours. Hexagonal mouldings texture the ceiling, 1960s-style. A waterfall's on the wall, not sure what the fancy name is for that – Walter Fall? The bar area has low bamboo stools clustered around tiny tables. Space, space and more darling space.
The USP at both branches of Inamo is the menus: the tables at Inamo are interactive – the pictorial menus being things you scroll through using a mouse before hitting the red button to order direct from the kitchen. The menus are projected from the ceiling. Unsurprisingly, given today's low numbers of clientele, the food came immediately from chirpy, fashion-bearded antipodeans.
The nature of the menus meant there was very little contact from waiting staff, a welcome relief from the fussy overtures and interfering that often occurs in the name of good service. But I was quickly exhausted by the novelty – you can't remember what's come before – and like a spoilsport asked for the hard copy menu. T was more sporting: 'This is good for me who needs glasses because of the huge size of print."
T, who also takes ages to order, bless (and is slow generally, in the nicest way), was in his element. 'I love how the onus is on you to order," he said, gently clipping his fingernails and proceeding to origami the napkins. I lie of course. He was going at it full throttle, playing battleships with the interactive table, peeking through the webcam into the kitchen, jabbing at the jasmine pearl tea…
Eventually, once T had stopped playing, it was time to eat. We started with Japanese seafood gyoza or dumplings served with a yuzu dressing. These were prettily crimped at one edge, stuffed taut with black cod, prawns and scallops and tasty.
There was a big pile of baby pork ribs, good value at £ 6.75. These, braised in XO sauce, whatever that is, were fine although the pea sauce they were served with was virtually obscured below them. For mainly vegetarian T, we had crisp silky tofu with spring onion, daikon and shitake mushrooms. Shaped like charming little coconut fondants, these could have done with more taste but our spicy aubergines, glazed with sweet black vinegar, were lovely.
The new dish, seafood curry, was a tragic disappointment, however. First on the menu for those that can't be bothered to read further, this was billed as, 'creamy coconut curry, with shrimp, salmon, okra, potato, mussels, clams and tiger prawn". But really, there was only one tiny piece of okra, two small potatoes, two tiny clams, a shrimp and no salmon – and loads of sauce. Poor for £14 but something I daresay the types of people that order this will put up with. Luckily, this was more than redeemed by the mackerel with Asian pesto – a pesto made with coriander with flavoursome fish both soft and firm. The pesto also wiped off some of the strong mackerel taste that can sometimes be too much.
A good palate cleanser for the less successful dishes was the hot Akashii-Tai Honjozo Genshu sake, described as having 'a fluttering texture". Not sure about the flutter but this was white flowers on the nose and cedar on the palate, very nice. At this point, we realised we'd spent three hours of an afternoon dallying – something made much easier without waiters watching your every move. We tried to rise. And then T was back playing the table, ordering a cab while I origami-ed a napkin.